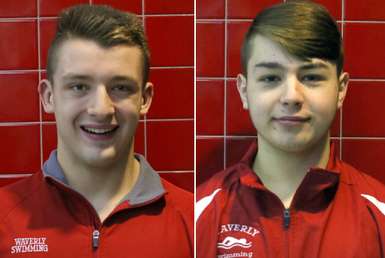 ATANASOFF, STREETER BREAK SCHOOL RECORDS; WAVERLY DUNKS SOUTHERN CAYUGA, 114-56, IN BATTLE OF UNBEATENS
By: Tim Birney | Waverly Athletics | January 9, 2020
WAVERLY — Senior Mike Atanasoff broke his third school record of the season, and fellow senior diver Gage Streeter broke his own school record in Waverly's 114-56 win over Southern Cayuga in a battle of unbeaten IAC boys swim teams.

Atanasoff and sophomore Kaden Wheeler were quad-winners for the Wolverines, now 7-0 and winners of 37 consecutive dual meets. They seven of the 11 swimming events, including all three relays.

Atanasoff, who broke the 50- and 100-yard freestyle records earlier this season, won the 100-yard butterfly in a school-record and state-qualifying time of 52.79 seconds, eclipsing the previous record of 53.95 seconds, set by Pat Fell in 2001. Atanasoff best three-time state-qualifier Joe Angotti, who finished second for Southern Cayuga in 53.59 seconds.

Streeter, diving in exhibition, broke his own school and pool records with a score of 278.85, breaking his previous mark of 273.45.

Waverly jumped out to a 12-2 lead with a 1-2 finish in the meet-opening 200-yard medley relay. The foursome of seniors Josh Lee, Nick Janzen, and Brandon Clark, and junior Max Pan won in a time of 1:53.79, and the quartet of freshman Jerrell Sackett, 8th-grader Liam Wright, junior Dillon Madigan, and freshman Oscar Williams was second in 1:54.01.

Wheeler gave Waverly another shot of momentum by defeating defending 200-yard freestyle IAC champion J.D. Rejman with a personal-best time of 1:55.77, which moves him into No. 15 on Waverly's all-time Top 25. Rejman clocked in at 1:56.65.

Madigan and freshman Ryan Clark finished third and fourth, respectively, in the 200-yard freestyle to up Waverly's lead to 23-7.

The Wolverines were not challenged the remainder of the meet.

Wheeler also won the 500-yard freestyle in a time of 5:23.21, which is 17th fastest all-time in Waverly's Top 25, and Williams was second in 5:41.41.

Atanasoff also won the 100-yard breaststroke in a time of 1:06.26, and Pan was third in 1:17.73.

Wheeler and Atanasoff teamed with Lee, and junior Ryan Bennett to win the 200-yard freestyle in a time of 1:33.5.

The duo teamed with Bennett, and junior Collin Keefer to win the 400-yard freestyle in a time of 3:35.88.

Bennett led a sweep in the 100-yard freestyle in a time of 54.36 seconds, while Brandon Clark was second in 56.89 seconds, and Pan was third in 58.83 seconds. Bennett finished second in the 50-yard freestyle in a time of 23.19 seconds, and Lee was third in 25.33 seconds.

Keefer finished second in the 200-yard IM in a time of 2:14.29, and Williams was third in 2:20.74, while Sackett was second in the 100-yard backstroke in a time of 1:08.96, and Keefer was third in 1:10.17.

Madigan finished third in the breaststroke in a time of 1:08.7.
Waverly returns to action Tuesday at Dryden.
About the Author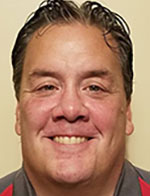 Tim Birney is the founder / owner of River Road Media Group. He was born and raised in the Valley, graduating from Waverly High School in 1984.
Birney earned an Associate's Degree in Journalism from SUNY Morrisville in 1986 and a Bachelor's Degree in Journalism / Public Relations from Utica College of Syracuse University in 1988. He began his newspaper career at The Daily Review in Towanda in 1989, before moving on to The Evening Times in 1995. He spent more than 10 years at the Times, the last four as Managing Editor.
River Road Media Group includes Valley Sports Report (launched Aug. 10, 2009), Tioga County (NY) Sports Report (Aug. 13, 2018), and Northern Tier Sports Report (Aug. 31, 2020). Southern Tier Sports Report is set to launch in 2021.