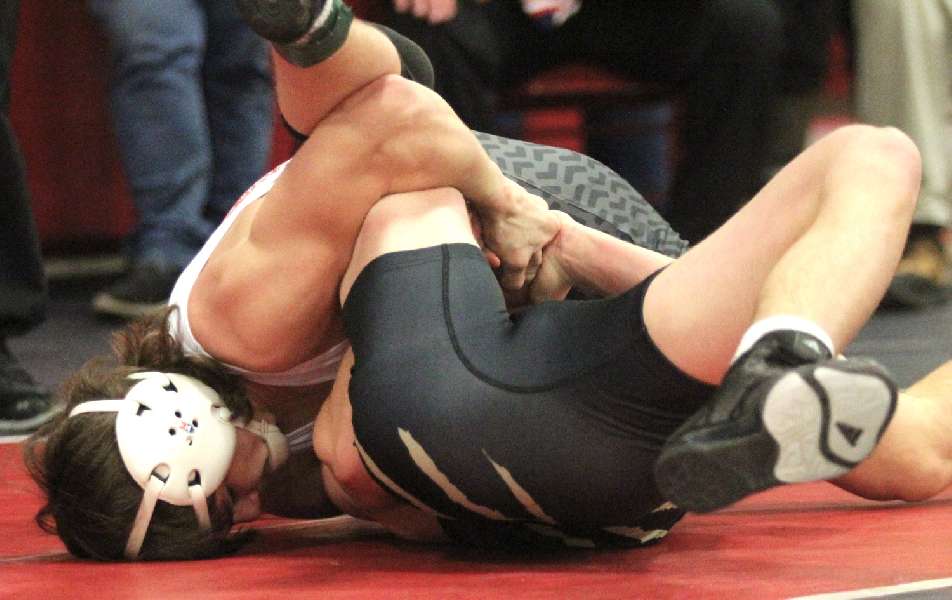 ETHAN STOTLER, GARRETT SKEENS DOMINATE TO LEAD WAVERLY TO THIRD AT QUALIFIER
By: Tim Taylor | Waverly Athletics | February 8, 2020
WAVERLY — Ethan Stotler dominated the 160-pound weight class with three falls and Garrett Skeens racked up two first-period pins at 138 as the Waverly duo captured individual titles at the Section IV Division II Qualifier B tournament here today.

Ethan Stotler went 3-0 on the day, improved to 38-1 on the season and recorded his 170th career victory. He decked Owego's Matt Gatto in 1:12, then dispatched Noah Yadlosky of Windsor in 3:33 in the semifinals. He made quick work of Windsor's Dave Flora in the championship bout, sticking him with a near-side cradle just 47 seconds into the match.

Skeens moved up in weight and went 3-0 as well. He pinned M-E's Ryan David-Kadaronak in 1:32 before outpointing SVEC's Hunter Cleveland, 13-6, in the semis. It took Skeens just one minute flat to dispose of Whitney Point's Kristian Nilsen — and that included two takedown attempts. After going out of bounds on the first one, Skeens shot in on a deep single leg and scooped Nilsen's head and, as he pulled him to the mat, locked up the near-side cradle for the fall.

"They're both firing on all cylinders right now, " Waverly coach Devan Witman said. "Ethan, I've never seen him so dominant. He's been very dominant since Christmas really. Garrett is up a weight class from where he normally is and he's trying to adjust to that weight quickly because we've got the section tournament next weekend. He should get a pretty decent seed going into sectionals. It's all about trying to make that final."

Skeens will most likely draw the No. 4 seed behind Brady Worthing of Tioga, Sidney's Zach Harrington and Bobby Brotherton from Dryden, provided they held seed in the Qualifier A tourney. Ethan Stotler is will secure a No. 1 seed.

The Wolverines had two runners-up as well in Connor Stotler (106) and Austin Kimble (152).

Connor Stotler pinned Noah Taylor of Windsor in 3:15, then dropped a 12-5 decision to top-seeded Matt Laubach in the finals. Laubach looked like he might end the match early as he took Stotler down and cradled him for a 5-0 advantage, but Stotler fought off his back, then scored an escape and takedown to close the gap to 5-3. The pair exchanged points in the second period, then Stotler appeared to take Laubach to his back in the third. However, the Owego grappler managed to bridge off his back and put Stotler to his for a 5-point move.

Kimble started his day off with an exciting 9-5 decision over Hunter Ballard of Whitney Point, then pinned James Hoover of Windsor in 1:58. In the finals, he fell behind Joey Marvin, 9-0, but surprised the Norwich wrestler with a 5-point move, barely missing out on a fall. Marvin was able to score two 3-point near falls in the final period to pull away for an 18-7 win.

Also qualifying for next week's state qualifier were Gage Tedesco, third at 182, and Rylan LaForest, fourth at 126.

Tedesco posted a pair of falls against Owego's Mason Pratt and Tyler Benjamin in 3:52 and 2:23, respectively, and in between dropped a 13-2 major decision to eventual runner-up Mitch Knapp of Susquehanna Valley.

LaForest decisioned Oneonta's Jack Caruso, 6-5, but dropped major decisions to eventual champ Kyle Willard of Groton, 20-6, and M-E's Payton Bennett, 11-3.

Also competing for Waverly were sixth-place finishers Mason Ham at 113, Madison Yeakel at 120, Cole Stanton at 138 and Trevor Meyers at 170, as well as Lilyparker Evans (145) and Trent Skeens (285).

Meyers went 2-2 with a pin and major decision to his credit. Ham, Yeakel and Stanton each went 1-2 with a fall.

Windsor ran away with the team championship, scoring 270.5 points. Norwich was second with 188 and Waverly took third in the 12-team tourney with 151.

"We picked up a lot of bonus points," Witman said. "I was kind of expecting to get more through to the sectional tournament, but the ones we do have going through wrestled very, very well today, very tough, picking up points for us a long the way and I'm super proud of that group."

The top five place-winners in each weight class advance to the Section IV Division II Wrestling Championships at the Floyd L. Maines Veterans Memorial Arena in Binghamton Feb. 15.