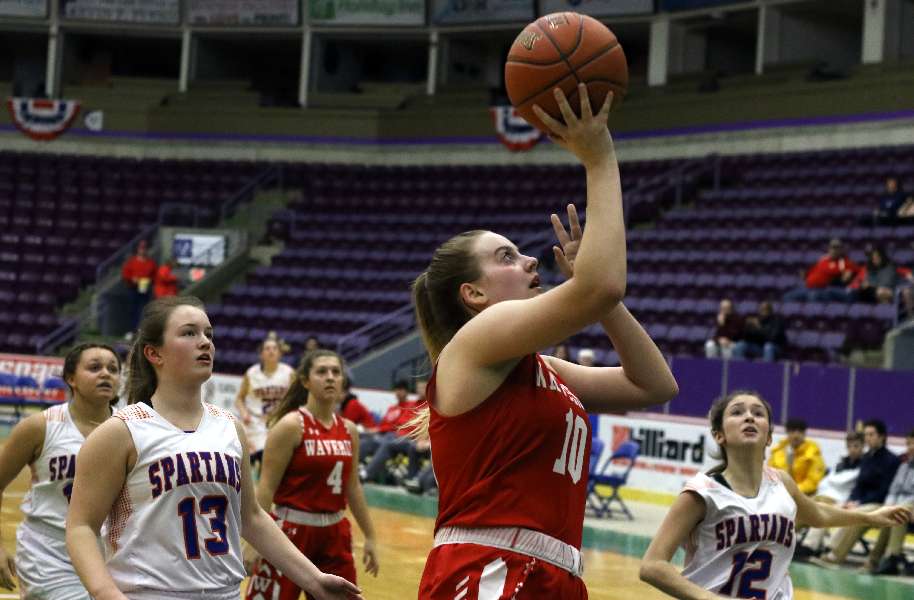 GAME-OPENING RUN PROPELS WAVERLY TO 59-35 WIN OVER EDISON
By: Tim Birney | Waverly Athletics | February 6, 2020 | Photo courtesy Tim Birney
ELMIRA — Waverly scored the first 17 points of the game, and cruised to a 59-35 win over Thomas A. Edison here Thursday night in IAC South Large School Division girls basketball action at the First Arena.

"We've been talking about getting off to good starts, and it's always nice when you get off to a good start," said Waverly coach Bob Kelly. "It's just a matter of having the right mindset, and being ready to play."

Senior Morgan Adams scored just 10 seconds into the game, senior Paige Lewis knocked down a 3-pointer 30 seconds into the game, and junior Sidney Tomasso scored 25 seconds later on a driving lay-up to give the Lady Wolverines a 7-0 lead less than a minute into the game.

Later in the first quarter, Adams scored on an offensive rebound, then Tomasso and Lewis added buckets in transition to make it 14-0 with 3:54 remaining.

Tomasso capped the game-opening run with an old-fashioned three-point play to make it 17-0 with 3:31 left in the first quarter.

Kelly said his team's first-quarter defense was a key.

"We just keep working on our defense, and keep getting after it," he said. "Good things will happen, if we continue to do what we talk about. So far, we're doing a decent job of it."

Julia Klotz put Edison on the board with a 15-foot jumper with 1:06 remaining in the first quarter, and 8th-grader Payton Littlefield buried back-to-back 3-pointers in the final 34 seconds to trim the deficit to 17-8 after the first eight minutes.

Edison's momentum was short-lived, however, as Tomasso and freshman Kennedy Westbrook canned 3-pointers to give Waverly a 23-8 lead with 6:35 remaining in the first half.

About a minute later, Lewis scored in the low blocks, and was fouled. She missed the free throw, but Tomasso collected the rebound. Moments later, Tomasso drained a 3-pointer to extend the Waverly lead to 30-10.

Kelly was pleased with how his team shot the ball in an unfamiliar setting.

"It's definitely a more difficult place to shoot," he said.

"We got here a little early and were able to get some shooting in," noted Kelly. "I don't know if that helped, but we shot the ball pretty well.

"We're shooting the ball better recently," added Kelly. "Hopefully, it will carry over, and we'll continue to do so."

The Lady Spartans trimmed the deficit to 19 points at the half, and closed the gap to 16, at 39-23, with 3:23 remaining in the third quarter on a 3-pointer by K.K. Bush, but could not get closer.

Tomasso led Waverly with 21 points, including a trio of 3-pointers, while Adams scored 17 points, Lewis added nine points, and Westbrook chipped in with four points.

Littlefield led Edison with nine points on a trio of 3-pointers.

Waverly, now 13-3, hosts Hornell Tuesday.
FOR MORE PHOTOS, VISIT VALLEY SPORTS REPORT.
About the Author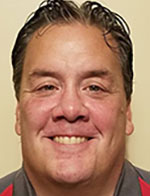 Tim Birney is the founder / owner of River Road Media Group. He was born and raised in the Valley, graduating from Waverly High School in 1984.
Birney earned an Associate's Degree in Journalism from SUNY Morrisville in 1986 and a Bachelor's Degree in Journalism / Public Relations from Utica College of Syracuse University in 1988. He began his newspaper career at The Daily Review in Towanda in 1989, before moving on to The Evening Times in 1995. He spent more than 10 years at the Times, the last four as Managing Editor.
River Road Media Group includes Valley Sports Report (launched Aug. 10, 2009), Tioga County (NY) Sports Report (Aug. 13, 2018), and Northern Tier Sports Report (Aug. 31, 2020). Southern Tier Sports Report is set to launch in 2021.