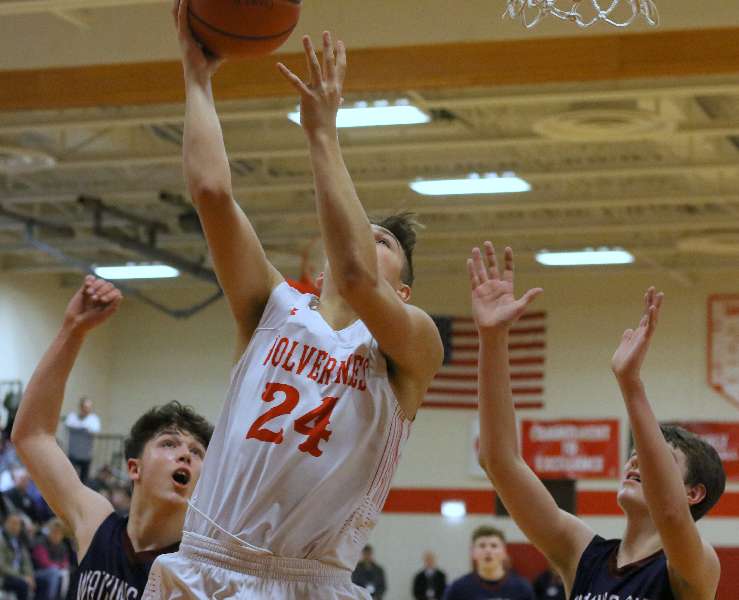 WATKINS GLEN PULLS INTO FIRST-PLACE TIE WITH 48-43 WIN OVER WAVERLY
By: Tim Birney | Waverly Athletics | February 4, 2020 | Photo courtesy Tim Birney
WAVERLY — Intense. Riveting. Captivating. Nerve-wracking. Thrilling.

Those are just a few adjectives you could use to describe Watkins Glen's 48-43 IAC boys basketball win over Waverly here Tuesday night. A decision that leaves the two teams tied atop the Large School Division standings.

Waverly coach Lou Judson chose a different way to describe the game, most notably the fourth quarter.

"Missed opportunities," he said. "Throughout that fourth quarter, we'd get a good offensive rebound, or we'd make a good play, and we weren't finishing around the rim.

"We just didn't make the plays down the stretch that championship teams do," said Judson. "It's a game that got away. We had opportunities late in that game to either get fouled and go to the line, or to make a play, and we just didn't.

"(Watkins Glen) hung around, and hung around, and we couldn't finish them off. And we made some very uncharacteristic turnovers late in the game … we've been in close games before.

"We just weren't strong with the basketball. Some calls weren't being made, but that happens in close games, we just have to play through it, and I don't think we played through it all that well," added Judson. "Hopefully, we learn from it."

Eighth-grader Joey Tomasso canned a 3-pointer with 5:50 remaining in the first quarter to give the Wolverines a 7-4 lead.

Junior Ryan Bowen drained a 3-pointer with 2:15 left in the first quarter to give Waverly its biggest lead of the game, at 12-6.

The Senecas chipped away and eventually tied the game at 16-16, on a driving lay-up by Isaac McIlroy with 5:12 remaining in the first half, but moments later Woodring pulled up in transition and nailed a 3-pointer to give the Wolverines a 19-16 lead.

The Senecas answered with back-to-back buckets by Owen Scholtisek and Jacob DeJong to take a 20-19 lead with 3:45 remaining in the first half.

The remainder of the first half was a flurry of lead-changes with Watkins Glen taking a 26-25 lead into the halftime locker room on a shot-clock, buzzer-beating 3-pointer by McIlroy with 4.3 seconds left.

Watkins Glen led by three on a couple of occasions in the third quarter, but Tomasso's second 3-pointer tied the game at 32-32 with 3:16 remaining in the third quarter.

Bowen knocked down a 3-pointer with 1:43 left in the third quarter to give the Wolverines a 35-34 lead, but McIlory scored in transition with 18 seconds left to give the Senecas a 36-35 lead entering the final eight minutes.

Adam Pastore gave Watkins Glen a 38-35 lead just 30 seconds into the final stanza, but senior Scott Woodring scored a pair of buckets on putbacks on the offensive glass, sandwiched around a fast-break lay-up by junior Griffen Stein, in a 6-0 spurt to give Waverly a 41-38 lead with 6:05 remaining in the game.

Woodring knocked down a short jumper with 4:12 left in the game to give Waverly a 43-40 lead, but the Wolverines would not score again.

McIlroy scored on a breakaway lay-up with 2:18 remaining to cut the deficit to 43-42, but neither team scored over the next 90 seconds, which featured a flurry of turnovers.

With 32 seconds remaining, Max Evans gave the Senecas the lead for good, at 44-43, with a driving lay-up.

McIlroy added four free throws in the final 15 seconds to salt the game away.

"I thought we played well defensively," said Judson. "We held them to 26 points in the first half, and it was 43-42 us with 40 seconds to go. They got 48 points because they made some free throws down the stretch.

"Defensively, we're solid, and we played really well," he noted. "Offensively, I need guys to step up, and play up to their potential. Right now, we have guys who are lacking a little self-confidence, but that will come with some success on the court.

"The good thing is we're still tied (for first) in our division, with one game to play for us, and two for them," added Judson. "And if there's a playoff, it's on our floor."

Woodring led Waverly with 19 points, 15 rebounds, two assists, two steals, and two blocked shots, while Bowen had seven points, three rebounds, and two steals, and Tomasso scored seven points.

Westbrook had four points and eight rebounds for the Wolverines, and Stein had four points and five boards.

McIlroy had a game-high 23 points to lead Watkins Glen, and Pastore added eight points.

Waverly, now 13-3, returns to action Thursday against Thomas A. Edison at the First Arena.
FOR MORE PHOTOS, VISIT VALLEY SPORTS REPORT.
About the Author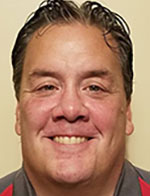 Tim Birney is the founder / owner of River Road Media Group. He was born and raised in the Valley, graduating from Waverly High School in 1984.
Birney earned an Associate's Degree in Journalism from SUNY Morrisville in 1986 and a Bachelor's Degree in Journalism / Public Relations from Utica College of Syracuse University in 1988. He began his newspaper career at The Daily Review in Towanda in 1989, before moving on to The Evening Times in 1995. He spent more than 10 years at the Times, the last four as Managing Editor.
River Road Media Group includes Valley Sports Report (launched Aug. 10, 2009), Tioga County (NY) Sports Report (Aug. 13, 2018), and Northern Tier Sports Report (Aug. 31, 2020). Southern Tier Sports Report is set to launch in 2021.