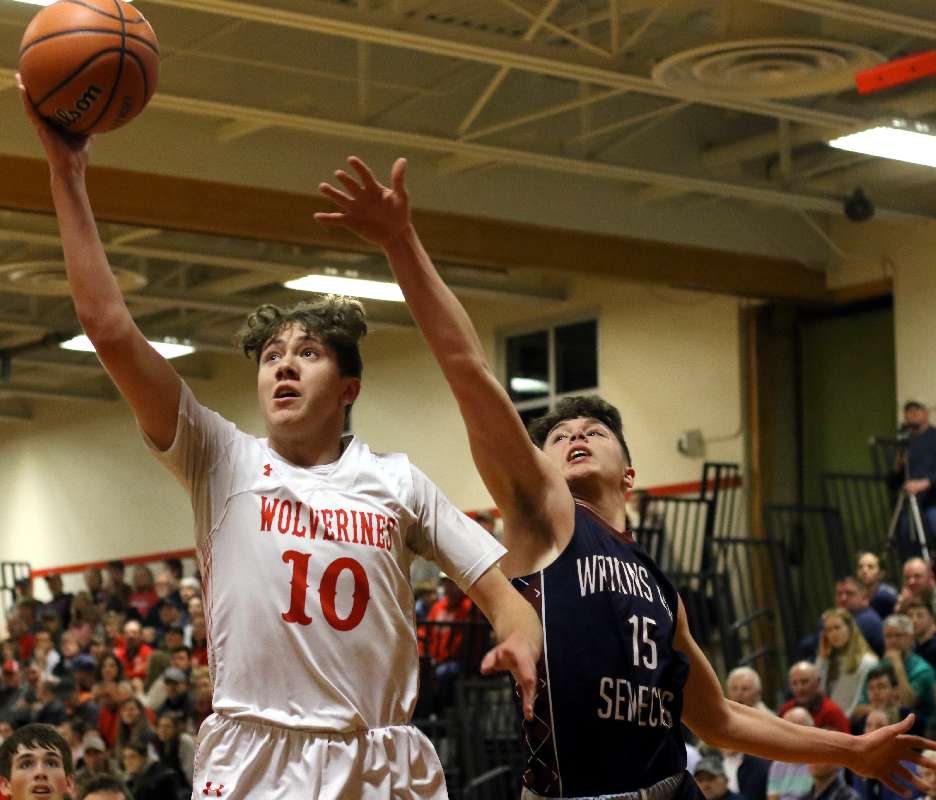 WATKINS GLEN TOPS WAVERLY IN PLAYOFF FOR SOUTH'S LARGE SCHOOL TITLE
By: Tim Birney | Waverly Athletics | February 18, 2020 | Photo courtesy Tim Birney
WAVERLY — Watkins Glen used a 16-3 run in a 7-minute span that bridged the first and second quarters to take a 10-point lead, and never saw its advantage dip below five points the remainder of the game on its way to a 60-50 win over Waverly here Tuesday night in a divisional playoff for the IAC South Large School boys basketball title.

The Senecas won 53-48 at Waverly two weeks ago to force Tuesday's playoff game.

"To beat them down here twice in one season takes some character from your kids," said Watkins Glen coach John Fazzary. "They stepped up to the challenge tonight."

Six-eight senior Scott Woodring scored back-to-back buckets early in the first quarter to give Waverly a 4-2 lead, and a driving lay-up by junior Peyton Bowen gave the Wolverines their biggest lead of the game, at 9-4 ,with 4:01 remaining in the first quarter.

Isaac McIlroy canned a 3-pointer for the Senecas to trim the deficit to 9-7, but junior Griffen Stein answered for the Wolverines to make it 12-7 with 2:55 remaining in the first quarter.

At that point, the Senecas took control of the game with a patient "spread offense."

"We did spread them out," said Watkins Glen coach John Fazzary. "We have some quick guys who can get to the basket, but once you get there you have to make the right play. Do you have enough room to get to the rim? Or, does it close down and you have to pull up and shoot the mid-range shot, or do you kick it out for a 3?

"We did a pretty good job making those decisions tonight once we got in there," noted Fazzary.

"Our team played well offensively tonight, better than we did the first two games against them," he added.

After buckets by Owen Scholtisek and Adam Pastore trimmed the deficit to 12-11, Bowen scored on another driving lay-up to give the Wolverines a 14-11 lead with 1:29 remaining left in the opening stanza.

Pastore drained on a 3-pointer with 1:05 remaining, then gave the Senecas a 16-14 lead with about a minute later with a driving lay-up.

Stein tied the game with a baseline drive just 12 seconds into the second quarter, but Pastore scored the first four points, and Scholtisek the last four in a 10-1 run that gave the Senecas a 27-17 lead with 2:34 remaining in the first half.

"Watkins Glen is a very good team," said Waverly coach Lou Judson. "They're 17-2 for a reason.

"They have a senior shooting guard / point guard (Isaac McIlory), who is one of the best guards in the IAC, and they have point guard Owen Scholtisek, who has been on varsity for three years now," he noted. "You can't rattle them, they are a very good backcourt.

"And, they have weapons all over the floor," Judson added. "If their guards can get by you, and they can get by you because they are quick, you have to help a little bit, and they make you pay."

The Senecas also limited Woodring, who hauled down 18 rebounds, to 15 points. More impressively, they limited Woodring to just 11 shots from the field.

"Playing a team a third time, you become very familiar with your opponent," said Judson. "I knew they were going to front Scotty in the post, and have someone over the backside, and that we were going to have to move the ball quickly to get open shots.

"They did what they needed to do against (Scotty)," he added.

"We know Scotty (Woodring) is their go-to guy, and (Joey) Tomasso is their best shooter," said Fazzary. "We know they have a couple other guys can make shots here and there … we knew we were going to sag in, but we were not going to leave Tomasso to do it.

"Jake DeJong did a super job on Scotty," noted Fazzary. "It had to be one of his lowest point totals of the season.

"We made enough plays, we got some deflections and steals, and got some easy lay-ups, which helped," added Fazzary.

Watkins Glen stretched its lead to 30-19 late in the second quarter, but Tomasso knocked down a long 3-pointer at the halftime buzzer to trim the deficit to 30-22.

Any momentum the Wolverines may have had to open the second half went out the window on an errant pass that Pastore turned into an uncontested lay-up just 25 seconds into third quarter to push the lead back to 10 points.

"When we made a run, whether it was a 4-0 run or a 6-0 run, we would always shoot ourselves in the foot with a turnover," said Judson. "We could never keep the momentum on our side.

"We made a lot of uncharacteristic mistakes throughout the entire game," he added.

Waverly trimmed the lead to six points, at 39-33, with 2:02 remaining in the third quarter, after Bowen scored and was fouled on a driving lay-up. Woodring rebounded Bowen's miss on the free throw, then rebounded his own miss and scored on a putback to complete the four-point play for the Wolverines.

Moments later, however, Michell Pike was fouled while attempting a 3-pointer, and drained all three free throws to push the lead back to nine points, at 42-33, with 1:41 remaining in the third quarter.

Senior Jalen McCarty drained a 3-pointer in the opening seconds of the fourth quarter to pull the Wolverines back within six, at 44-38, but Pike answered with a 3-pointer just 30 seconds later to make it 47-38.

The Senecas took their biggest lead at 51-38 with 5:45 left in the game, and led 53-40 a minute later.

Moments later, junior Ryan Lambert scored on a scoop shot in a crowded lane to make it 53-42, and McCarty made the Senecas pay for a turnover with a 3-pointer to cut the deficit to 53-45 with 4:06 remaining in the game.

Leading 55-45, Watkins Glen missed the front end of back-to-back one-and-ones, and the Wolverines made them pay. Woodring made two free throws after the first miss, and then knocked down a 3-pointer from the corner after the second miss to close the gap to 55-50 with 49 seconds remaining in the contest.

"I'll tell you what, (Waverly) never dies," said Fazzary. "We missed those free throws, and gave them a chance to come back … we were up 10 with a little over a minute left, and with 49 seconds left, it was down to five, and the crowd was getting loud.

"We couldn't make a free throw, but we forced a couple turnovers and finished it off," he added.

The Senecas made just 5 of 11 free-throw attempts in the final eight minutes, but made 5 of 8 in the final 40 seconds to nail down the win.

"I was extremely pleased with how we competed down the stretch," said Judson. "We could have easily lost that game by 18 or 20 points. We competed right to the end, even when we didn't have our best."

Bowen had 11 points, four rebounds, and two assists for the Wolverines.

"We're always looking for guys to step up and be that second or third scorer for us, and I was really pleased with how Peyton Bowen stepped up tonight offensively,' said Judson. "It was by far his best game of the season, and hopefully, he can continue to be aggressive offensively for us because we're going to need it in Sectional play."

McCarty had six points and four rebounds for the Wolverines, while Tomasso scored six points, Stein added five points, and junior Aidan Westbrook grabbed seven boards.

McIlroy led the Senecas with 18 points, five assists, four rebounds, and four steals, while Pastore scored 18 points, Scholtisek had 10 points, three rebounds, and three assists, and DeJong added eight points, nine rebounds, and four assists.

Waverly now awaits word on its opponent for the opening round of the Section IV, Class B playoffs, which begins next week, while Watkins Glen takes on Whitney Point Friday night in the overall IAC Large School championship game at Tompkins-Cortland Community College.
FOR MORE PHOTOS, VISIT VALLEY SPORTS REPORT.
About the Author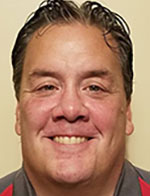 Tim Birney is the founder / owner of River Road Media Group. He was born and raised in the Valley, graduating from Waverly High School in 1984.
Birney earned an Associate's Degree in Journalism from SUNY Morrisville in 1986 and a Bachelor's Degree in Journalism / Public Relations from Utica College of Syracuse University in 1988. He began his newspaper career at The Daily Review in Towanda in 1989, before moving on to The Evening Times in 1995. He spent more than 10 years at the Times, the last four as Managing Editor.
River Road Media Group includes five sites in "The Sports Reports" family that cover 24 school districts in five counties: Valley Sports Report (launched Aug. 10, 2009), Tioga County (NY) Sports Report (Aug. 13, 2018), and Northern Tier Sports Report (Aug. 31, 2020); Northern Tier West Sports Report (March 15, 2021) Southern Tier Sports Report (Aug. 16, 2021).