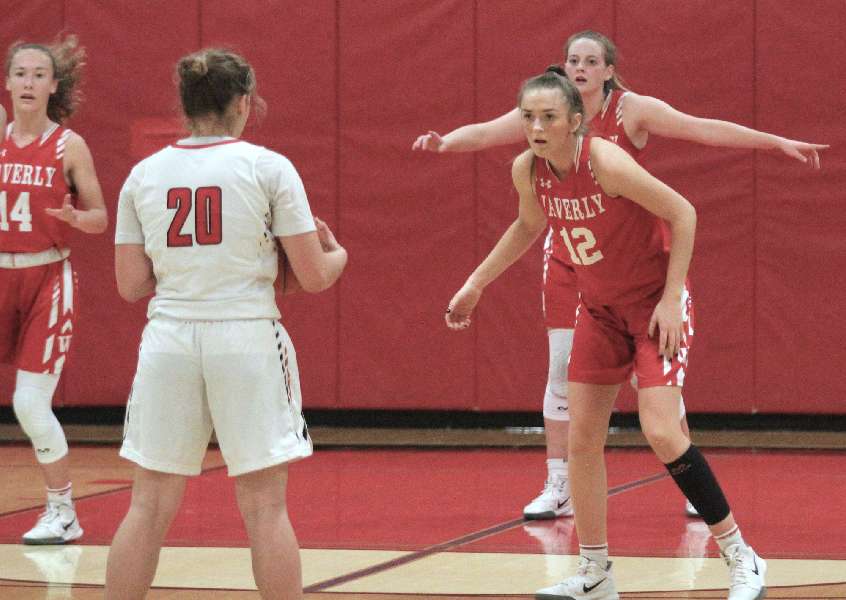 WAVERLY BATTLES TO THE WIRE IN 67-62 LOSS TO UNBEATEN NEWARK VALLEY
By: Tim Taylor | Waverly Athletics | January 28, 2020 | Photo courtesy Tim Taylor
NEWARK VALLEY — If Tuesday's IAC Large School South clash between Waverly and Newark Valley lacked anything, it certainly wasn't intensity.

Both teams battled down to the wire and left everything on the court before the state-ranked and unbeaten Cardinals emerged with a 67-62 victory here.

"We can't ask for anything more," Waverly coach Bob Kelly said. "Our effort was there. We showed up ready to play. All we ask for is effort, energy and enthusiasm and they had it tonight."

The coach was quick to credit the effort of NV's talented lineup as well.

"They shoot the ball extremely well and they have a good inside-out game. There's a lot of weapons there and it's tough."

"Very intense. Offensively and defensively, I thought both teams executed at a very high level on both ends of the floor," NV coach Greg Schweiger said. "It was a fun game to coach and watch, and I'm really proud to get a quality win like that against a really good team."

Newark Valley would steal the momentum away from the visitors late in the first quarter and carry into the third quarter. The Cardinals would build double-digit advantages four times in the second half, but the Wolverines refused to go away.

Hannah Ferguson's 3-pointer gave NV its final double-digit advantage of the game, 57-47, with 6:34 left in the final frame.

Like it did with two 10-point deficits in the third quarter, Waverly continued to fight back. Morgan Adams responded with a three on the Wolverines next possession, then added a field goal less than a minute later, cutting the lead to 58-52.

Gracie Gardner, who scored a career-high 23 points, scored from underneath and Allie Wandell added a free throw, pushing the lead back to 61-52 with 3:36 to go.

The Wolverines' Sidney Tomasso, who pumped out a game-high 30 points, cut the gap to 61-56 with two baskets in 29 seconds, and there was still close to three minute to play.

Gardner countered with a bucket and Makenna Nechwedowich hit a pair of free throws to make it 65-56 as the clock dipped under a minute, but Paige Lewis knocked down a trey at with 58 ticks on the clock to cut the lead to 65-59.

NV had a chance to put the game away, but missed seven consecutive free throws before Wandell hit the back end of a two-shot attempt and Bri Beebe made one of two at the stripe in the final 16 seconds to lock up the win.

Meanwhile, Waverly missed three of six free throw attempts in the final minute, and also missed a three and two field goal attempts in the last 20 seconds.

The Cardinals would grab the early advantage, outscoring Waverly, 16-13 in the first period, despite 10 points off the fingertips of Tomasso.

The Wolverines would rally back to take the lead in the second quarter. However, shortly after Tomasso's three gave Waverly a 30-25 lead with 1:09 remaining in the half, Wandell would spark her team with four consecutive free throws.

That cut the lead to 30-29 with 43 seconds on the clock and a Waverly turnover led to Gardner's go-ahead bucket with 14 seconds on the clock. The Wolverines were unsuccessful on two shots in the final seven seconds, allowing NV to take a 31-30 edge into the break.

Gardner would have 14 points at intermission while Wandell and Beebe combined for another 13, nine of them on threes.

Tomasso went into the half with 18 points, a dozen coming via the trey. Gianna Picco and Adams teamed up for another nine.

Nechwedowich, held without a point in the first half, drained a three to open the third quarter and would add a basket and another trey as NV built its biggest lead of the night, 42-31.

"Makenna came right out in the second half and had a nice third quarter, gave us the boost," Schweiger said.

A timeout would help the Wolverines as they scored seven of the next nine points to make it a 44-38 game, thanks to baskets by Tomasso, Picco and Lewis.

A three from Ferguson just before the buzzer gave NV a 51-41 lead heading into the fourth quarter, but the Cardinals couldn't rest easy as Waverly refused to pack it in.

"There's no quit in these guys," Kelly said. "They just keep playing hard, playing hard. They're not looking at the scoreboard. They're just getting after it until the final buzzer and like I said, that's all we can ask for."

In addition to Tomasso's 30, which included a half-dozen treys, Lewis added 11 points, Adams had nine and Picco scored seven. Kennedy Westbrook chipped in three more, and Lourden Benjamin and Olivia Nittinger tacked on one point apiece.

"We absorbed a great individual performance from them by Tomasso and were able to get the win," Schweiger said. "We had Grace Gardner kind of explode tonight. That was awesome to see. We see it in practice. We knew it was coming and she delivered tonight, especially early. Much more aggressive than she's been ion the past and she carried the load."

Nechwedowich added 14 points and Ferguson pitched in with a dozen more as NV improved to 15-0 and 8-0 in the division. Wandell scored nine, Beebe seven and Kendra Morris had two.

"It's the same story for us," Schweiger said. "We have a lot of contributors and people who can step up and make shots.

Waverly (10-3) hosts Notre Dame Thursday.
FOR MORE PHOTOS, VISIT VALLEY SPORTS REPORT.