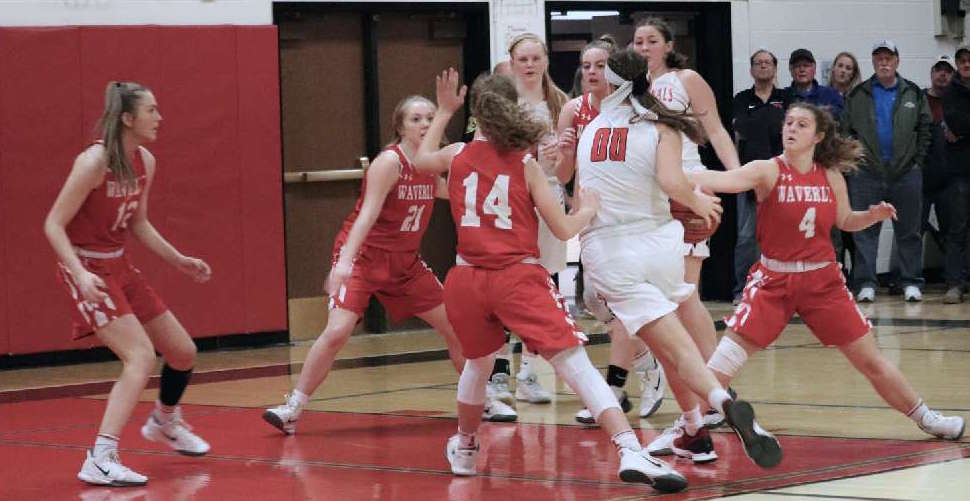 WAVERLY BOWS OUT OF CLASS B PLAYOFFS WITH LOSS TO UNBEATEN NEWARK VALLEY
By: Tim Taylor | Waverly Athletics | February 29, 2020 | Photo courtesy CARI SHIEL
NEWARK VALLEY — Newark Valley held the Waverly offense in check early and gradually pulled away for a 55-37 victory in the Section IV Class B girls basketball playoffs here Saturday evening.

The unbeaten Cardinals, ranked fourth in the state, grabbed a 12-6 lead after one quarter of action on the strength of four points from Mackenna Nechwedowich, and one 3-pointer each by Bri Beebe and Kendra Morris. Sidney Tomasso had four of the Wolverines' points.

Allie Wandell scored half of NV's second-quarter points as it built a 28-18 lead at the half. Gracie Gardner added four more. Paige Lewis sank four free throws to pace Waverly in the period.

The Cardinals came out of the break and threw down a trio of treys, by Beebe, Hannah Ferguson and Taylor Benjamin, to increase their lead to 41-28 heading into the final frame. Ferguson had five of NV's points. Lourden Benjamin had a three for Waverly.

Ferguson would knock down two more threes in the fourth quarter and Beebe added another, giving both players three apiece. The Wolverines received a trey from Emma Adams, and three points apiece from Tomasso and Lewis.

Tomasso led the Waverly scoring effort with 11 points. Lewis had nine, going 5-for-7 at the free throw line. Adams and Benjamin contributed five points each; Kennedy Westbrook recorded three, and Gretchen Sowle and Gianna Picco tacked on two apiece.

NV had four players score in double figures, including a pair of double-doubles. Nechwedowich blocked 12 shots and scored 10 points while Wandell pulled down 13 rebounds to go with 10 points. Nechwedowich also contributed seven boards, two assists and two steals, and Wandell had a blocked shot.

Ferguson had 11 points, five boards, three steals and two assists; and Beebe added 12 points and four rebounds. Morris pitched in with four points and three assists; Gracie Gardner had four points and a block, Taylor Benjamin added three points and a block; and Makana Gardner had one point and two blocks.

Waverly ends the season with a 15-5 record.
FOR MORE PHOTOS, VISIT VALLEY SPORTS REPORT.