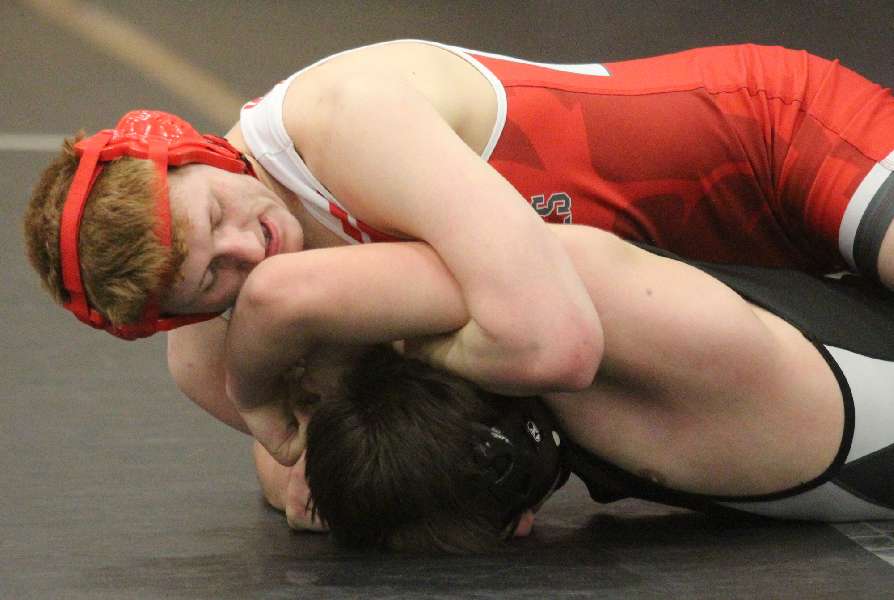 WAVERLY DROPS DIVISION FINALE TO SVEC
By: Tim Taylor | Waverly Athletics | January 22, 2020 | Photo courtesy Tim Taylor
SPENCER — Illness and injury played a factor in the IAC Division 1 match between SVEC and Waverly here Thursday. Only seven of 15 weight classes were contested on the mat as the Eagles pulled out a 42-37 Senior Night victory.

The Wolverines won four head-to-head meetings which included first-period falls by Austin Kimble and Ethan Stotler at 152 and 170 pounds, respectively. However, they surrendered four forfeits while receiving three.

"Definitely, without a doubt a rough night," Waverly coach Devan Witman said. "We were missing a couple starters. Not making any excuses. I still felt we could have pulled this one out. We just simply didn't. We didn't wrestle in positions. We didn't wrestle through positions.

"I told the guys before, it was going to come down to pin or be pinned and, unfortunately, we came out on the bottom end of a lot of those situations."

"It really came down to the kids who went out and wrestled though," said SVEC coach Jesse Buck. "We had kids just coming back from injuries, had one practice ... one full, live practice, and they just went out and competed.

Even the wrestlers who may not have won, but kept their head together and kept scoring points impressed the coach.

"That's kind of what we preach," Buck said. "No matter what's going on, you've got to keep scoring points. Couldn't be more proud of them. Waverly's super tough, especially this year. Both of us had guys missing, so it was good to come away with a win, especially on senior night."

Waverly also received a major decision from Gage Tedesco at 195 while Garrett Skeens (138) pulled out a hard-fought 5-4 decision over Hunter Cleveland in the bout of the night.

Despite being ill, Skeens took the mat against Cleveland, who was returning from an injury which sidelined him for 26 days. Cleveland scored the initial takedown, but Skeens turned the tables with a Peterson roll which gave him a reversal and near fall point for a 5-2 advantage. Cleveland picked up a reversal in the second period to cut the lead to 5-4. He attempted a single-leg takedown with 20 seconds remaining in the match, but Skeens held him off for the win.

The night began at 182 with Waverly's Trevor Meyers going ahead of Nick Tubbs, 2-0. A locked hands violation and an escape by Tubbs tied the score heading into the second period. About 1 1/2 minutes into the period, Meyers went to a leg ride as Tubbs was raising his haunches. Meyers got out of position and Tubbs was able to pull his head over far enough to put his shoulder blades to the mat for a pin at 3:41.

The bout at 195 was exciting early on as the Wolverines' Gage Tedesco took Joe Campolito down to his back on the edge of the mat for a 4-0 lead. However, Campolito worked a reversal and three-point near fall to go ahead, 5-4. Before the first period would end, Tedesco would work a reversal to grab a 6-5 edge. Campolito evened the score with an escape early in the second period, but after that it was all Tedesco. He tallied a pair of takedowns and two three-point near falls to pick up a 16-6 major.

Anthony Speer received a forfeit at 220, giving SVEC the lead for good at 12-4 and John Hammond (285) picked up his fifth consecutive fall to make it 18-4.

Hammond, who won an IAC title last weekend, picked up five takedowns before scoring the pin over Trent Skeens in 5:21. Twice, Skeens put headlocks on Hammond and took him to his back, but the SVEC grappler turned them into roll-throughs to escape any danger.

"He's just building confidence and that's the best thing we can do for him, especially just being a sophomore right now," buck said. "The more wins he can get against these opponents lets him know he's right there with everybody."

The next six weights were forfeits, going to the Eagles' Wyatt Stouffer (99), Kamren Lehman (120) and Ousmane Duncanson (132), and Waverly's Connor Stotler (106), Madison Yeakel (113) and Rylan Laforest (126).

Following the Skeens-Cleveland battle, SVEC's David Knickerbocker pinned Cole Stanton in 3:47 at 145 and the Wolverines' Kimble dispatched Jacob Boda in 57 seconds.

There was no match at 160, then Stotler, who also won an IAC title Saturday, picked up his 30th consecutive victory with a fall over Devin Beach in 1:48. Beach took him to his back for a split second late in the period, but Stotler pulled off a nice hip heist to avoid any trouble. Stotler is now 34-1 on the season with 22 pins.

Waverly, 10-8 overall, ends division action at 2-3 and will visit Corning for a non-league match Tuesday. SVEC, 10-7 overall, finishes 3-2 in the division and will travel to Horseheads for a non-leaguer Feb. 4.