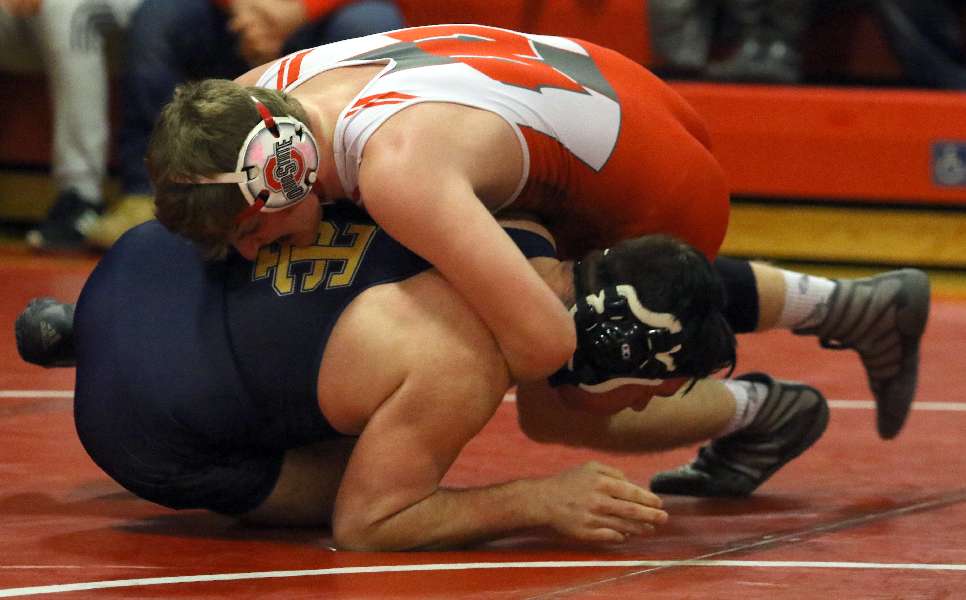 WAVERLY FALLS BEHIND EARLY IN 61-21 LOSS TO TIOGA
By: Tim Birney | Waverly Athletics | January 8, 2020 | Photo courtesy Tim Birney
WAVERLY — State-ranked Tioga won the first nine weight classes, rolling out to a 49-0 lead en route to a 61-21 win over Waverly here Wednesday night in IAC Large School Division wrestling action.

The Tigers, ranked second in the State in Division 2, racked up bonus points — with five falls, a technical fall, and two major decisions — in the first eight contested bouts from 106 through 152 pounds.

"We looked really good tonight down low," said Tioga coach Kris Harrington.

"It was nice to have a full line-up tonight, wth guys coming back off injury," he noted. "It was good to have nearly every weight filled. We did give up 160, but I wasn't going to put a first-year wrestler out there in his first varsity match against Ethan Stotler.

"We're not a finished product yet, but we're starting to get there," added Harrington.

Waverly coach Devan Witman knew his team faced a tough challenge.

"Without a doubt, they are stacked in the lower weights, but we threw in some fights down there," said Witman. "It's going to look really bad in the box score, but anyone who was here could see our guys were here for a fight.

"Our kids know how good Tioga is, but they weren't scared. They came out and wrestled hard," he added.

After 8th-grader Gianni Silvestri received a forfeit at 99 pounds to give the Tigers a 6-0 lead, his classmate Caden Bellis forged a 17-1 technical fall over Waverly freshman Connor Stotler, securing the decisive near-fall points at the final buzzer.

Freshman Emily Sindoni scored the quickest fall of the night for Tioga, dumping senior Madison Yeakel to her back, and finishing off the fall in 23 seconds to make it 17-0 after the 113-pound bout.

"Emily is really talented, and she has her weight under control now," said Harrington. "I think she's a threat to place in the Section this year."

At 120 pounds, freshman Donovan Smith kept it rolling for the Tigers, decking freshman Mason Ham in 65 seconds to extend the lead to 23-0.

Sophomore Mason Welch scored a reversal and two near-fall points at the final buzzer to secure a 13-4 major decision over Waverly senior Rylan Laforest at 126 pounds to make it 27-0.

In the match of the night, Tioga senior David MacWhinnie trailed 9-3 late in the first period, but rallied to win a 21-10 major decision over sophomore Garrett Skeens.

Garrett Skeens scored the initial takedown and a pair of near-fall points to take a quick 4-0 lead, but MacWhinnie countered with an escape and a takedown to cut the deficit to 4-3.

Skeens then scored a reversal and three near-fall points with a power-half to take a 9-3 lead, but MacWhinnie trimmed the deficit to 9-5 after the first two minutes with a late reversal.

MacWhinnie escaped from the bottom early in the second period then took a 10-9 lead with a five-point late in middle two minutes.

MacWhinnie dominated the third period with two takedowns, and five near-fall points.

"David (MacWhinnie) is knocking the rust off, that was a wild first period between two talented wrestlers," said Harrington. "But, you look at the next four minutes and he dominated it.

"He's rounding back into shape," noted Harrington. "I like where he's at now, but once he gets down to 128, he's going to be dangerous."

Witman said Garret Skeens wasn't quite at 100 percent.

"Garrett hasn't been out of our line-up, but he has been battling some illness," he said. "Give credit where credit is due, he hasn't missed a practice or a match.

"Once he gets completely healthy, I think you'll see a different Garrett Skeens down the stretch," added Witman.

Tioga seniors Jacob Welch and Brady Worthing made quick work of their opponents at 138 and 145 pounds, respectively, notching first-period pins to make it 43-0. Welch won in 33 seconds, and Worthing in 1:35.

Sophomore Emmett Wood finished off Tioga's match-opening streak with a pin of junior Austin Kimble in 2:37 at 152 pounds.

After Ethan Stotler received a forfeit at 160 pounds to put the Wolverines on the board, sophomore Andrew Kimble gave Waverly its first win of the night on the mat, with a pin of junior Ethan Agan in 53 seconds to trim the deficit to 49-12.

At 182 pounds, Waverly junior Trevor Meyers then matched the quickest fall of the night, flattening sophomore Josh Snell in 23 seconds.

Freshman Gage Tedesco finished off Waverly's win streak at 195 pounds, with a hard-fought 6-0 decision over senior Aaron Howard to make it 49-21.

After senior Jared Lamb received a forfeit at 220 pounds to put Waverly back on the winning track, senior Dom Wood fought off his back to score a fall over Waverly senior Trent Skeens in 3:15 in the 285-pound bout.

Harrington said Dom Wood, normally a 220-pounder, chose to wrestle instead of taking a forfeit.

"At weigh-ins, Dom found out there was no 220-pounder (for Waverly)," said Harrington. "He asked if he could go up. I like the fact he didn't want a forfeit, and was willing to step up and take on a solid 285-pounder."

Witman said a brief lapse cost Trent Skeens a chance at a win.

"At this point, Trent is wrestling well," he said. "He's just not wrestling well for six minutes yet.

"Those few seconds where he's not wrestling well is where he gets caught," added Witman. "If we can get him to put six minutes together, he's going to be OK."

In exhibition, Tioga's Trevor Shedden pinned Lilyparker Ennis in 4:47 in a 145-pound bout, and Tioga's Cole Williams decked Kam Peters in 1:38 in a 285-pound bout.

Tioga returns to action this weekend at the Robert Bradshaw Tournament in Canandaigua, while Waverly is in action at the Matness at the MAAC in Montgomery, Pa.
FOR MORE PHOTOS, VISIT VALLEY SPORTS REPORT.
——————

TIOGA 61, WAVERLY 21
99: Gianni Silvestri (T) by forfeit;
106: Caden Bellis (T) tech. fall by fall over Connor Stotler (W), 17-1 @ 6:00;
113: Emily Sindoni (T) by fall over Madison Yeakel (W), 0:23;
120: Donavan Smith (T) by fall over Mason Ham (W), 1:05;
126: Mason Welch (T) major dec. Rylan LaForest (W), 13-4;
132: David MacWhinnie (T) major dec. Garrett Skeens (W), 21-10;
138: Jacob Welch (T) by fall over Cole Stanton (W), 0:33;
145: Brady Worthing (T) by fall over Braeden Hills (W), 1:35;
152: Emmett Wood (T) by fall over Austin Kimble (W), 2:37;
160: Ethan Stotler (W) by forfeit;
170: Andrew Kimble (W) by fall over Ethan Agan (T), 0:53;
182: Trevor Meyers (W) by fall over Josh Snell (T), 0:23;
195: Gage Tedesco (W) dec. Aaron Howard (T), 6-0;
220: Jared Lamb (T) by forfeit;
285: Dom Wood (T) by fall over Trent Skeens (W), 3:15.
About the Author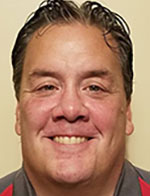 Tim Birney is the founder / owner of River Road Media Group. He was born and raised in the Valley, graduating from Waverly High School in 1984.
Birney earned an Associate's Degree in Journalism from SUNY Morrisville in 1986 and a Bachelor's Degree in Journalism / Public Relations from Utica College of Syracuse University in 1988. He began his newspaper career at The Daily Review in Towanda in 1989, before moving on to The Evening Times in 1995. He spent more than 10 years at the Times, the last four as Managing Editor.
River Road Media Group includes five sites in "The Sports Reports" family that cover 24 school districts in five counties: Valley Sports Report (launched Aug. 10, 2009), Tioga County (NY) Sports Report (Aug. 13, 2018), and Northern Tier Sports Report (Aug. 31, 2020); Northern Tier West Sports Report (March 15, 2021) Southern Tier Sports Report (Aug. 16, 2021).