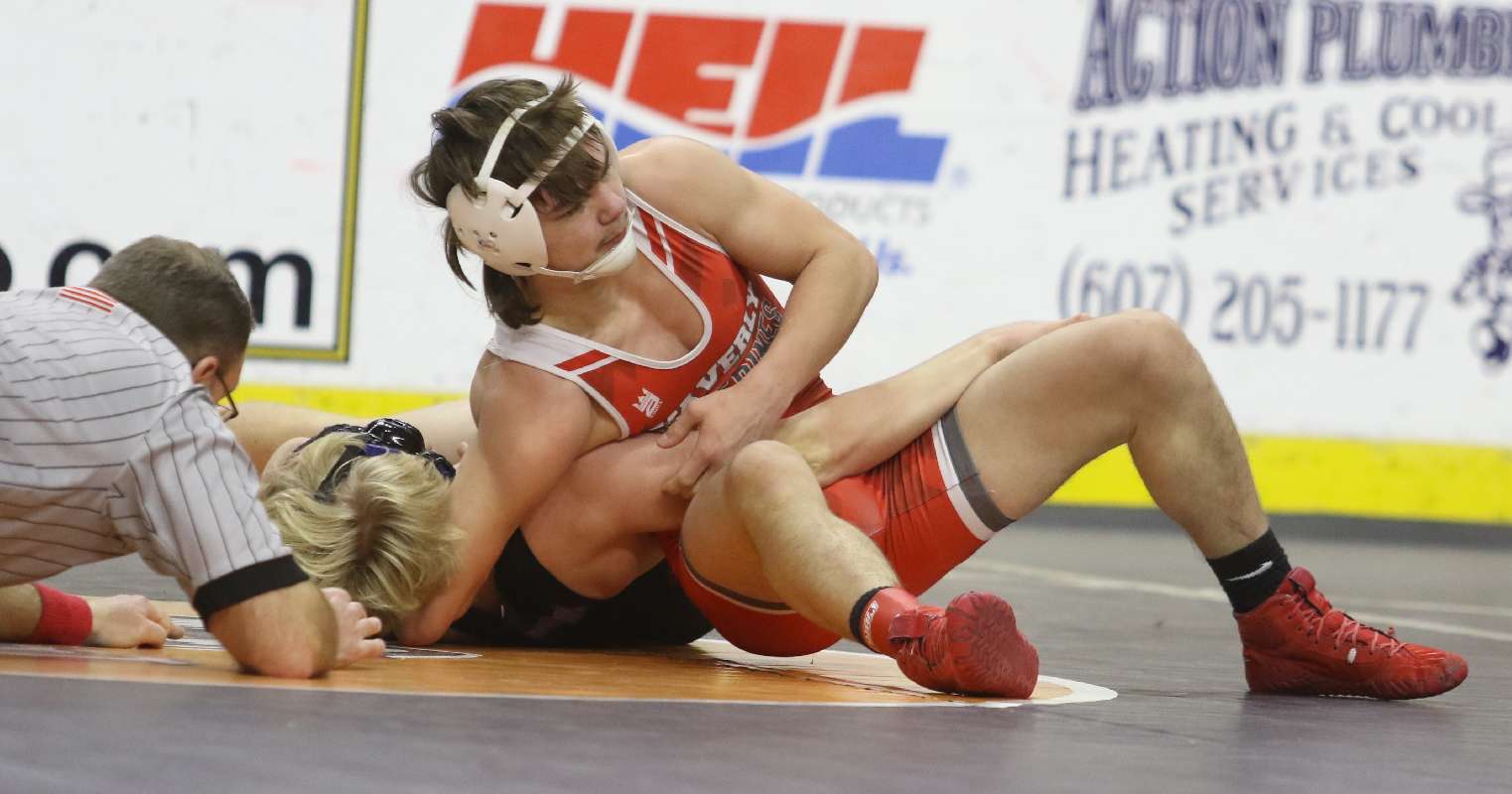 WAVERLY FINSIHES SIXTH AT DIVISION 2 CHAMPIONSHIPS
By: Tim Birney | Waverly Athletics | February 15, 2020 | Photo courtesy Tim Birney
BINGHAMTON — Two years removed from finishing 24th in the 26-team field at the Section IV, Division 2 championships, Waverly had four place-finishers, led by 160-pound champ senior Ethan Stotler (see related story), to finish sixth here Saturday night at the Veterans Memorial Arena.

"Finishing sixth is awesome," said Waverly coach Devan Witman. "To have four place-winners and finish sixth is a testament to the effort our parents put in, our club puts in, these kids put in, and my assistant coach (A.J. Aronstam) puts in to try and get Waverly back to where we were 10 years ago.

"It's been that long, some people forget we were dominant 10 years ago, it wasn't forever ago," added Witman. "It takes a lot of work, but we still have parents, coaches, and wrestlers who are willing to put in the work. We're going to continue to climb going forward."

Tioga won its fourth consecutive Division 2 title with 217 points, edging out runner-up Windsor by 1.5 points, while Norwich was third with 147 points, BGAH was fourth with 144 points, Walton-Delhi was fifth with 97.5 points, Waverly tallied 83.5 points, and Newark Valley was seventh with 82.5 points.

Ethan Stotler, now 41-1 with 27 pins, won his title by registering an 18-1 technical fall of Greene-Oxford's Paul Baker in the quarterfinals, and first-period pins of Newark Valley's Connor Jacobson in the semifinals, and Windsor's David Flora in the finals.

"Ethan was dominating today, and that's what we've come to expect from him," said Witman. "It's his senior year, and he has a goal in mind.

"We knew today wasn't that goal, it was just another step toward his ultimate goal," he added.

Freshman Gage Tedesco and sophomore Garrett Skeens each finished third for the Wolverines, and freshman Connor Stotler recorded a fourth-place finish.

Tedesco, the fourth seed at 182 pounds, opened with a 10-6 win over fifth-seeded Evan Ticknor in the quarterfinals, then dropped an 8-3 decision to top-seeded Gabe Monroe of Windsor, who went on to win the weight class.

Tedesco dominated in wrestlebacks, registering a 45-second fall over Sidney's Trevor Harrington in the consolation semifinals, and a pin of third-seeded Sammy Cole of Unatego / Unadilla Valley in 2:27 in the third-place match.

"Gage wrestled really well, even in the semifinals," said Witman. "He took that loss against (Windsor's Gabe) Monroe, but he wrestled Monroe so tough. I was proud of him even in that loss.

"Even though he's a freshman, no one else in the tournament, other than the top two guys, were enough man for Gage.

"He gets after it," added Witman. "He has his lulls on occasion, but once gets going, there's no stopping him."

Skeens, the third seed at 138 pounds, opened with a 14-5 major decision over SVEC's Hunter Cleveland in the quarterfinals, then dropped a hard-fought, 4-0, decision to state-ranked Zach Harrington of Sidney.

In wrestlebacks, Skeens forged a 5-1 decision over Jeter Neff of Groton in the consolation semifinals, then edged highly-touted Lansing freshman Anthony McMillan, 7-6, in the third-place match.

"Garrett wrestled really well," said Witman. "He moved up a weight class, and was giving up some weight to most of his opponents.

"You can tell Garrett's been wrestling a long time because he has very good match awareness," added Witman. "He knows where the points are, and what he has to do to get the job done. And in this situation, that's what you need."

Connor Stotler, the sixth seed at 106 pounds, dropped a 7-2 decision to third-seed Matt Laubach of Owego in the quarterfinals, but won three consolation-bracket bouts in a row to earn a rematch with the Owego junior.

Connor Stotler opened wrestlebacks with a pin of Unatego / Unadilla Valley's Henry Barnes in 2:39, then topped Windsor's Noah Taylor, 6-4.

In the consolation semifinals, Connor Stotler rolled over fourth-seeded Ethan Randis of Chenango Valley,13-6.

In the third-place match, Laubach scored a third-period fall over Stotler.

After posting an 8-10 record last year, Connor Stotler finished this season with a 23-21 record.

"He hit a turning point around the Oneonta Tournament in early January, when he realized he could go with some of the top guys in the Section," said Witman.

"Last year, his season was cut short by a knee injury, and that's something he's been battling all year — it's still giving him some issues," added Witman. "He battles, and works hard. This was a great freshman season for him."

Senior Rylan LaForest, and juniors Trevor Meyers and Austin Kimble each lost in the "blood round" — one win shy of placing.

"We had three lose in the blood round — that's tough," said Witman. "Rylan Laforest lost by a point, Austin Kimble lost by two points, and Trevor Meyers was right in his match until the third period.

"The best 10 kids in the Section are here, and those guys got to the 7th- and 8th-place matches," he noted. "It's a grind.

"All three of them really wanted it," added Witman. "They wanted to place, it just didn't work out for them today."

Laforest, the sixth seed at 126 pounds, dropped a 12-4 major decision to Windsor's Ryan Kennedy in the quarterfinals, but bounced back with a 6-2 decision over Newark Valley's Mark Vosburgh.

In the blood round, Laforest dropped a 2-1 decision to Oneonta's Jack Caruso.

"Rylan put his heart and soul into this season, and I feel for him," said Witman. "It didn't end the way he wanted it to, but if you look back over his four years, it was something special.

"To have just one win as a freshman, never having wrestled before, then putting together a pair of 20-win seasons and to come up just one win shy of placing at Sectionals two years in a row is really a testament to how hard he worked the last four years," added Witman.

Kimble, the eighth seed at 152 pounds, opened with an 8-3 decision over ninth-seed Anthony Rotunda of Groton in the pigtail round..

In the quarterfinals, Kimble ran into longtime nemesis top-seeded Emmett Wood of Tioga, and was pinned in 2:49. Wood is 6-0 versus Kimble over the last three years, including a 3-0 mark this season.

In the blood round, Kimble dropped a 5-3 decision to Lansing's Gabe Stevens.

Meyers, the 10th seed at 170 pounds, opened with a 10-2 major decision over Marathon's Trevor Hurlburt in the pigtail round.

In the quarterfinals, Meyers was pinned by second-seed Cam Carrier of Newark Valley in 1:36. He dropped an 11-4 decision to Deposit-Hancock's Jesse O'Donnell in the blood round.

"Fortunately for Trevor and Austin they have another year," said Witman.
FOR MORE PHOTOS, VISIT VALLEY SPORTS REPORT.
About the Author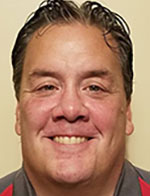 Tim Birney is the founder / owner of River Road Media Group. He was born and raised in the Valley, graduating from Waverly High School in 1984.
Birney earned an Associate's Degree in Journalism from SUNY Morrisville in 1986 and a Bachelor's Degree in Journalism / Public Relations from Utica College of Syracuse University in 1988. He began his newspaper career at The Daily Review in Towanda in 1989, before moving on to The Evening Times in 1995. He spent more than 10 years at the Times, the last four as Managing Editor.
River Road Media Group includes five sites in "The Sports Reports" family that cover 24 school districts in five counties: Valley Sports Report (launched Aug. 10, 2009), Tioga County (NY) Sports Report (Aug. 13, 2018), and Northern Tier Sports Report (Aug. 31, 2020); Northern Tier West Sports Report (March 15, 2021) Southern Tier Sports Report (Aug. 16, 2021).