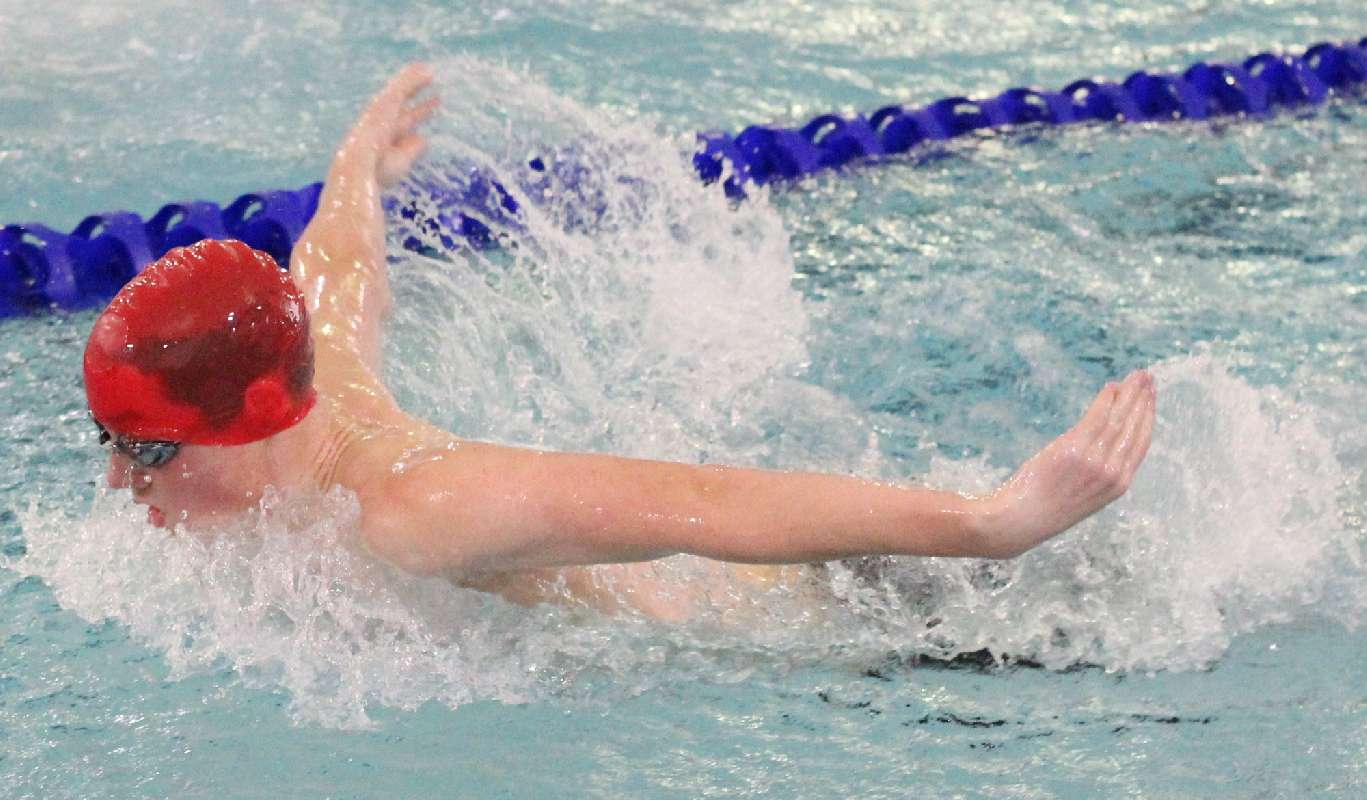 WAVERLY TO BE WELL-REPRESENTED IN CLASS B FINALS
By: Tim Taylor | Waverly Athletics | February 19, 2020 | Photo courtesy Tim Taylor
OWEGO — Waverly will be well-represented in the individual "A" finals at the Section IV Class B Boys Swimming & Diving Championships Saturday following top-eight showings in the preliminaries here Wednesday. The Wolverines will also have a pair of relays competing for titles.

Individually, Mike Atanasoff, Ryan Bennett and Kaden Wheeler qualified for "A" finals in two events apiece while Collin Keefer and Oscar Williams advanced to one "A" final each.

The top eight individuals qualify for the "A" finals and 9th-16th place individuals advance to the "B" finals. The top eight relays also move on.

Wheeler posted a pair of runner-up showings with times of 55.47 seconds in the 100-yard butterfly and 59.44 seconds in the 100 backstroke.

Atanasoff was second in the 50 freestyle with a time of 22.18 seconds and fifth in the 100 back in 1:01.83.

Bennett was fourth in the 50 free in 23.49 seconds and fifth in the 100 fly with a time of 58.8 seconds.

In the 500 free, Keefer took fourth, clocking 5:29.16, and Williams was eighth in 5:35.41.

The Wolverines were runners-up in the 200 and 400 free relays as well. Bennett, Jerrell Sackett, Wheeler and Atanasoff clocked 1:31.63 in the 200 free, just 0.26 seconds behind Chenango Valley's winning quartet. Wheeler, Ryan Clark, Bennett and Atanasoff posted a time of 3:34.08 in the 400 free relay, trailing only CV.

Waverly also advanced in the 200 medley relay as Dillon Madigan, Max Pan, and Ryan and Brandon Clark placed seventh in 2:03.09.

Several Wolverines will be moving on to compete in "B" finals.

In the 200 free, Oscar Williams was ninth (2:04.3), Collin Keefer placed 10th (2:04.14) and Nick Janzen took 15th (2.10.25).

Ryan Clark placed 16th (2:31.85 ) in the 200 individual medley.

Sackett (24.9 seconds) and Brandon Clark (25.04 seconds) took 10th and 11th, respectively, in the 50 free.

Madigan finished 14th (1:07.89) in the 100 fly.

Brandon Clark took 10th (54.89 seconds) in the 100 free and Janzen placed 13th (56.69 seconds).

Liam Wright touched the wall 13th in the 500 free (5:48.56).

Sackett placed 12th (1:06.76) in the 100 back.

The finals will be held Saturday at 6 p.m. at Watkins Glen.
FOR MORE PHOTOS, VISIT VALLEY SPORTS REPORT.