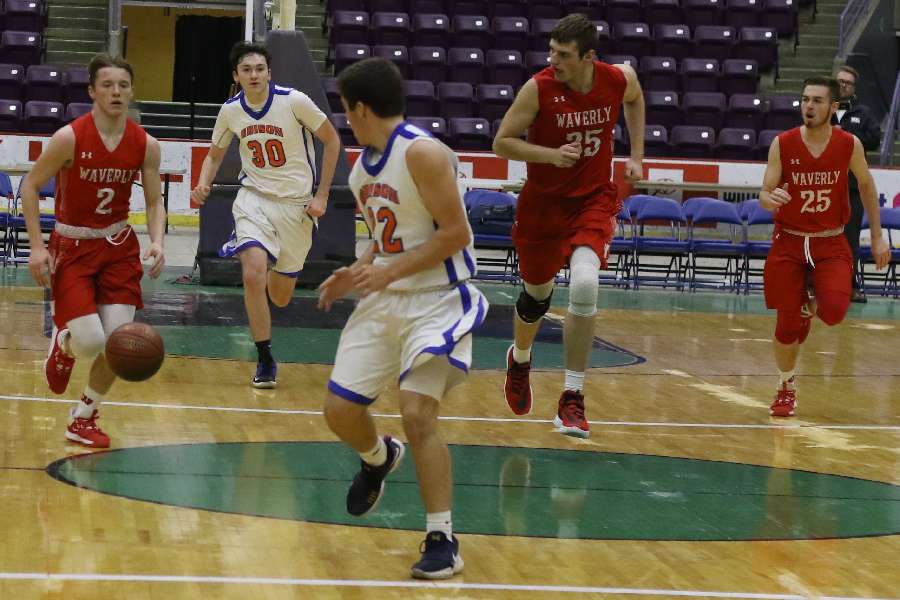 WAVERLY TOPS EDISON, 63-43, AT FIRST ARENA
By: Tim Birney | Waverly Athletics | February 6, 2020
ELMIRA — Waverly jumped out to a 11-point first-quarter lead, maintained the lead, and then pulled away late in the game for a 63-43 win over Thomas A. Edison here Thursday night in IAC South Large School Division boys basketball action at the First Arena.

The Wolverines led 21-10 after the first quarter, then maintained a lead of between seven and 14 points, until a game-closing run of 15-4 over the final 2:43 of the game.

"I thought we played a very good first quarter, then an extremely poor second quarter — forcing shots quickly, and not reversing the ball," said Waverly coach Lou Judson.

"We were kind of flat in the third quarter, and I though we played extremely well in the fourth quarter — we were a little more patient, we worked the basketball, and got better shots as the quarter went on." noted Judson.

"I also think our pressure got to them a little bit," he added.

The Wolverines shot 38 percent from the field, but made just 13 percent (3 of 23) of their shots from behind the 3-point arc.

"I thought (Edison) did a good defensively on Scotty the entire game, until very late," said Judson. "We just didn't shoot the ball well from the perimeter to loosen them up."

Judson acknowledged some of the shooting woes could be attributed to playing at First Arena.

"It's much different … if you've never shot in a venue like this, it takes a while to get use to," he said. "I don't think either team shot particularly well.

"I put this (game) together a long time ago in hopes we could make a run in Sectionals, and if we were to play in the Binghamton Arena, this game would help us," he noted.

Senior Scott Woodring made a pair of free throws just 10 seconds into the game, and sophomore Caden Hollywood knocked down a 3-pointer 25 seconds later to make it 5-0.

Junior Peyton Bowen then added a bucket on the offensive boards to extend the lead to 7-0 with 6:55 remaining in the first quarter.

After a bucket by Jack Hourihan put the Spartans on the board with 5:45 left in the first quarter, Woodring and Tomasso scored buckets in a 50-second span to give the Wolverines an 11-2 lead.

Edison closed the gap to 11-6, but buckets by 8th-grader Joey Tomasso, Hollywood, and junior Aidan Westbrook made it 17-6 with 2:54 remaining in the first quarter.

Woodring scored on a putback on the offensive glass to give Waverly a 21-10 lead with 8 seconds remaining in the first quarter, but the Spartans outscored the Wolverines 7-5 in the second quarter to trim the deficit to 26-17 at the half.

Woodring opened the second half with a short jumper, and Tomasso followed with an old-fashioned three-point play to make it 31-17 with 7:34 remaining in the third quarter.

The Spartans closed the gap to nine, at 33-24, with a 7-2 spurt that included a 3-pointer by Noah Jeromino with 5:25 remaining in the third quarter.

The Waverly lead ranged from nine to 13 points over the next 11 1/2 minutes.

After a bucket by Jeronimo cut the Waverly lead to 48-39 with 2:43 left in the contest. Westbrook scored in the low blocks and was fouled. He missed the free throw, but Woodring rebounded the miss, and cash it in to put the Wolverines up 52-39.

After a pair of free throws cut the gap to 52-41, Tomasso made the first of two free throws, and Woodring again rebounded a miss and scored to up the lead to 55-41 with 2:07 left in the game.

Woodring also scored the next two buckets to make it 59-41 as the Wolverines put the game away.

Woodring led Waverly with 22 points and 17 rebounds, while Tomasso had 11 points, three rebounds, and three steals, and Westbrook had nine points and five rebounds.

Hollywood had seven points, four boards, and four assists in the win, while Bowen had four points and four rebounds, and McCarty had four points, three rebounds, and three steals.

Jeronimo led Edison with nine points, and Jack Shaw and Hourihan added eight points apiece.

Judson said his team enjoyed its appearance at the First Arena.

"It was a great experience for both teams," he said. "We're very thankful that (Jackals owner Robbie) Nichols gave us the opportunity for our communities to come together, and to play on this court."

Waverly, now 14-3, hosts Troy Monday.
FOR MORE PHOTOS, VISIT VALLEY SPORTS REPORT.
About the Author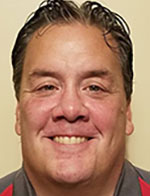 Tim Birney is the founder / owner of River Road Media Group. He was born and raised in the Valley, graduating from Waverly High School in 1984.
Birney earned an Associate's Degree in Journalism from SUNY Morrisville in 1986 and a Bachelor's Degree in Journalism / Public Relations from Utica College of Syracuse University in 1988. He began his newspaper career at The Daily Review in Towanda in 1989, before moving on to The Evening Times in 1995. He spent more than 10 years at the Times, the last four as Managing Editor.
River Road Media Group includes five sites in "The Sports Reports" family that cover 24 school districts in five counties: Valley Sports Report (launched Aug. 10, 2009), Tioga County (NY) Sports Report (Aug. 13, 2018), and Northern Tier Sports Report (Aug. 31, 2020); Northern Tier West Sports Report (March 15, 2021) Southern Tier Sports Report (Aug. 16, 2021).