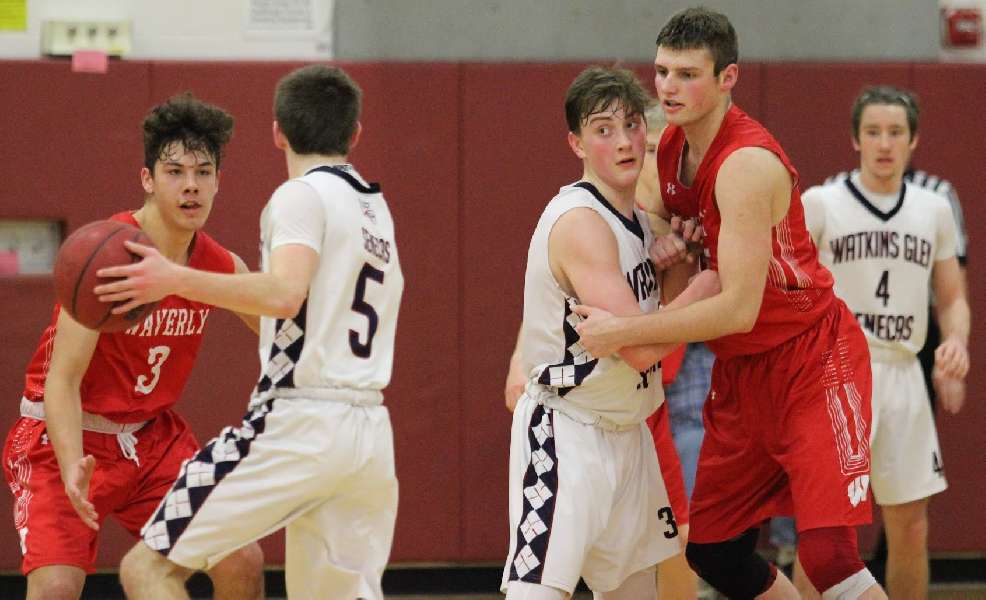 WAVERLY WINS AT WATKINS GLEN, 53-48; MOVES INTO SOLE POSSESSION OF FIRST PLACE
By: Tim Birney | Waverly Athletics | January 25, 2020 | Photo courtesy Shannon McCarty
WATKINS GLEN — Waverly used defense and size to pull out a 53-48 win over Watkins Glen here Saturday night in a key IAC South Large School Division boys basketball match-up.

With the win, the Wolverines (11-2 overall) improve to 7-1 in divisional play and take sole possession of first place. Watkins Glen drops to 11-2 overall, and 6-2 in league play.

"It was a great environment to play in tonight, and it was an absolutely huge win for our team, especially coming off a poor performance at home against Whitney Point," said Waverly coach Lou Judson.

"We were locked in defensively, pretty much the entire game," he noted. "We held them to 14 points in the first half, that's about as good as we can play defensively.

"I'm really proud of them tonight," Judson added. "We executed what we needed to do tonight, and we made enough plays down the stretch to win the game."

Waverly closed out the first quarter with an 8-0 run, thanks to five points by senior Scott Woodring, and a 3-pointer by 8th-grader Joey Tomasso, to take a 15-7 lead.

Woodring scored four points in the second quarter, and Tomasso knocked down his third 3-pointer of the half to help the Wolverines to a 26-14 halftime lead.

Woodring led Waverly with 25 points, 16 rebounds, two assists, and one blocked shot, and Tomasso added a career-high 15 points, including four 3-pointers on seven shots from behind the arc.

"We've been struggling to get a second or third scorer," said Judson. "Joey Tomasso had a career night tonight with 15 points — four 3-pointers, three in the first half. He was huge for us offensively."

The Wolverines also enjoyed an advantage on the boards.

"We went big tonight because I thought we got beat up on the glass, rebounding the ball against Whitney Point," said Judson. "I tried to go as big as we can, and I think that threw (Watkins Glen) off a little bit.

"We were getting more rebounds, and giving ourselves a few more opportunities," he added.

Waverly saw its lead to shrink to eight points midway through the fourth quarter, but a quick 8-0 spurt gave the Wolverines a 50-34 lead with 2:47 remaining in the game.

The Senecas didn't go away, however, using an 18-2 run to trim the deficit to four points, at 52-48, with 21.8 left in the game.

Waverly missed two free throws with 14 seconds remaining, but Woodring rebounded the second miss. He made one of two free throws to provide the final margin.

Aidan Westbrook had four points, four rebounds, and two assists for the Wolverines, while junior Ryan Lambert added four boards and two assists, junior Griffen Stein hauled down five boards, and senior Jalen McCarty chipped in with three rebounds and two assists.

Owen Scholtisek led Watkins Glen with 17 points, seven steals, and three assists, and Mitchell Pike add 11 points and four rebounds.

Waverly returns to action Tuesday when it hosts Newark Valley.
FOR MORE PHOTOS, VISIT VALLEY SPORTS REPORT.
About the Author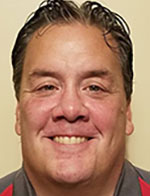 Tim Birney is the founder / owner of River Road Media Group. He was born and raised in the Valley, graduating from Waverly High School in 1984.
Birney earned an Associate's Degree in Journalism from SUNY Morrisville in 1986 and a Bachelor's Degree in Journalism / Public Relations from Utica College of Syracuse University in 1988. He began his newspaper career at The Daily Review in Towanda in 1989, before moving on to The Evening Times in 1995. He spent more than 10 years at the Times, the last four as Managing Editor.
River Road Media Group includes Valley Sports Report (launched Aug. 10, 2009), Tioga County (NY) Sports Report (Aug. 13, 2018), and Northern Tier Sports Report (Aug. 31, 2020). Southern Tier Sports Report is set to launch in 2021.