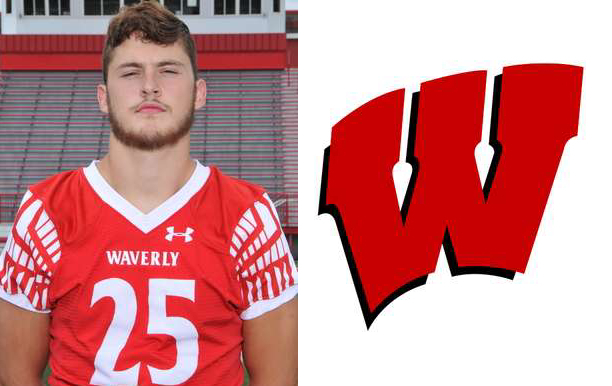 WAVERLY'S HALLETT EARNS SECOND-TEAM ALL-STATE CLASS B HONORS; McCARTY HONORABLE MENTION
By: Tim Birney | Waverly Athletics | January 8, 2020
WAVERLY — Junior linebacker David Hallett led Waverly's defense in tackles, and was recognized Wednesday as a second-team all-state Class B selection by the New York State Sportswriters Association, while his teammate — senior wide receiver Jalen McCarty — received honorable mention recognition.

Hallett recorded 98 tackles in nine games this season, an average of 10.9 per game, including 38 solo tackles. He also had one interception, and one fumble recovery.

Longtime Waverly coach Jason Miller heaped praise on Hallett's work ethic and abilities.

"David is one of the hardest workers I've had over the course of 20 years, and has worked to become a very good defensive player for us.

"He's always a physical presence around the football," said Miller. "He thrived being up in the box, as opposed to being back at free safety.

"He's very physical, very strong, and he has great speed," noted Miller. "He has all the great tools on defense to get to the football, and when he gets there, he usually lays a good hit on you.

"He's very motivated to become a better football player, and is very deserving of all-state honors," added Miller. "I'm happy we'll have him back next year."

McCarty led the Wolverines with 38 receptions for 450 yards and five TDs, and also rushed for 99 yards and one TD on 24 carries.

"Jalen had a super year on both sides of the ball," said Miller.

"He was able to catch the ball in tight windows, and did some good things with the ball after he caught it. He had big-play potential," noted Miller. "He ran a lot of our vertical routes down the middle, which are not easy balls to catch.

"He ended up becoming a very good football player, and he became a good leader for us," continued Miller. "He fits right in with a lot of good receivers we've had over the last 10 to 15 years.

"He's certainly deserving of the honor, and I'm proud of him," he added.
About the Author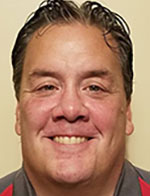 Tim Birney is the founder / owner of River Road Media Group. He was born and raised in the Valley, graduating from Waverly High School in 1984.
Birney earned an Associate's Degree in Journalism from SUNY Morrisville in 1986 and a Bachelor's Degree in Journalism / Public Relations from Utica College of Syracuse University in 1988. He began his newspaper career at The Daily Review in Towanda in 1989, before moving on to The Evening Times in 1995. He spent more than 10 years at the Times, the last four as Managing Editor.
River Road Media Group includes Valley Sports Report (launched Aug. 10, 2009), Tioga County (NY) Sports Report (Aug. 13, 2018), and Northern Tier Sports Report (Aug. 31, 2020). Southern Tier Sports Report is set to launch in 2021.