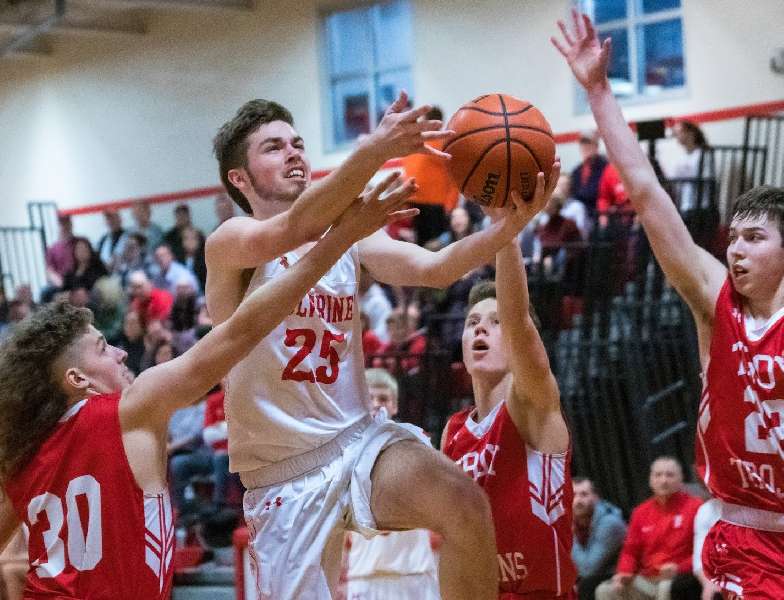 WOODRING PUMPS IN 42; LEADS WAVERLY IN 83-50 ROUT OF TROY
By: Tim Birney | Waverly Athletics | February 10, 2020 | Photo courtesy Tim Birney
WAVERLY — Senior Scotty Woodring enjoyed a career night, and state-ranked Waverly used a dominant second half to blow out Troy, 83-50, here Monday night in non-league boys basketball action.

Woodring pumped in a career-high 42 points on 16 of 21 shooting from the field, while pulling down 15 rebounds, and blocking four shots.

"Scotty, in my opinion, played the best he has this year," said Waverly coach Lou Judson. "He was dominant tonight.

"He had as dominant of a performance as I've seen at the high school level in some time," noted Judson. "He was in vintage form from early season last year.

"He just took over," added Judson. "It was pretty special on Senior Night and Parents Night."

Troy's high-scoring Ty Barrett scored 22 points in the loss, including 17 points and four 3-pointers in the first half.

"Ty Barrett is one of, if not the best, scoring guard in the area when he gets it going, and he had it going early," said Judson. "We really made it hard for him throughout the game. He scored 22 points, but it was a hard-earned 22.

"Peyton Bowen and Jalen McCarty, and Griffen Stein for a stretch, did an outstanding job of guarding him," added Judson. "He was hitting some tough shots early on, but we held him to five points in the second half."

The Trojans entered the game at 14-7, and finished second in the NTL Large School Division.

"We played the best basketball game we've played all year," said Judson. "We were really locked in defensively tonight.

"We played extremely well," added Judson. "To beat a team that was basically 1 point shy of winning the NTL by 33 points is a great performance."

The win is especially sweet for Judson, who starred on three District 4 Championship teams at Troy in the mid-'90s.

"The (Troy) head coach is Steve Renzi. I played high school basketball with him, and he is my family doctor," said Judson.

"I went to school with Mason Imbt's mother and father, and Ethan VanNoy's father … and I played high school ball with Nick Williams' father, Bobby Williams," noted Judson. "I have a connection like that with just about every player on their roster."

Does this win mean more to Judson than most?

"Oh Heaven's yes," said Judson. "It's bragging rights with Coach Renzi and I.

"And it's my alma mater," he noted. "I have a lot of respect for Troy, Troy basketball and the community. I love the town I grew up in.

"We lost at their place by 11 last year, and it was a tough pill for me to swallow. I had to take a little humble pie with that loss.

"My kids knew going in that this was a special game for me," added Judson. "I'm thankful for them to be able to show the effort that they gave tonight."

Barrett knocked down a pair of 3-pointers and scored all eight of Troy's points in the first quarter, but 8th-grader Joey Tomasso and sophomore Caden Hollywood each drained 3-pointers to help the Wolverines to a 12-8 lead after the first eight minutes.

Woodring, who had just two points in the first quarter, pumped in 16 points in the second quarter, and Hollywood scored five points, including his second 3-pointer, to help Waverly to a 23-19 advantage in the stanza, and a 35-27 lead at the halftime intermission.

Woodring scored 14 points in the third quarter, and junior Peyton Bowen added five points to fuel a 23-9 blitz that gave the Wolverines a 58-36 lead heading into the final eight minutes.

Woodring played just two minutes in the fourth quarter, but scored 10 points, exiting the game just three points shy of Hunter Bodine's school record of 45 points.

Hollywood added 12 points and six rebounds in the win, while junior Griffen Stein had eight points and six rebounds, Bowen had six points, three boards, and two blocked shots, junior Kobe Decker scored six points, Tomasso added five points, five assists, and four rebounds, and senior Jalen McCarty dished out three assists.

Waverly, now 15-3 and ranked 19th in Class B, hosts Chenango Forks Saturday night.
FOR MORE PHOTOS, VISIT VALLEY SPORTS REPORT.
About the Author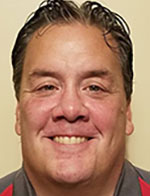 Tim Birney is the founder / owner of River Road Media Group. He was born and raised in the Valley, graduating from Waverly High School in 1984.
Birney earned an Associate's Degree in Journalism from SUNY Morrisville in 1986 and a Bachelor's Degree in Journalism / Public Relations from Utica College of Syracuse University in 1988. He began his newspaper career at The Daily Review in Towanda in 1989, before moving on to The Evening Times in 1995. He spent more than 10 years at the Times, the last four as Managing Editor.
River Road Media Group includes Valley Sports Report (launched Aug. 10, 2009), Tioga County (NY) Sports Report (Aug. 13, 2018), and Northern Tier Sports Report (Aug. 31, 2020). Southern Tier Sports Report is set to launch in 2021.