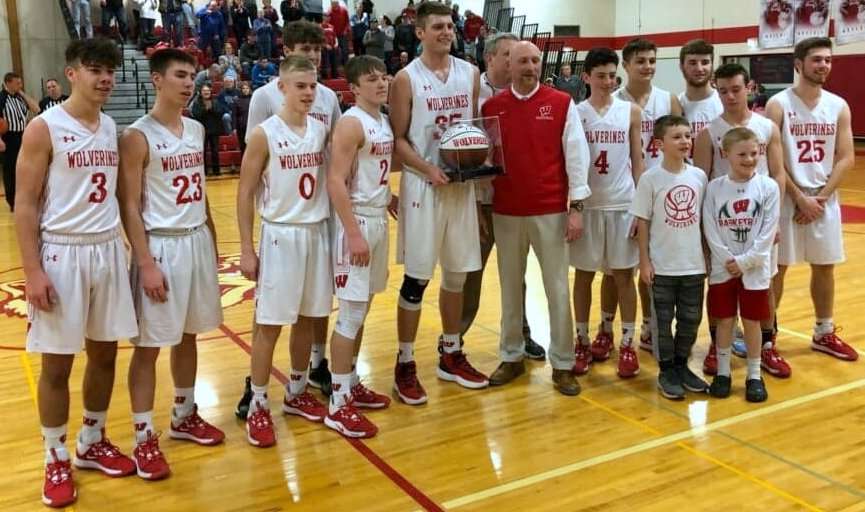 WOODRING SCORES 1,000TH POINT; WAVERLY FALLS TO FORKS, 58-4
By: Tim Birney | Waverly Athletics | February 15, 2020 | Photo courtesy David Alliger
WAVERLY — Senior Scotty Woodring turned in another outstanding performance, including his 1,000th career points, but it wasn't enough as Chenango Forks used a big fourth quarter to pull out a 58-47 decision here Saturday night in non-league boys basketball action.

The Wolverines led 38-36 after three quarters, but Forks used a 22-9 run in the final eight minutes to collect the victory.

"We were up two going into the fourth quarter, and down one with three minutes remaining, but the game got away from us," said Waverly coach Lou Judson. "We just couldn't make enough plays to keep up with them down the stretch.

"I don't think we were use to the overall physicality of the game," added Judson. "Chenango Forks is a very physical team."

Forks led 14-8 after the first quarter, but Woodring, who had just two points in the first eight minutes, scored a bucket early in the second quarter for his 1,000th career point.

Woodring scored 12 more points in the second quarter, including a pair of 3-pointers, for all his team's points in a 14-7 spurt that gave the Wolverines a 22-21 lead, but Forks scored at the halftime buzzer for a 23-22 lead at the intermission.

"It was a great defensive effort on both sides in the first half," said Judson.

Woodring scored 14 more points in the third quarter to fuel a 16-13 advantage that gave Waverly a 38-36 lead entering the final eight minutes.

Woodring, who scored 30 of Waverly's 38 points in the first three quarter, scored six more points in the fourth quarter, but CF's Marcus Hanyon scored 10 points, including a 3-pointer and an old-fashioned three-point play, in the final stanza to spark the decisive run.

Woodring pumped in 36 points, pulled down 24 rebounds, and blocked five shots for the Wolverines.

"Scotty had an outstanding performance tonight against two guys for Forks who are 6-4 and physical specimens.

"He kept us in the game, we just didn't have a supporting cast making any shots tonight," said Judson, noting his team's guards were 4-for-20 from the field. "We struggled shooting the basketball."

"We just didn't anyone scoring other than Scotty. No one else had more than five points," noted Judson.

"Some times we have those types of games, and, unfortunately, we've had a couple against pretty good basketball teams," he added.

Westbrook added five points, three rebounds, two assists, and two blocked shots for the Wolverines, and 8th-grader Joey Tomasso had four rebounds, two steals, and one blocked shot.

Woodring scored his 1,000th point in just 49 career games.

"It is amazing. I would really have liked to see where he could have been at if he had been healthy last year," said Judson. "He's had an outstanding high school basketball career. To score 1,000 points in just 49 games is pretty special.

"Hard work definitely pays off," noted Judson. "He is one of the hardest working players I've ever had. Everything accolade he receives and accomplishment he achieves is definitely earned.

"He handles himself so well, it's just remarkable," added Judson.

Waverly, now 15-4, hosts Watkins Glen Tuesday at 7 p.m. in an IAC South Large School divisional playoff game. The winner will take on Whitney Point Friday at TCCC in the overall Large School championship game.
FOR MORE PHOTOS, VISIT VALLEY SPORTS REPORT.
About the Author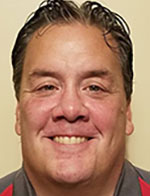 Tim Birney is the founder / owner of River Road Media Group. He was born and raised in the Valley, graduating from Waverly High School in 1984.
Birney earned an Associate's Degree in Journalism from SUNY Morrisville in 1986 and a Bachelor's Degree in Journalism / Public Relations from Utica College of Syracuse University in 1988. He began his newspaper career at The Daily Review in Towanda in 1989, before moving on to The Evening Times in 1995. He spent more than 10 years at the Times, the last four as Managing Editor.
River Road Media Group includes five sites in "The Sports Reports" family that cover 24 school districts in five counties: Valley Sports Report (launched Aug. 10, 2009), Tioga County (NY) Sports Report (Aug. 13, 2018), and Northern Tier Sports Report (Aug. 31, 2020); Northern Tier West Sports Report (March 15, 2021) Southern Tier Sports Report (Aug. 16, 2021).