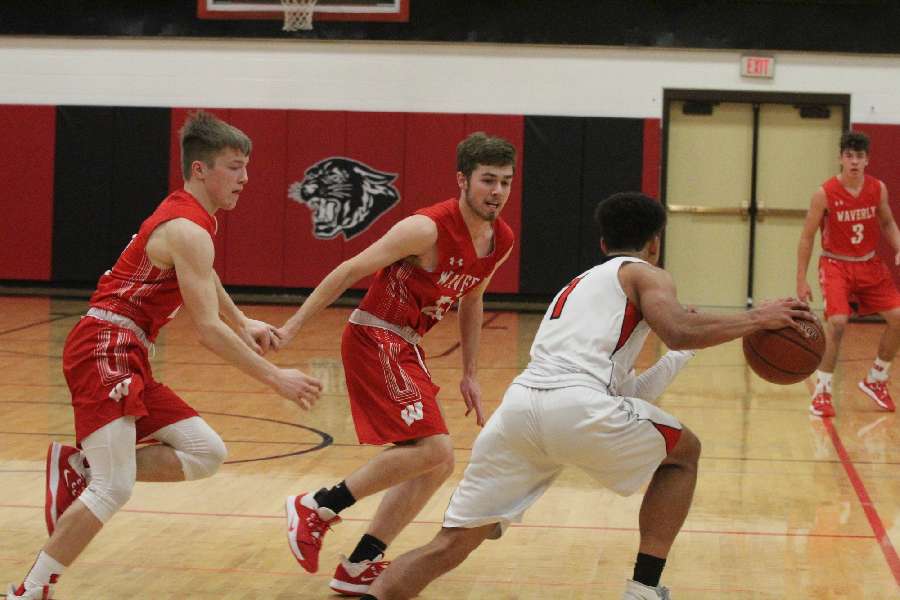 WOODRING SPARKS WAVERLY IN 66-40 WIN OVER S-VE
By: Tim Birney | Waverly Athletics | January 14, 2020 | Photo courtesy Tim Taylor
SPENCER — Senior Scott Woodring sparked a second-quarter rally that gave Waverly a 12-point halftime lead en route to a 66-40 win over S-VE here Tuesday night in IAC South boys basketball action.

"I'd like to see us start games a little bit better than we have been," said Waverly coach Lou Judson. "For some reason, we come out of the gate not playing well in the first quarter, then we wake up and usually play a good second quarter, and usually finish off the game OK.

"We made some plays out in transition and when we went to the press, I think that's what really kind of got us going," he noted.

"And, I really thought we fed off of Aiden Westbrook's energy in the first half," added Judson. "He was all over the place."

Matthew Byrne buried a 3-pointer and scored seven points in the first quarter, while Markus Brock had five points, including a trey, and Matthew Merrick added a 3-pointer to help the Panthers to a 17-15 lead after the first eight minutes.

Woodring, who had six points in the opening stanza, pumped in 12 points in the second quarter to fuel a 19-5 run that gave the Wolverines a 34-22 halftime lead.

Woodring scored 11 more points in the third quarter to help up their lead to 16 points, at 49-33, entering the final eight minutes.

"We didn't shoot it well from three," said Judson. "We haven't been, but Scotty's such a dominant force inside. He gets to the free throw line a lot. He didn't shoot well from the free throw line tonight, but he just kept us in it for a while there when we needed him to."

Senior Austin Ellers and junior Nick VanHouten each canned 3-pointers in the fourth quarter, and the Wolverines made 9 of 12 free throws down the stretch to seal the victory.

"We were a little sloppy in the second half," said Judson. "There were too many turnovers, but all in all, you've got to be happy with a 20-plus point win on the road at Spencer where it's very difficult to play."

Woodring led Waverly with 30 points, 16 rebounds, four steals, and one blocked shot, while junior Aidan Westbrook had seven points, five boards, and five steals, and junior Peyton Bowen scored six points.

Junior Griffen Stein had six points and five rebounds in the win, while 8th-grader Joey Tomasso added five points, four rebounds, and six steals, VanHouten scored five points, and senior Jalen McCarty had three rebounds and three assists

Byrne led S-VE with 12 points, while Brock scored nine points, and James Sutherlin and Blaine Whitmarsh added seven points apiece.

Waverly, now 9-1, travels to Dryden Thursday night.
FOR MORE PHOTOS, VISIT VALLEY SPORTS REPORT.
About the Author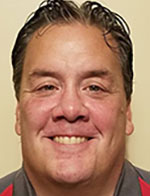 Tim Birney is the founder / owner of River Road Media Group. He was born and raised in the Valley, graduating from Waverly High School in 1984.
Birney earned an Associate's Degree in Journalism from SUNY Morrisville in 1986 and a Bachelor's Degree in Journalism / Public Relations from Utica College of Syracuse University in 1988. He began his newspaper career at The Daily Review in Towanda in 1989, before moving on to The Evening Times in 1995. He spent more than 10 years at the Times, the last four as Managing Editor.
River Road Media Group includes Valley Sports Report (launched Aug. 10, 2009), Tioga County (NY) Sports Report (Aug. 13, 2018), and Northern Tier Sports Report (Aug. 31, 2020). Southern Tier Sports Report is set to launch in 2021.