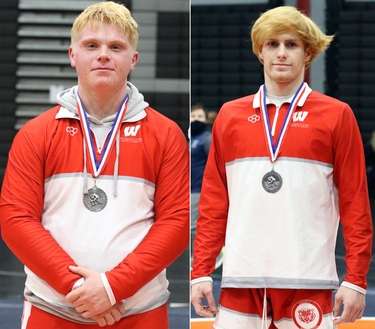 HILLS, BEEMANS PACE WAVERLY'S EFFORTS AT JARVIS TOURNAMENT
By: Tim Birney | Waverly Athletics | December 11, 2021 | Photo courtesy Matt Patton
ATHENS — Juniors Braeden Hills and Ty Beeman each finished second, and 8th-grader Troy Beeman placed third to pace Waverly's efforts Saturday here at the annual Jarvis Wrestling Tournament.

The Wolverines finished seventh in the 10-team field with 78 points, well off the pace of team champion Canisteo-Greenwood, which tallied 235 points. Athens was second with 158.5 points, and West Scranton was third with 141.5 points.

Hills finishes second at 152 pounds
Hills pinned his way to a 4-0 mark in pool play.

Hills opened with a pin of Scranton's Matt Schilling in 3:36, then decked Wilson's Cameron Thatcher in 54 seconds.

He kept it rolling with a pin of the pool's top seed, Canister-Greenwood's Carson Turner in 3:53, and closed out pool play with a pin of West Scranton's Mason Bennett in 3:13.

In the title match, Hills dropped a 16-1 technical fall to Canister-Greenwood's Braidon Woodward.

Beeman brothers finish 2-3 at 215 pounds
Ty Beeman finished 2-0 in Pool B play, while Troy Beeman was 2-1 in Pool A.

Ty Beeman pinned SVEC's Ezekiel Foster in 1:49, and then decked Wilson's Rex Hayrabal in 1:35.

Troy Beeman opened with a pin of Canister-Greenwood's Hayden Lewis in 68 seconds, then forged a 10-4 decision over West Scranton's Calden Berardi.

Troy Beeman lost via fall to eventual champ Camden McConnell of Corning in 2:40 to close out pool play.

In the semifinals, Ty Beeman pinned Troy Beeman in 1:56 to advance to the finals, where he dropped a 5-0 decision to McConnell.

Troy Beeman bounced back with a pin of Hayrabal in 46 seconds to finish third.

McCarty finishes fifth at 120 pounds
Junior Landon McCarty dropped a 9-2 decision to Wilson's Jason Williams in his first match of the day, but bounced back with a 54-second pin of Scranton's Camden Labukas.

After issuing a medical forfeit to eventual champion Gavin Bradley of Athens, McCarty forged a 7-0 win over Corning's Freddie Clark to even his pool play mark at 2-2.

In the fifth-place match, McCarty scored a fall in 1:28 over Falconer's Anthony Rivera.

Stotler finishes fifth at 138 pounds
Junior Connor Stotler was 1-2 in pool play.

He dropped an 8-2 decision to Scranton's Shkeb Nadir, and then lost via fall to eventual champ Kaden Setzer of Athens, before closing out pool play with a pin of Falconer's Mason Kilmer in 3:58.

In the fifth-place match, Stotler decked Wilson's Luckas Macking in 58 seconds.

Tedesco withdraws after 2-1 start
Junior Gage Tedesco opened with a 55-second fall over Corning's Reilly Peiffer, but lost via first-period fall to Falconer's Kyle Keefe in Round 2.

After a 13-1 major decision win over SVEC's John Johnson, Tedesco withdrew due to a stomach ailment. He finished sixth in the 172-pound weight class.

Others:
• Senior Andrew Kimble opened pool play with a win over Wilson's Andre Reyes in 1:24, but dropped his next three bouts in the 172-pound weight class.

In the seventh-place match, Kimble flattened Scranton's Ryan Caravito in 21 seconds.

• Senior Austin Ingham opened with a pin of West Scranton's Jamir Chiaramonte in 5:03, but was forced to forfeit the remainder of his matches due to an injury. He finished sixth in the 132-pound weight class.

• At 145 pounds, junior Braeden Nichols' lone win in Pool B play came via a forfeit from Wilson's Blaze Hartum, who suffered an injury. Nichols issued a forfeit to Scranton's Connor Order in the seventh-place match.

• Also at 145 pounds, junior Mason Ham was 1-4 — received a forfeit from Wilson's Blaze Hartum in the ninth-place match.

• Freshman Mackenzie Laforest was 0-5 at 285 pounds.

• Seventh-grader Nico Rae was 0-5 at 106 pounds.

• Freshman Jake Besecker was 0-4 at 126 pounds.

——————

IN PHOTO: Waverly's Ty Beeman (left) and Braeden Hills. … PHOTOS BY MATT PATTON.

About the Author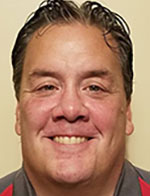 Tim Birney is the founder / owner of River Road Media Group. He was born and raised in the Valley, graduating from Waverly High School in 1984.
Birney earned an Associate's Degree in Journalism from SUNY Morrisville in 1986 and a Bachelor's Degree in Journalism / Public Relations from Utica College of Syracuse University in 1988. He began his newspaper career at The Daily Review in Towanda in 1989, before moving on to The Evening Times in 1995. He spent more than 10 years at the Times, the last four as Managing Editor.
River Road Media Group includes Valley Sports Report (launched Aug. 10, 2009), Tioga County (NY) Sports Report (Aug. 13, 2018), and Northern Tier Sports Report (Aug. 31, 2020). Southern Tier Sports Report is set to launch in 2021.