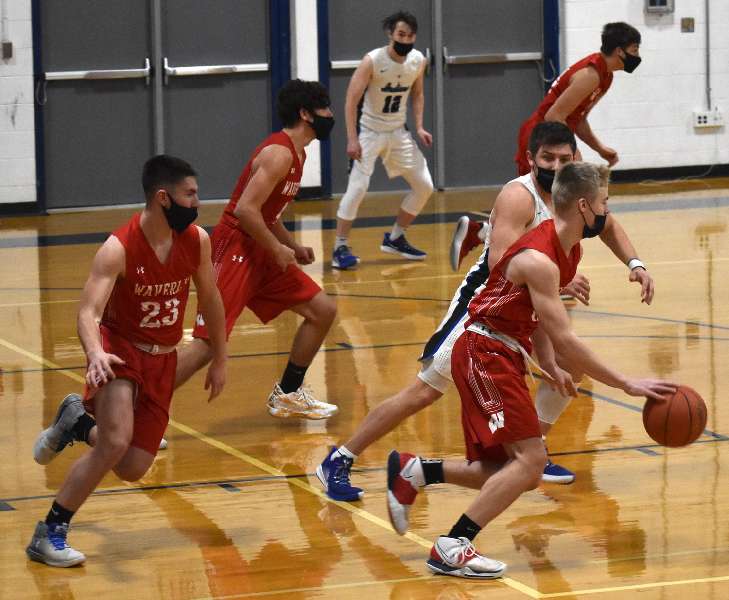 WAVERLY HOLDS OFF CANDOR, 55-51, IN SEASON OPENER
By: Tim Taylor | Waverly Athletics | February 10, 2021 | Photo courtesy Cathy Doane
CANDOR — Waverly coach Lou Judson wasn't sure the basketball mathematics added up for his Wolverines in their 55-51 season-opening win over Candor here Wednesday night, but he'll take the 'W.'

"It was a sloppy game," said Judson. "We committed too many turnovers, we were 3-for-23 shooting 3s, and 16-for-30 from the free-throw line. You add all that up, and we were lucky to get a win.

"We played a good first quarter, but didn't play very well in the second quarter," noted Judson. "It was kind of an up-and-down game for us.

"A lot of my guys got a lot of minutes tonight, and it was their first varsity game. I don't know if they were nervous, or if it was the lack of conditioning with only seven practices … we just looked a little out of sorts tonight, which is to be expected.

"Candor is a tough place to play. None of the guys on my roster has ever played in Candor's gym," added Judson. "I told the kids after the game 'sometimes you have to win ugly, and we did tonight.'"

Senior Ryan Lamber and junior Brady Blauvelt each knocked down a 3-pointer and scored five points in the first quarter, and freshman Joey Tomasso added four points to fuel Waverly's 19-7 first-quarter run.

However, Candor countered with an 18-11 second-quarter spurt to cut the deficit to 30-25 at the half. It could have been closer, but the Indians made just 9 of 16 free-throw attempts in the stanza.

Senior Aidan Westbrook scored eight points scored eight points in the third quarter, and junior Davis Croft connected on a 3-pointer and scored five points as Waverly stretched its lead to 10 points, 50-40, entering the final eight minutes.

Judson singled out the play of two of his seniors.

"Aidan Westbrook played pretty well for us tonight, he was all over the floor," said Judson. "He really got us going in the second half with some steals in the open court.

"And, Ryan Lambert was a steadying influence all game long," he added.

The Wolverines did not make a field goal in the fourth quarter, and made just 5 of 12 free-throw attempts, but it was enough to hold on for the win.

Westbrook led Waverly with 12 points, five rebounds, and four steals, while Lambert had 11 points and two assists, and Croft had 11 points, four boards, and one blocked shot.

Blauvelt scored nine points in the win, while Tomasso added seven points, five rebounds, and two assists, junior Liam Traub grabbed seven rebounds, and seniors Peyton Bowen and Kobe Decker each had four boards.

Nick Thomas led a balanced Candor attack with 13 points.

Waverly hosts Candor Friday night.