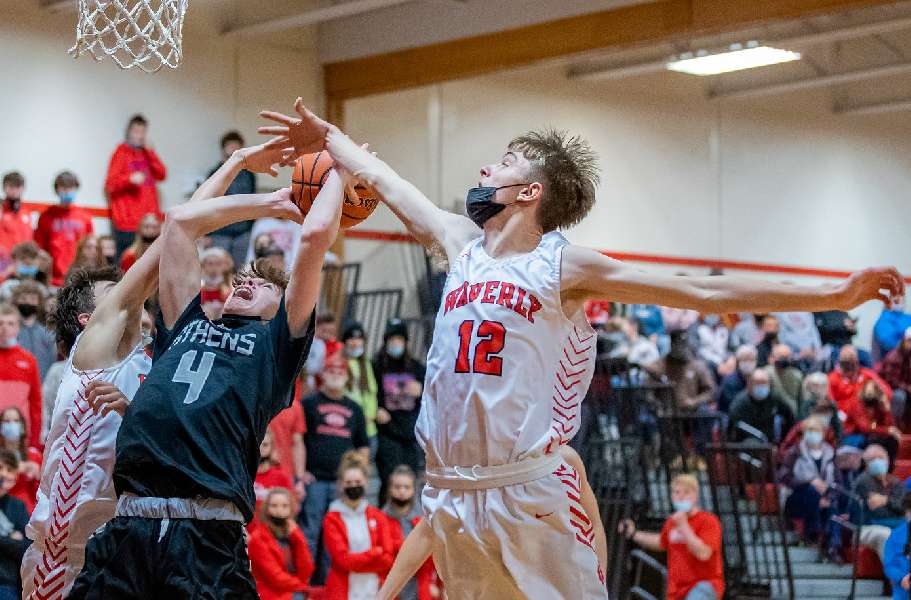 ATHENS HOLDS OFF WAVERLY, 61-53; ADVANCE TO FINALS OF VALLEY CHRISTMAS TOURNEY
By: Tim Birney | Waverly Athletics | December 28, 2021 | Photo courtesy David Alliger
WAVERLY— Athens used a 10-0 run that bridged the final two quarters to take the lead, then held off Waverly down the stretch for a 61-53 win here Tuesday night in the opening round of the annual boys Valley Christmas Basketball Tournament.

"It was an unbelievable game— both ways, these kids just battled," said Athens coach Jim Lister. "They've known each other forever, and I knew it was going to be a war tonight.

"Coach Judson is such a good basketball coach, I knew he's had his kids ready to go, and we would have to play great basketball to win this game.

"Our first goal for this season was to win the Christmas Tournament, so this puts us in position to do that Thursday night," added Lister.

"I'm proud of the guys," said Waverly coach Lou Judson. "You look at a team like (Athens) and the size they have, and the talent they have, you would think that they should be able to handle us.

"These guys fought all the way to the end, and we had opportunities to win that basketball game several times tonight," noted Judson. "But, at key moments of the game, we did not do the things basketball teams need to do to win games; that's the bottom line.

"We had too many wasted possessions," added Judson.

Despite the miscues, Judson was pleased with his team's performance.

"Elite teams find ways to win that basketball game "¦ we committed too many costly turnovers and were sloppy with the ball, maybe trying to do a little too much, but give credit to their defense," he said. "Athens is long and athletic, and they force you a long way away from the basket.

"We executed what we wanted to do tonight, but what are you going to do?" added Judson. "(Athens) is a good basketball team."

Waverly came out of the gate hot, with sophomore Joey Tomasso and senior Brennan Traub knocking down 3-pointers to give the Wolverines a 6-1 lead, which it stretched to 12-5 with 2:44 remaining in the first quarter.

The Wildcats closed the opening stanza with a 10-5 spurt, fueled by a 3-pointer and a driving lay-up by junior Mason Lister, to trim the deficit to 16-15.

Tomasso opened the second quarter with a deep 3-pointer to make it 19-15, but Lister buried a 3-pointer from the corner to trigger a 9-0 run that put Athens up 24-19 with 5:47 remaining in the first half.

Brennan Traub answered with five points— the first bucket off a nifty feed from Tomasso, and the second a deep 3-pointer— to tie the game at 24-24 midway through the second quarter.

Lister connected for a pair of buckets, sandwiched around a pair of free throws by junior Chris Mitchell, to give the Wildcats a 30-24 lead with 2:01 remaining in the first half.

Waverly closed the gap to 30-28, but Mitchell made a free throw, and scored on a lay-up off a bullet pass into the low block from senior J.J. Babcock with 34 seconds left in the half to put the Wildcats up 33-28 at the intermission.

Lister scored 18 of his team-high 21 points in the first half, and also had nine rebounds, while Mitchell scored all five of his points in the second quarter.

"(Mason) was focused tonight, I'm super-proud of him," said coach Lister. "He was shooting well, pounding the boards, and looking down the court "¦ I was just thrilled with his game tonight, it was just terrific.

"And what about Chris Mitchell," added Lister. "He's working hard every day in practice "¦ he's putting in the time, and it paid off tonight. I'm just thrilled with his game tonight."

Athens stretched its lead to seven points, at 35-28, on a bucket by Babcock in the opening moments of the third quarter, but a 3-pointer and a bucket in transition by Brennan Traub trimmed the gap to 35-33 with 6:09 remaining in the third quarter.

Senior Tucker Brown answered with a 3-pointer, and Babcock added a free throw with 4:15 remaining to make it 39-33, but senior Brady Blauvelt canned a trey, and Brennan Traub converted a steal into a lay-up to close the gap to 39-38 with 3:36 left in the third.

After a free throw by Lister, Tomasso scored on a driving lay-up to tie the game, and Brennan Traub buried another 3-pointer to give Waverly a 43-40 lead with 41 seconds remaining. Moments later, Brown made a pair of free throws to trim the lead to 43-42 entering the final eight minutes.

Brown turned a steal into a lay-up just 25 seconds into the fourth quarter to give Athens the lead for good at 44-43, then Lister, Babcock, and freshman Kolsen Keathley, off a beautiful bounce pass to the low blocks from Lister, added buckets to make it 50-43 with 4:04 remaining in the game.

Tomasso drained a runner and a 3-pointer, sandwiched around a pair of free throws by Athens senior Nalen Carling, to close the gap to 52-48 with 2:58 remaining.

After Athens missed the front end of a one-and-one, Brennan Traub scored on a short jumper to cut the deficit to 52-50 with 1:42 left in the contest, but the Wildcats closed the game with a 9-3 spurt.

After a bucket by senior Troy Pritchard in the low post made it 54-50, Babcock hauled down a defensive rebound and fired a full-court outlet pass to Brown for a lay-up with 48 seconds remaining to make it 56-50.

Brennan Traub kept Waverly's hopes alive with his fifth 3-pointer of the game with 26 seconds remaining, but Babcock made 3 of 4 free throws, and Carling was 2 of 2 in the final 16.6 seconds to seal the win.

The Wildcats finished the game with 11 assists in 20 total field goals.

"We passed the ball very well," said Lister. "It's something we've been working on since we started in November "¦ our half-court offense.

"We struggled with that last year," he noted. "We put a lot of offenses in this year, and we've spent a lot of time in practice working on it, and I think it's starting to pay off.

"Transition has been our game," Lister added. "We have no problem running up and down the court, we'll run up and down the court with anybody, but now we have both, and it's working."

Brown had 14 points, six steals, and four assists for the Wildcats, while Babcock added 12 points and nine rebounds, Carling chipped in with five points and three steals, and Pritchard grabbed three rebounds.

Brennan Traub led Waverly with 23 points, three rebounds, and two steals, while Tomasso added 20 points, including a trio of 3-pointers, and six rebounds

"Those two have predominantly been our scoring this year," said Judson. "I thought they both played well.

"We just need more scoring out of a third guy— consistently, which I think is going to come," he added.

Liam Traub chipped in with four points and one blocked shot, and senior Davis Croft recorded seven rebounds, three assists, and two blocked shots for the Wolverines, while Blauvelt had three rebounds and two steals, and junior Nate DeLill grabbed three boards.

Waverly, now 3-3, hosts Sayre Wednesday night at 7:30 p.m. in the consolation game, while Athens squares off with Towanda Thursday at 7:30 p.m. in the championship tilt at Sayre High School.

About the Author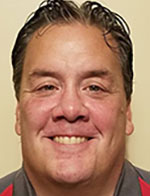 Tim Birney is the founder / owner of River Road Media Group. He was born and raised in the Valley, graduating from Waverly High School in 1984.
Birney earned an Associate's Degree in Journalism from SUNY Morrisville in 1986 and a Bachelor's Degree in Journalism / Public Relations from Utica College of Syracuse University in 1988. He began his newspaper career at The Daily Review in Towanda in 1989, before moving on to The Evening Times in 1995. He spent more than 10 years at the Times, the last four as Managing Editor.
River Road Media Group includes five sites in "The Sports Reports" family that cover 24 school districts in five counties: Valley Sports Report (launched Aug. 10, 2009), Tioga County (NY) Sports Report (Aug. 13, 2018), and Northern Tier Sports Report (Aug. 31, 2020); Northern Tier West Sports Report (March 15, 2021) Southern Tier Sports Report (Aug. 16, 2021).