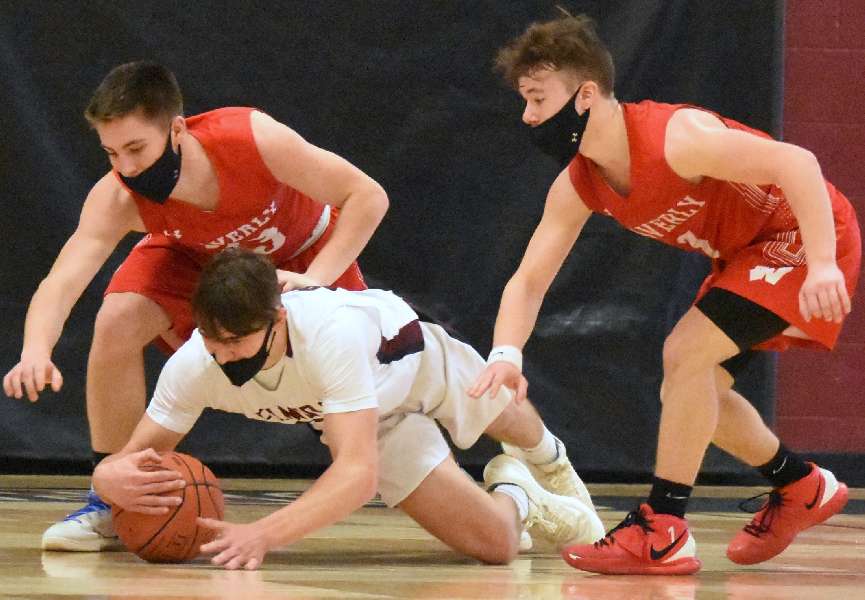 BAD START DOOMS WAVERLY IN 69-49 LOSS AT ELMIRA
By: Tim Birney | Waverly Athletics | February 27, 2021 | Photo courtesy Peter Kent
ELMIRA — Elmira raced out to an 18-point first-quarter lead, and cruised to a 69-49 win over Waverly here Saturday afternoon in non-league boys basketball action.

"The first quarter was the story of the game," said Waverly coach Lou Judson. "I knew (Elmira) was going to come out in a full-court press and get after it from the get-go, and we just weren't ready.

"It's tough to simulate that type of team speed and athleticism if you don't see it on a weekly basis, you can't describe to your players what they're in for.

"If you can't get their first line of defense consistently, you're going to struggle, and we struggled in the first quarter" noted Judson. "I thought we figured them out from there on out, but by that time they had a 20-point lead, and we don't have enough firepower get back in the game against a team like Elmira."

The Express converted several turnovers into easy points en route to a 26-8 lead after the first eight minutes.

Freshman Joey Tomasso scored six points in the second quarter, and junior Brennan Traub added a 3-pointer, but Horseheads outscored Waverly, 16-13, to take a 40-21 lead into the halftime locker room.

Elmira added four more points to its lead in the third quarter, and led 53-30 heading into the final eight minutes.

The Wolverines put up 19 points in the fourth quarter, with Tomasso scoring seven points, senior Ryan Lambert and junior Liam Traub canning 3-pointers, and junior Davis Croft converting an old-fashioned three-point play.

"After the first quarter, I was pleased with how we played," said Judson. "We kept on fighting, we never gave up. We went on some runs in the second half that made them call a couple of timeouts.

"We didn't turn the ball over nearly as much in the second half as we did in the first half," he added. "I really though we were much more poised in the second half against their pressure."

Tomasso led Waverly with 21 points and two assists, while senior Aidan Westbrook scored eight points, senior Kobe Decker added six points, Brennan Traub chipped in with five points, Croft hauled down seven rebounds, and Lambert had four steals and two assists.

Waverly, now 5-3, hosts Corning Monday night.
About the Author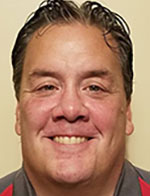 Tim Birney is the founder / owner of River Road Media Group. He was born and raised in the Valley, graduating from Waverly High School in 1984.
Birney earned an Associate's Degree in Journalism from SUNY Morrisville in 1986 and a Bachelor's Degree in Journalism / Public Relations from Utica College of Syracuse University in 1988. He began his newspaper career at The Daily Review in Towanda in 1989, before moving on to The Evening Times in 1995. He spent more than 10 years at the Times, the last four as Managing Editor.
River Road Media Group includes five sites in "The Sports Reports" family that cover 24 school districts in five counties: Valley Sports Report (launched Aug. 10, 2009), Tioga County (NY) Sports Report (Aug. 13, 2018), and Northern Tier Sports Report (Aug. 31, 2020); Northern Tier West Sports Report (March 15, 2021) Southern Tier Sports Report (Aug. 16, 2021).