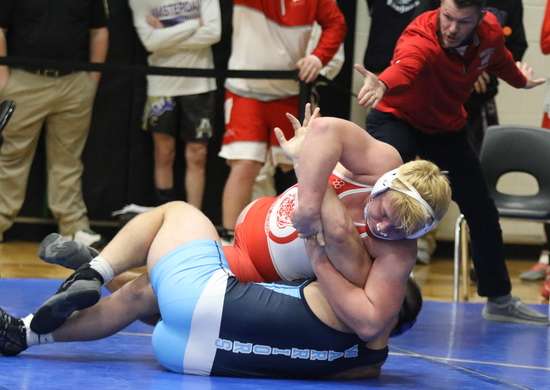 BEEMAN WAVERLY'S LONE REPRESENTATIVE IN SEMIFINALS AT WINDSOR TOURNAMENT; STOTLER ALIVE IN WRESTLEBACKS
By: Tim Birney | Waverly Athletics | December 29, 2021 | Photo courtesy Tim Birney
WINDSOR — If Ty Beeman were a cat, his "Nine Lives," would be down to six or seven after the first day of the Windsor Christmas Wrestling Tournament here Wednesday.

The Waverly junior won three close decisions, including a pair of overtime wins, to advance to Thursday morning's semifinals.

"Two overtime wins against kids who were seeded above him, that's just great heart," said Waverly coach Devan Witman.

"In the first period of both matches, he got out of position a little bit and it cost him, but it wasn't a wall for him," noted Witman. "He broke through it, and continued to wrestle, and continued to fight; that's what we do.

"I preach to our guys that it's the third period, where the heart takes over," added Witman. "Ty's got heart, and never quits. I love that."

Beeman entered the 215-pound bracket as the 19th seed, and opened his day with a 1-0 win over Towanda's Aiden Miller.

In the round-of-16, Beeman needed a reversal at the third-period buzzer to force overtime, where he hit a five-point move midway through the 60-second extra session to score an 11-6 win over second-seeded Jake Whitmore of Indian River.

In the quarterfinals, Beeman trailed Groton's Donovan Mitchell, the seventh seed, 7-2, in the second period, but battled back to win an 11-9 overtime decision, again scoring a takedown in the closing seconds to force the extra session.

Beeman was the only one of four Wolverines that advanced to the semifinals to win. Of the other three "" juniors Connor Stotler, Gage Tedesco, and Braedon Hills "" only Stotler remains alive in wrestlebacks.

Stotler, the ninth seed in the 132-pound weight class, pinned eighth-seeded Noah Sovocool of Walton-Delhi in 5:52 in the round-of-16, but was pinned by top-seeded Caden Bellis of Tioga in 2:50 in the quarterfinals.

Stotler won his only consolation bracket match of the afternoon by fall over BGAH's Jose Bivar in 2:28.

"Connor looked good in the opening round, then ran into a stud (Bellis)," said Witman.

"I"m looking for him to come back and place in this tournament, which is something he hasn't done yet," added Witman. "I know his goal is to place in this tournament."

At 172 pounds, Tedesco, who was the fourth seed, forged a 7-1 decision over CBA / Jamesville-Dewitt's Leo Tallarico in his opening match, but was pinned by fifth-seeded Ray Hutton of LaSalle Academy in 4:37 in the quarterfinals.

Tedesco was eliminated via fall by Marathon's Trevor Hurlburt in 1:19 in his first wrestleback bout.

At 152 pounds, Braedon Hills pinned James Brady of Manhassett in 1:10 in his first match, but pinned by second-seeded Vandavian Way of Gouverneur in 1:59 in the quarterfinals.

Braedon Hills dropped an 8-5 decision to Burnt Hills" Thomas Pawlinga in his first wrestleback match.

At 118 pounds, junior Landon McCarty finished the day at 2-2.

He opened with a 12-4 major decision over Deposit-Hancock's Tanner Macumber, but was pinned by third-seeded Chase Nevills of Copenhagen in 1:14 in the quarterfinals.

In the consolation bracket, McCarty pinned Marathon's Brendan Gumear in 2:24, then dropped a 6-4 decision to Gouverneur's Clyer Baer in a bout he led 4-0.

At 285 pounds, freshman Kam Hills scored the quickest fall of the day, decking Tioga's Austin Babcock in 8 seconds in the opening round.

In the quarterfinals, Hills was pinned by top-seeded Charlie Tibbits of New Hartford in 2:52.

Hills then lost via fall in 4:07 to Bennett Howell of Chenango Forks in his first wrestleback match.

Senior Andrew Kimble (189 pounds), junior Anthony Speer (215), and freshman Hayden Larson (126) all went 0-2 on the day.

"We came out and we battled," said Witman. "All week, I've been telling our guys this is the toughest tournament we"re going to see until the Section tournament.

"I saw some good things," he noted. 'some of our kids who normally don't go into deeper waters were they and they survived.

"It didn't come out the way we wanted it every time, but I"m super-proud of the way we wrestled," added Witman.

Tioga, with seven in the semifinals, leads the team standings with 88.5 points, well ahead of runner-up Burnt Hills, which has 56 points, and third-place Manhasset, which has 51. Waverly is in 18th place in the 39-team field with 27 points — just 1/2-point behind Horseheads.

The semifinals begin at 9 a.m. Thursday morning.

About the Author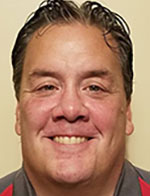 Tim Birney is the founder / owner of River Road Media Group. He was born and raised in the Valley, graduating from Waverly High School in 1984.
Birney earned an Associate's Degree in Journalism from SUNY Morrisville in 1986 and a Bachelor's Degree in Journalism / Public Relations from Utica College of Syracuse University in 1988. He began his newspaper career at The Daily Review in Towanda in 1989, before moving on to The Evening Times in 1995. He spent more than 10 years at the Times, the last four as Managing Editor.
River Road Media Group includes five sites in "The Sports Reports" family that cover 24 school districts in five counties: Valley Sports Report (launched Aug. 10, 2009), Tioga County (NY) Sports Report (Aug. 13, 2018), and Northern Tier Sports Report (Aug. 31, 2020); Northern Tier West Sports Report (March 15, 2021) Southern Tier Sports Report (Aug. 16, 2021).