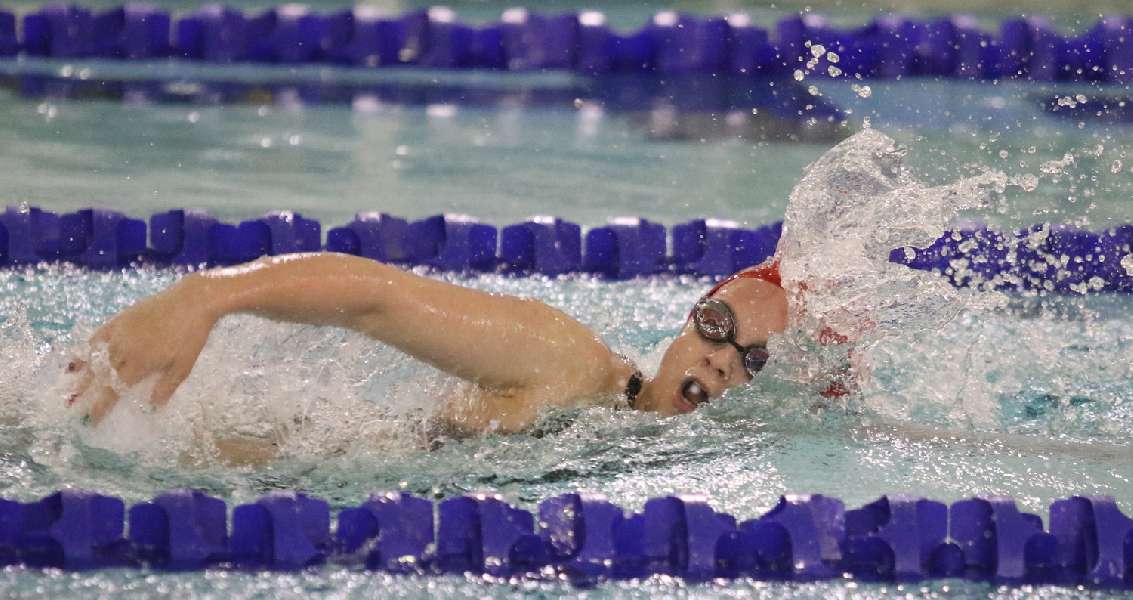 BENJAMIN PACES WAVERLY AT CLASS C PRELIMINARIES
By: Tim Taylor | Waverly Athletics | April 22, 2021 | Photo courtesy Tim Taylor
OWEGO — It was not your usual postseason meet, but the preliminary round of the Section IV Class C Girls Swimming and Diving Championships did offer Waverly an opportunity to compete against some solid competition in Class C and IAC rival Elmira Notre Dame, as well as Owego from the Class B ranks.

With teams swimming at regional sites instead of all the Class C schools competing at one location, results will not be posted until Friday, so the Wolverines didn't know who has qualified for Saturday's finals. (Look for story later today with full Class C results.)

"Because of COVID and the mixed classes at prelims, they're going to have to wait for all of the preliminary meets to be finalized this evening and then they're going to have to sort it and make sure all the top 16 (placers) are communicated appropriately in the morning," head coach Amy Steck said.

"We think they did really well," assistant coach Carrie Condon said. "We were excited to see them drop a lot of times.

"It's hard at prelims, because it's round-robin seeding, so you know you're not always next to your best competition," Condon added. "Then, with the COVID issues, they did regional sites, so we're not even swimming with all of our Class C competition. It will be great to see in the morning, when everything kind of shakes out after tonight, but we're pretty excited."

Lourden Benjamin paced the Waverly effort with four runner-up showings, two in individual events and two in relays. She posted times of 2:30.58 in the 200-yard individual medley and 1:08.32 in the 100 backstroke.

She also teamed up with Delaney Vascoe, Sophia Desisti and Willow Sharpsteen to place second in the 200 medley relay with a time of 2:07.87 and the 200 freestyle relay, clocking 1:54.63. Their 200 free relay time trailed Owego by a mere three-hundredths of a second.

Vascoe was second in the 100 breaststroke, recording a time of 1:21.33, which was just five-hundredths of a second behind ND's MacKenzie Gillette.

Desisti was also second in 50 free in 28.94 seconds and was just two-hundredths of a second behind Owego's Taylor Pierce.

The Wolverines' other runner-up was Mira Kittle, who registered a time of 1:07.59 in the 100 free.

Sharpsteen came in third in two events, the 200 free and the 100 butterfly, with times of 2:26.89 and 1:10.92, respectively.

Vascoe placed third in the 200 IM in 2:34.94.

Kittle finished third in the 50 free with a time of 29.12 seconds.

Also third was Mara Callear in the 500 free in 6:32.7.

Callear and Kittle also teamed with Josie VanDyke and Nicole Bunke to place third in the 400 free relay, clocking 4:44.63.

The coaches were pleased with some impressive efforts.

"Lourden Benjamin had a season-best time in the 100 backstroke, which is nice because it's an evening competition, and it's hard for them to kind of pull together and pull through, and perform at their peak when it's after a full day of school, and in the situation we're in currently," said Steck. "Mara Callear had a nice time in the 500 and 200 free. Lourden, in the 200 IM, she was right there with where she swam at IACs, which was nice to see, and Mira Kittle in the 50 free."

The meet also serves as a good measuring stick for next season, which hopefully will be a normal one starting in early September. Waverly should return several competitors as Callear, Rachel Shambo and Rachel Smith were the only seniors who competed in this short season's prelims.