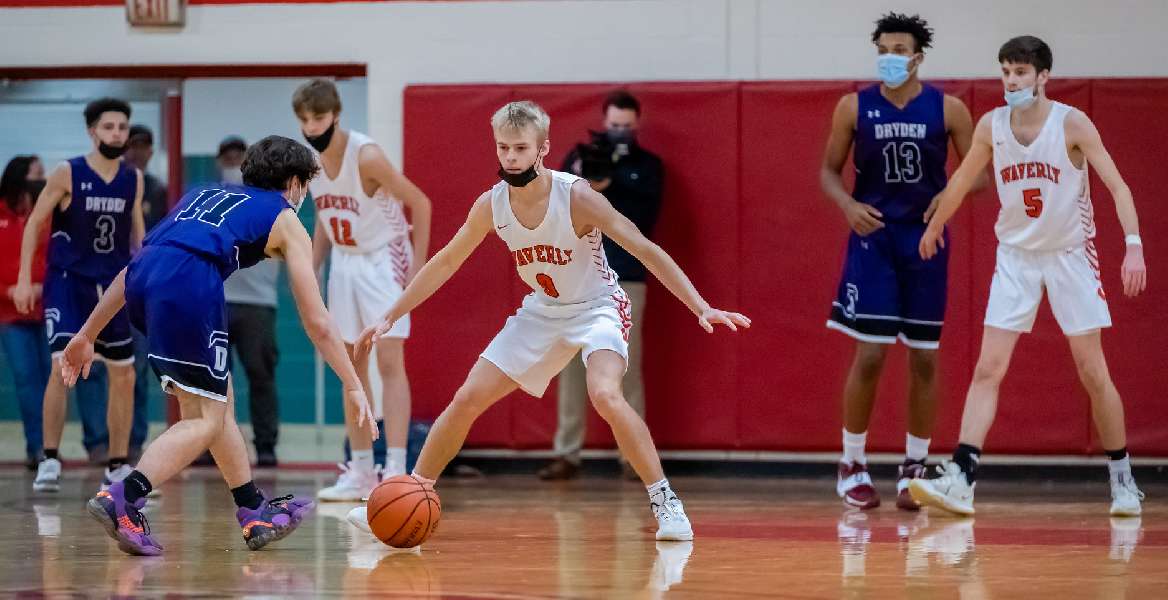 DEFENSE KEYS WAVERLY IN 79-33 SEASON-OPENING WIN OVER DRYDEN
By: Tim Birney | Waverly Athletics | December 6, 2021 | Photo courtesy David Alliger
WAVERLY — The defense led to offense, and lots of it, in Waverly's season-opening, 79-33, win over Dryden here Monday night in IAC boys basketball crossover action.

"Our defense cerated some offense for us," said longtime Waverly coach Lou Judson.

"I told the guys we want to play hard defensively and shoot fast, within the first 15 or 16 seconds of the shot clock," he noted. "These guys like to play that way, but they also bought into playing defense, too.

"When you buy into playing defense, it creates more offense for your team," Judson added. "These guys like to score it, so it worked out well for us tonight"

The defense also took Dryden, now 1-1, out of its offense.

"Our defensive pressure and intensity was the key tonight," said Judson.

"We got after them in the full-court pressure and it just wore them down," he added. "I was really pleased with our energy tonight"

Seven different players put their name in the scoring column in Waverly's 20-5 first-quarter blitz, led by five points from sophomore Joey Tomasso, who knocked down a 3-pointer, and four points from senior Davis Croft.

The Wolverines knocked down four 3-pointers in a 26-15 second-quarter run, and led 46-20 at the half. Senior Liam Traub led Waverly with seven points in the frame, while Tomasso, and seniors Brennan Traub and Brady Blauvelt each had five points — all four canned one 3-pointer.

"We shot the ball pretty well from 3; we shared the basketball, we were unselfish," said Judson. "We had five guys in double-figures.

"With this basketball team, playing unselfishly and making the extra pass is going to make us even better, and I saw that tonight," he added.

Brennan Traub scored nine points, including an old-fashioned three-point play, in a 15-4 third-quarter run that extended Waverly's lead to 61-24 entering the final eight minutes.

Brennan Traub scored a game-high 17 points, including a pair of 3-pointers, for Waverly, while Blauvelt had 14 points, including two 3-pointers, and nine rebounds, and Liam Traub had 14 points and two blocked shots

Tomasso contributed 10 points, including a pair of 3-pointers, five assists, and one blocked shot in the win, while Croft had 10 points, six rebounds, and four assists, sophomore Jay Pipher added four points, four rebounds, three steals, junior Nate DeLill had four points and three steals, sophomore Jake Benjamin chipped in with four points, and senior Declan Murphy grabbed six boards.

Waverly shot 47 percent (33 of 71) from the field.

Xavier Scott led Dryden with 13 points, and Zach Scott added 11.

——————

IN PHOTO 1: Waverly's Brennan Traub. "¦ PHOTOS BY DAVID ALLIGER — TRAVELING PORTRAITS.

About the Author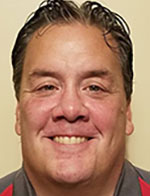 Tim Birney is the founder / owner of River Road Media Group. He was born and raised in the Valley, graduating from Waverly High School in 1984.
Birney earned an Associate's Degree in Journalism from SUNY Morrisville in 1986 and a Bachelor's Degree in Journalism / Public Relations from Utica College of Syracuse University in 1988. He began his newspaper career at The Daily Review in Towanda in 1989, before moving on to The Evening Times in 1995. He spent more than 10 years at the Times, the last four as Managing Editor.
River Road Media Group includes five sites in "The Sports Reports" family that cover 24 school districts in five counties: Valley Sports Report (launched Aug. 10, 2009), Tioga County (NY) Sports Report (Aug. 13, 2018), and Northern Tier Sports Report (Aug. 31, 2020); Northern Tier West Sports Report (March 15, 2021) Southern Tier Sports Report (Aug. 16, 2021).