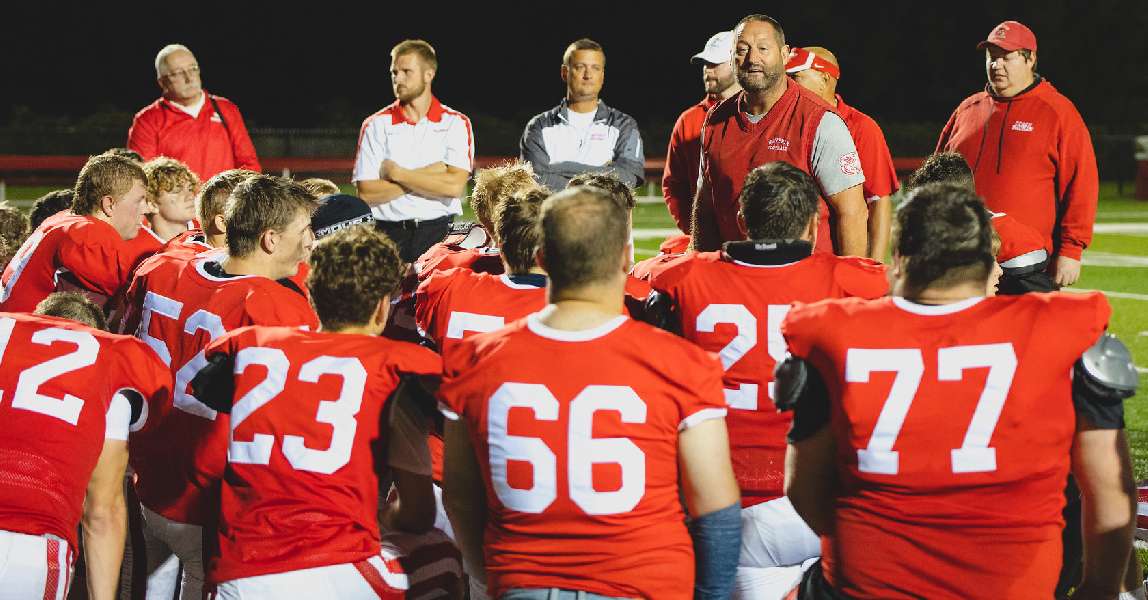 DEFENSIVE GAMBLE PAYS BIG DIVIDENDS FOR WAVERLY IN 31-7 WIN OVER EAST SYRACUSE MINOA
By: Tim Birney | Waverly Athletics | September 3, 2021 | Photo courtesy David Alliger
WAVERLY — Waverly coach Jason Miller took a gamble defensively, and it paid big-time dividends in a season-opening 31-7 win over Section III's East Syracuse Minoa here Friday night in non-league football action at Memorial Stadium.

Miller's defense pitched a shutout. ESM's lone score of the game with a 78-yard kick return by El Rahkhem in the second quarter.

"This is the first time since in the nearly 20 years that (defensive coordinator) David (Shaw) and I have been together that we've played man-to-man coverage," said Miller. "It's the first time in a game ever, that we've played man-to-man, with two safeties behind, in what we call Cover-5.

"Man, it worked pretty good," laughed Miller.

"It worked pretty good against this kind of offense. If we do that against a Section IV running teams, it ain't working.

"We mixed up our coverages, too," noted Miller. "We gave the same look, and played some zone; that's difficult to read. When you're bringing three, and covering with eight, that's a quarterback's nightmare.

"I think we surprised them with it. I don't think they were ready for it," added Miller. :I think they thought they were going to see a 4-4 Cover-3, and that's not what we did."

The Wolverine defense held the Spartans to 219 yards in total offense — 129 rushing yards on 28 carries, and just 90 yards through the air.

"The big difference in this game was us having five men in the box, making it difficult for them to throw, and their inability to run the football despite us having just five in the box," said Miller. "I would have never thought that would happen, but it was a risk we took.

"Our inside backers (Cayden Turcsik and D.J. Shaw) played great, Ty Beeman played great, Tyler (Talada) and Jake (Benjamin) played great on the outside, did a great job containing it," he noted.

"And having those two (Joey Tomasso and Jay Pipher) in the back is a safety net for the defense," added Miller.

Offensively, sophomore Joey Tomasso completed 17 of his 34 pass attempts for 279 yards and two TDs, with sophomore Jay Pipher hauling in six catches for 161 yards and one TD.

Miller was impressed with Tomasso's decision-making in the win, and by the play of Pipher.

"We talked about getting rid of the ball quickly because of the way (ESM) brings pressure, and with how athletic they are off the edge.

"It was something we emphasized to Joey … we told him he had 1.75 second to get rid of the football.

"Joey did a great job. He kept his composure and threw catchable balls, and we made some great plays.

"(Pipher) just made great plays. There were a couple times, he broke them down, and got behind the defender, but for the most part, he just made great plays, and great catches," added Miller.

Senior Brady Blauvelt recorded five catches for 62 yards, and senior Tyler Talada added four receptions for 34 yards and one TD.

Tomasso was not sacked despite dropping back to pass more than 35 times.

"I thought we did a really good job protecting Joey," said Miller. "(ESM) typically brought six, and we were able to pick it up. A couple times they got away, and pressured him or hit him after the throw, but (Joey Tomasso) has great feet. He's elusive, a lot more elusive than he looks.

"(ESM) did do a great job bottling him up in our quarterback counter game," added Miller. "They matched up with him man-to-man, and we got nothing out of that."

Sophomore Gage Tedesco led the Waverly ground game with 68 yards and one TD on 16 carries, while Pipher added 39 yards on five carries, and Tomasso added a rushing TD.

Miller said a big factor in the win was Waverly's conditioning.

"(ESM) got a little tired," he said. "They were just not as conditioned as we were. That's always a factor in these Week Zero, Week 1 games … if you look back at some of the wins we have in the first week of the season, we are in better condition.

"It goes back to our conditioning program that started in June with Eric Ryck running our conditioning," Miller added. "We had 40 guys here doing a well-organized conditioning program, three nights a week, and that makes a huge difference."

Another factor were the penalties. ESM was flagged 19 times of 179 yards, while Waverly had nine penalties for 79 yards.

The Wolverines opened the game with a bit of trickery, as junior kicker Ryan Clark recovered an onside kick after it ricocheted off the face mask of an ESM player, give Waverly the ball at it own 44 to start the game.

A 12-yard run by Pipher on a jet sweep, and a 31-yard complete from Tomasso to Pipher quickly moved the ball to the Spartan 25, but the drive stalled there.

The teams exchanged possession, with Waverly taking over on downs at its own 28 with 2:35 remaining in the first quarter.

After a first down on a 9-yard completion from Tomasso to Blauvelt, the Wolverines used a pass interference call against the Spartans to move into ESM territory.

On the next play, Pipher hauled in a 28-yard completion to give Waverly first-and-goal at the 10.

Pipher nearly scored on the next play, but was driven out-of-bounds at the ESM 1. The Spartans stiffened, and Clark's 19-yard field goal gave Waverly a 3-0 lead with 10:24 remaining in the first half.

After an exchange of fumbles, ESM turned the ball over on downs at the Waverly 37, and the Wolverines needed just four plays to march 63 yards to take a 10-0 lead.

On second-and-10, Tomasso connected with Pipher for a 34-yard gain to the ESM 29. Two plays later, Tedesco broke loose off tackle and raced 25 yards untouched for a score. Clark's PAT made it 10-0 with 4:02 remaining in the half.

Moments later, Rahkhem broke through the middle of the Waverly kick coverage team and raced 78 yards for a TD. Tyler Bell's PAT kick trimmed the deficit to 10-7 with 3:50 left in the half.

The Wolverines took the ensuing kickoff and march into ESM territory. They seemed poised to score after a 29-yard pass from Tomasso to Pipher put them in a first-and-goal situation at the Spartan 3.

At that point, the wheels fell off. A holding call while Tomasso was scrambling and trying to find a receiver pushed the ball back to the 20, and Kayleb Bechy was dropped for an 8-yard loss on a jet sweep. The possession ended when Tedesco was decked for a 3-yard loss at the ESM 33.

Waverly, which won the coin toss and deferred to the second half, took the third-quarter kickoff and marched 55 yards on seven plays to take a 17-7 lead.

Junior Nate DeLill returned the kick 14 yards to the Waverly 45 to put the Wolverines in prime field position.

On the second play of the possession, Tomasso hooked up with Blauvelt on a 31-yard pass to the ESM 20.

Senior Kaden Wheeler gave the Wolverines a first-and-goal at the 6 with a 10-yard run, and Tomasso capped the drive with a 2-yard scoring run, breaking a tackle at the line-of-scrimmage in the process.

Clark's PAT kick made it 17-7 with 9:06 left in the third quarter.

ESM quickly found itself in Waverly territory, at the 35, on its next possession, but a pair of penalties bogged down the drive, and the Wolverines at its own 6 following a 38-yard punt by Bell.

Waverly was forced to punt after a three-play possession, and ESM had good field position at the Waverly 29, following an 11-yard return by Rahkhem.

The Spartans moved to the Waverly 13, but a bad shotgun snap resulted in a 14-yard loss, and they ended up turning the ball over on downs at the Wolverine 15.

Ten plays later, Pipher made a one-handed grab of a Tomasso pass for a 30-yard TD to make it 24-7.

Early in the drive, Tomasso connected with Blauvelt for 10 yards on a third-and-10 play. Later in the possession, DeLill hauled in a 19-yard reception while falling flat on his back, securing the catch after he was already on the ground.

Clark's PAT kick made it 24-7 with 10:54 remaining in the game.

Waverly finished off the scoring with a 7-yard TD pass from Tomasso to Talada with 1:04 left in the game. It capped a 13-play, 95-yard drive that included three pass interference, one defensive holding, and one encroachment call against the Spartans, and two penalties against the Wolverines.

Bell completed 9 of 15 passes for 90 yards for ESM, including four for 34 yards to Rahkhem. Jackson Palumb led the ESM ground game with 44 yards on 14 carries, and Bell added 27 yards on seven carries.

Miller is pleased with his team's progression throughout the preseason, following a 1-4 spring season.

"We're in a different place than we were in the spring, and that's quite obvious," he said. "This was just a great team effort.

"I'm really pleased with how our under classmen helped us prepare for this game," noted Miller. "We had a great two weeks of practice, and it showed on the field tonight.

"This is a good win," added Miller. "ESM is one of the best Class A teams in Section III."

Waverly returns to action Friday when it hosts Owego.
FOR MORE PHOTOS, VISIT VALLEY SPORTS REPORT.

About the Author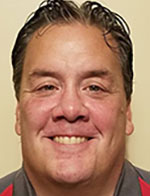 Tim Birney is the founder / owner of River Road Media Group. He was born and raised in the Valley, graduating from Waverly High School in 1984.
Birney earned an Associate's Degree in Journalism from SUNY Morrisville in 1986 and a Bachelor's Degree in Journalism / Public Relations from Utica College of Syracuse University in 1988. He began his newspaper career at The Daily Review in Towanda in 1989, before moving on to The Evening Times in 1995. He spent more than 10 years at the Times, the last four as Managing Editor.
River Road Media Group includes Valley Sports Report (launched Aug. 10, 2009), Tioga County (NY) Sports Report (Aug. 13, 2018), and Northern Tier Sports Report (Aug. 31, 2020). Southern Tier Sports Report is set to launch in 2021.