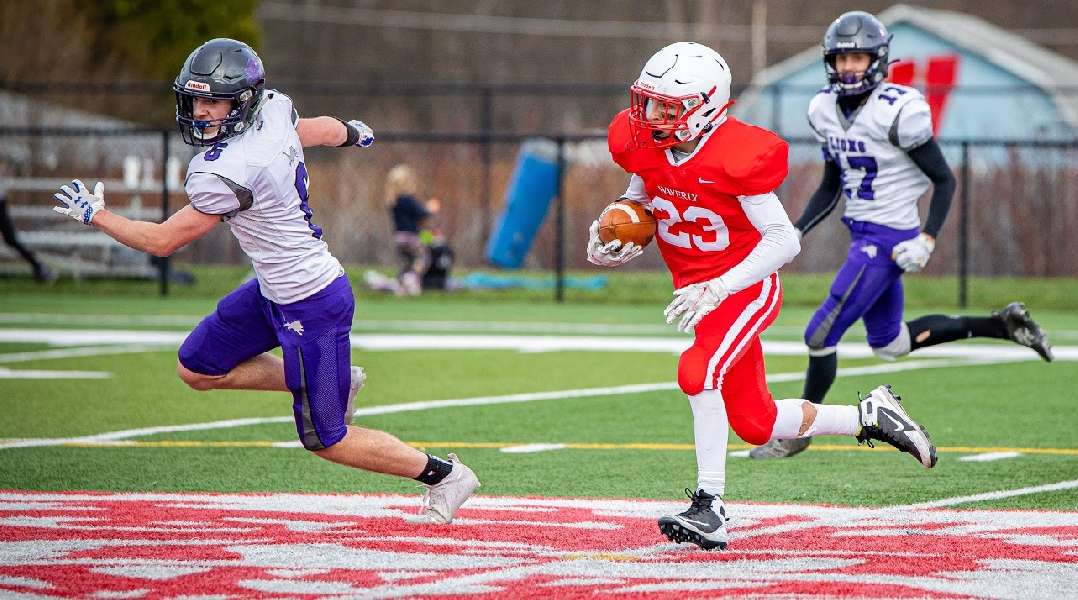 DESPITE YOUTH, EXPECTATIONS REMAIN THE SAME FOR WAVERLY IN 202
By: Tim Birney | Waverly Athletics | September 1, 2021 | Photo courtesy David Alliger
WAVERLY — Waverly returns a fair amount of experience in 2021, but the team as a whole remains young, says longtime coach Jason Miller, who expects his team to grow as the season progresses, and ultimately challenge for a division title, and a Section IV crown.

(Waverly opens the 2021 season tonight at home against East Syracuse-Minoa. Game time is 6 p.m.)

"The thing I love about being back in a normal situation is an expectation with enough talent that throughout the year, we're going to grow," he said.

Earlier this week, Whitney Point announced it will drop to 8-man football, forcing Section IV to shift Chenango Valley into Waverly's division, along with O-M / Watkins Glen, and Dryden.

"Our division got tougher," said Miller.

"Now, all of the sudden winning the division is really important," he noted. "With Whitney Point dropping to 8-man, Chenango Valley comes over to our division, so that's a critical game for us at home in Week 2.

"Our goal is to win our division, so that we're the number one seed in our division, crossing over against the No. 2 seed in the other division in the semifinals, and not the 1-seed (Chenango Forks)," continued Miller.

"Our goal is to make the Section IV finals," he added. "A lot will have to happen right for us throughout the season, but it is a realistic goal."

Junior Ty Beeman returns to anchor the offensive line at center, and will be flanked by seniors Cayden Turcsik and D.J. Shaw at guards. Junior Zach Vanderpool and sophomore Jake Benjamin will start at the tackles.

Eighth-grader Troy Beeman will back-up all three positions on the line, while senior Jake Forrest and sophomore Dylan Baggerly will back up at guard, and freshman Cam Hills is the back-up tackle.

Miller's biggest concern with his offense is in the trenches.

"Our depth up front is our biggest concern by far," he said. "Our first few guys are young, but solid. They got a little game experience last year, and they're going to develop throughout the year.

"Our back-ups and younger guys will have to come along; that's major concern," added Miller. "With this schedule, and starting off against large school that have a lot of linemen, that's our weakness."

Junior Nate DeLill will start at tight end / H-back, with senior Kaden Wheeler also seeing time there.

Sophomore Joey Tomasso will start at quarterback, and sophomores Gage Tedesco and Braedon Hills will share time at tailback.

Seniors Brady Blauvelt and Tyler Talada will start at the X-receivers, with juniors Isaiah Bretz and Treyton Moore both seeing time there as well.

Sophomore Jay Pipher will start at slotback, with junior Kayleb Bechy and senior Thomas Hand also seeing time there.

"We're young. If you look at our roster, especially the guys on offense, we're young — a lot of freshmen and sophomores," said Miller. "Our goal is to get better every week.

"We have a lot of depth in the skill positions, though, and that's one area where we're good," noted Miller. "We use multiple-personnel sets, and no matter what personnel grouping we're in, we're deep.

"We're a little inexperience at tailback," he continued. "Gage (Tedesco) was out last year, and Braden Hills is coming back after not playing last year.

"Both are pretty talented kids, though," added Miller. "They run hard, and as they get use to this level of football, they're going to develop into pretty good players."

Cam Hills and Ty Beeman will anchor the defensive line at the tackle spots, with Vanderpool, Troy Beeman, and Forrest in the mix to see time. Benjamin and Talada will start at defensive ends.

Shaw and Turcsik will start at inside linebacker, with Baggerly and Ty Beeman rotating in, and junior Conner Stotler also in the mix.

Tedesco and Bretz will start at outside linebacker, with Wheeler and Moore backing them up.

Pipher and Tomasso will start at safety, with Hand, Bechy, and Blauvelt rotating at corner back.

"I don't have a major concern on defense," said Miller. "We play some teams that can really run the ball, and that could be an issue, but we have a lot more experience on the defensive side of the ball than on offense.

"Most of our guys are hitters, and like contact, so I feel pretty good about our defense," he noted. "We don't have great team speed … it's a typical defense for us.

"It will come down to assignments early in the year, and that's always an issue for us. We will get game experience, and we'll get better every game.

"I feel good about our defense. I think they're going to fly around, and I think they're going to play hard, and that's what you ask of them," added Miller.

On special teams, Ty Beeman will serve as long-snapper, with Tomasso handling the punting chores, and junior Ryan Clark will handle the place-kicking duties.

"(Ryan Clark) does a great job, and has a strong leg," said Miller. "He has embraced the role of kicker. He works on it, and has a lot of different types of kicks."

Hand, Bechy and Stotler will return kicks for the Wolverines, and Pipher and Tomasso will handle the punt return chores.

AROUND SECTION IV, DIVISION V
"I have a lot of respect for (O-M /) Watkins Glen, I think they are going to be a very good football team," said Miller.

"I don't know anything about Chenango Valley, but Chenango Valley is Chenango Valley, and they've always been a thorn in our side," noted Miller.
About the Author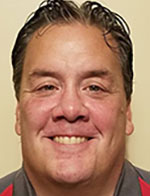 Tim Birney is the founder / owner of River Road Media Group. He was born and raised in the Valley, graduating from Waverly High School in 1984.
Birney earned an Associate's Degree in Journalism from SUNY Morrisville in 1986 and a Bachelor's Degree in Journalism / Public Relations from Utica College of Syracuse University in 1988. He began his newspaper career at The Daily Review in Towanda in 1989, before moving on to The Evening Times in 1995. He spent more than 10 years at the Times, the last four as Managing Editor.
River Road Media Group includes Valley Sports Report (launched Aug. 10, 2009), Tioga County (NY) Sports Report (Aug. 13, 2018), and Northern Tier Sports Report (Aug. 31, 2020). Southern Tier Sports Report is set to launch in 2021.