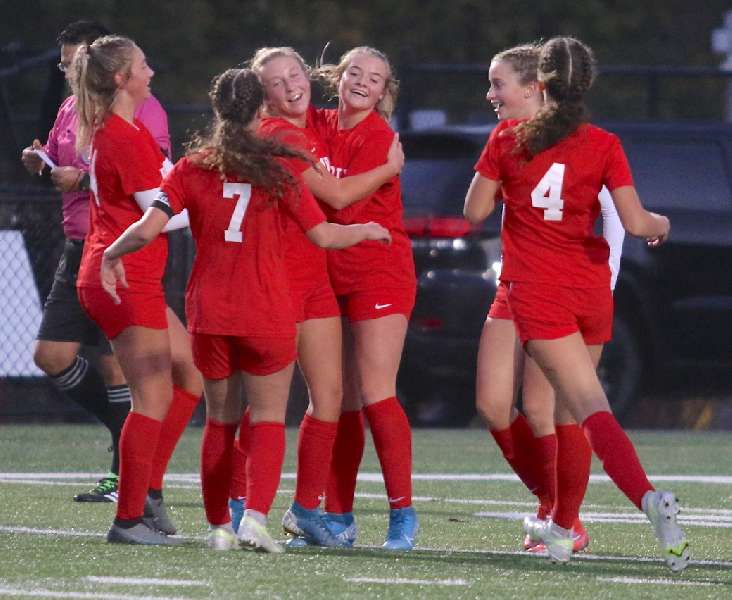 EARLY GOALS, STILLMAN HAT TRICK LEAD WAVERLY PAST NORWICH IN CLASS B QUARTERFINALS
By: Tim Taylor | Waverly Athletics | October 23, 2021 | Photo courtesy Tim Taylor
WAVERLY — Kiley Stillman recorded a hat trick and Waverly rode two early goals to a 4-3 victory over Norwich in a Section IV Class B girls soccer quarterfinal at Veteran's Memorial Stadium here Saturday evening.

It took Stillman, a freshman, about 11 minutes to give the Wolverines a 2-0 advantage and it would turn out they would be two important scores.

The first came at 37:29 of the first half as sophomore Lea VanAllen retrieved a ball in the Purple Tornado corner and crossed in front of the goal and it would result in a Stillman "header" with freshman Addison Westbrook picking up the assist.

The goal came on the Wolverines' second trip into the Norwich third of the field.

Waverly coach Tara Hogan felt the quick start was a key to the win.

"I always say that we have a lot of energy when we're warming up, but it doesn't always carry over to the games, so like we usually perk up a lot when there's a goal scored. Well, when we have a goal that's scored, I mean it was off the back of Kylie Stiilman's head, but that's all it took. We had a lot of energy, it carried on, and we got the early goal, so the excitement was there. It was nice to see.

"I told the girls at halftime, like finally having the energy from warming up to finally showing up on the field and not being quiet and reserved. It was a lot of energy right from the very beginning, so it was really good to see."

The next score occurred at 28:59 when Stillman drilled a feed from junior Kennedy Westbrook into the back of the net.

A little over 10 minutes later, at 18:36, Norwich would get on the scoreboard on a free kick which MacKenzie Hess launched over the head of Waverly goalkeeper Lea Cole.

"There were a couple of mistakes there," Hogan said. "The first goal they got, that free kick for they got outside the box. I told my goalie, Lea, there's nothing you could have done there. It was a great, well-placed free kick."

Also a freshman, Cole faced some tough challenges from the Tornado, who have 16 seniors and juniors on their 17-player roster (Waverly has four upperclassmen).

Stillman completed the hat trick at 10:36 of the first half. Norwich goalkeeper Brianne Miner would make a nice diving block of her shot, but Stillman collected the rebound and put it back in for a 3-1 lead.

The Wolverines didn't have much chance to celebrate the lead as the Tornado closed the gap to 3-2 just 80 seconds later.

"I always tell my girls that the first 10 minutes of each half and the 10 minutes after a goal is scored is the most dangerous time, because if you're the ones that just scored you're on a high," Hogan said. "You want to keep going, you have the energy and the excitement, so it's dangerous for the other team. And then the other team who gets scored on, for the next 10 minutes they're thinking they want redemption, so they're going to be going hard the next 10 minutes too.

"So we got caught maybe too excited, too off and out of position. They came back really fast in those 10 minutes and caught us off guard every time."

Norwich's second goal came when Sarah Davis took a pass from Hess and sent it "skipping" past Cole with 9:16 to play in the half.

"The skip, and that's what I told the girls when we were warming up. Any time, with turf especially, everything skips, no matter what, and especially if there's a little wetness there," Hogan said. "That second goal they scored, she grabbed it, but she didn't have her body behind it, so when she went to hit it, it just went right through. I'm like, you've got to watch out for those skips. And we're working on moving your body behind catching the ball, as opposed to moving out to the side. So it was just a little things. She's only a freshman, she's young, she's very young. So we're working with trying to get someone to work with her next year too.

"She had a lot more action this game. My defense was letting a little more through than we're used to, so she got a good workout."

The second half was a 1-1 standoff.

Less than six minutes into the period, at 34:21, Kennedy Westbrook sent a long, high cross into the back of the net to extend the Waverly lead to 4-2.

Davis scored her second goal of the evening at 30:28, hitting from just outside the 18 to make it a 4-3 contest.

The Wolverines and their fans held their collective breaths when Addison Westbrook went down to injury with just over 27 minutes left and had to b helped off the field. She would later return to finish out the game.

Waverly took 10 shots to Norwich's six an held a 4-2 edge in corner kicks. Cole had three saves and Miner made six.

It was a relatively whistle-free game with the Tornado drawing three fouls and the Wolverines getting two.

Waverly, ranked 25th in the state and seeded fourth in the tournament improved to 10-2-3. The Wolverines will visit top-seeded Chenango Valley (13-1) Wednesday at 3:30 p.m. The Warriors are ranked No. 2 in the state.