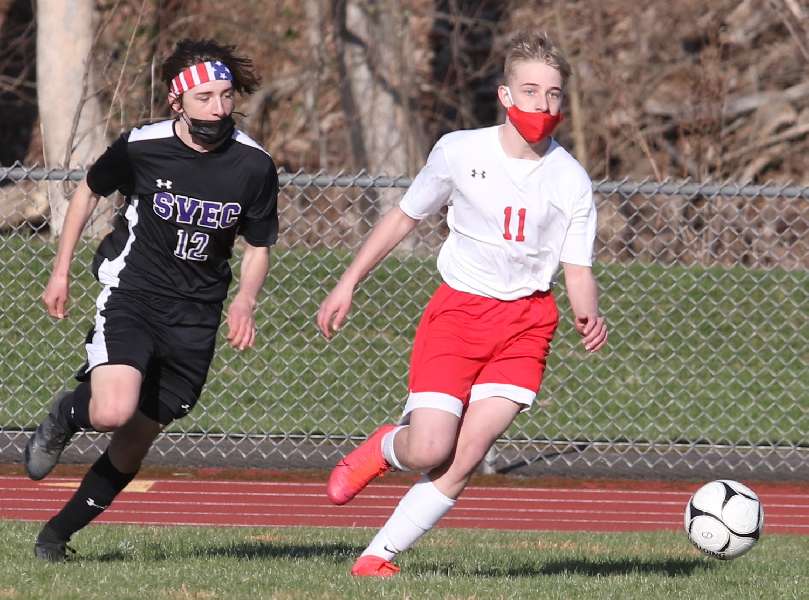 FIRST-HALF GOALS COSTLY IN WAVERLY LOSS TO SVEC
By: Tim Taylor | Waverly Athletics | April 6, 2021 | Photo courtesy Tim Taylor
CANDOR — SVEC took advantage of early and late first-half goals, as well as a large advantage in possession, to defeat Waverly, 2-0, in IAC South Large School boys soccer action here Tuesday.

"I don't know what happened," Waverly coach Eric Ryck said. "I feel like we're a way better soccer team than what showed up tonight. I don't know if it's just we're on vacation and it's Easter break or what's going on. They worked hard and I'm proud of the work effort they have. We just had a tough time syncing any passes together, linking any sort of attack together."

The Eagles' Hunter Bates found himself one-on-one against goalkeeper Cameron McIsaac following a through ball from Jacob Banks less than five minutes into the game to spot the home team a 1-0 lead.

"They had us on our heels," coach Ryck said. "We gave up that early goal and it just kind of took the wind out of ourselves, unfortunately, a little bit and we kind of went into panic mode I think, and we were just trying to fight to get back."

"It helps to score early," SVEC coach Gary Holmes said. "We thought we'd get a lot more, but getting a 2-0 win is definitely a step in a positive direction. Any win is a positive."

Banks would tack on an insurance goal with 26 seconds left in the period on a pass Darren Starkweather.

"That's huge," coach Holmes said. "Getting a cushion of two is a big deal. The other team has to press much harder, which opens things up for you a little bit better. We just weren't quite able to capitalize on it."

Banks nearly put one away earlier in the first half, but hit the right post on a direct kick with just over 15 minutes left.

The ball spent the majority of its time in the Waverly end of the pitch although the Wolverines Nate Ryck almost erased the goose egg with a little over two minutes remaining in the second half.

"We've been doing that recently a lot," coach Holmes said. "We're really good at just possessing the ball. We still need to work on making the ball go beneficially forward. We're struggling with getting the ball going forward through the center. We're settling with letting the ball go wide and holding onto the ball. So, I guess we like to possess it, but we've got to be much more efficient scoring."

Following a goal kick by McIsaac, Ryck dribbled down the left sideline past a SVEC defender. He positioned himself inside the 18 and pushed one across the grass only to have Aidan Swayze make the save.

SVEC was denied several scoring opportunities — some of the Eagles' own doing, while others were due to solid play by McIsaac in front of the net.

During an 8-minute span of the second half, the Eagles would miss their target on four attempts.

McIsaac was key to keeping the Wolverines in the game in the second half. He made three leaping saves then, with 16:06 on the clock, made an impressive diving save.

Waverly defender Landon McCarty cleared one away in the 37th minute of the half and SVEC missed one more shot in the 38th minute.

"I think we did well defending, not allowing another goal in the second half, but it would have been nice to get a little more offensive attack," coach Ryck said. "We were just having trouble linking it together. We were trying to dribble too much or something, and just not staying organized going forward."

SVEC took 14 shots-on-goal to Waverly's three and held an 11-0 advantage in corner kicks.

The Wolverines committed 14 fouls to SVEC's two.


"The calls, back-and-forth ... we were just not getting any calls. I hate to blame it on that, but it just was killing our momentum," coach Ryck said.

"It is what it is," he noted. "It's part of the game and most teams have to deal with it, but when it's one-sided like that, it can really determine the outcome of the game and it can frustrate the kids more than they need to be, and it takes their minds out of the game. That's the hand we were dealt and we did the best we could with what we had."
On Thursday, SVEC (5-1) hosts Notre Dame and Waverly (2-2) hosts Newark Valley.