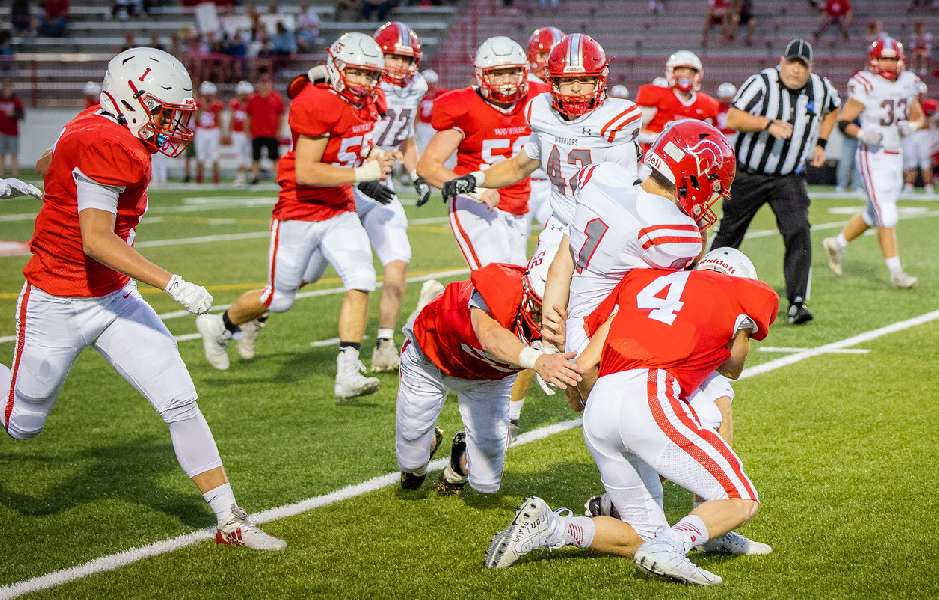 FOURTH-QUARTER RALLY LIFTS WAVERLY PAST CHENANGO VALLEY, 17-
By: Tim Birney | Waverly Athletics | September 17, 2021 | Photo courtesy David Alliger
WAVERLY — Waverly breezed through its first two games without much adversity, but that all changed Friday night as the Wolverines rallied in the fourth quarter for a 17-7 win over Section IV, Division V rival Chenango Valley here at Memorial Stadium.

"It's just seemed like we had our backs to the wall the entire game," said Waverly coach Jason Miller. "We played outstanding defense once again.

"(CV's) offense is tough to stop," he noted. "They have a good quarterback, and a good fullback, and they were tough up front.

"I'm proud of our kids, they hung in there, and persevered," Miller added.

The Wolverines trailed 7-3 after three quarters, but a goal-line stand early in the fourth quarter flipped the momentum.

"The momentum-changing stops like that just change a game," said Miller. "Then, we put together a drive that went the entire length of the field.

The Wolverines improve to 3-0 on the season.

"It wasn't always pretty, but that's a great way to win," said Miller. "This is a great way for a young football team to win because we've had it pretty easy the first two weeks — to come from behind and score two TDs in the fourth quarter, it's just a testament to these guys and how they didn't give up.

"The kids did a great job of executing and not panicking in the fourth quarter," aded Miller. "They didn't get down when we had our backs to the wall, and it did not look good."

With the win, Waverly sits atop its division with O-M / Watkins Glen — both 1-0 in divisional play in the four-team division.

"It's a great divisional win," said Miller. "It puts us at 1-0 in the division, and that's the first step toward our first season goal, which is to be in a situation where we can win our division."

The first half was a defensive battle, with Waverly taking the lead with 2 seconds left in the second quarter on a 38-yard field goal by junior Ryan Clark.

The Warriors took a 7-3 lead in the third quarter on a 40-yard TD pass from Donovan Tomm to Owen O'Brien. It was the first TD the Waverly defense has allowed this season.

Early in the fourth quarter, CV drove to the Waverly 1, but the Wolverine defense came up with the stop.

"Coach (Dave) Shaw always says they're not in, until they're, and there's your proof," said Miller.

After an exchange of possession, Waverly went on a long scoring drive with Tomasso completing a series of short passes, culminating with a 7-yard TD pass to senior Brady Blauvelt, who had a team-high 10 receptions for 95 yards.

Clark's PAT kick gave Waverly a 10-7 lead with 5 minutes remaining.

Four plays later, Waverly took over on downs at the CV 24.

A pair of runs by sophomore Gage Tedesco moved the ball to the CV 13, and Tomasso finished off the short drive with a 10-yard run, and a three-yard TD run with 1 minute remaining. Clark, who is now 12-for-12 in PAT attempts, split the up rights to make it 17-7.

Two plays later, sophomore Jay Pipher sealed the victory with an interception.

Tomasso completed 21 of 38 passes for 252 yards and one TD, while being picked off twice. Pipher had eight receptions for 86 yards, and senior Tyler Talada added three catches for 47 yards.

Tedesco led the Waverly ground game with 40 yards on nine carries, and Tomasso added 23 yards and one TD on seven carries.

Cameron Hirst led CV's ground game with 66 yards on 20 carries, and Tomm added 62 yards on 14 carries.

Tomm completed 3 of his 6 passes for 52 yards, one TD and one interception. O'Brien led the Warriors with 43 yards and a TD on two receptions.

Waverly is currently on a bye Friday after Section III Cato-Meridian dropped out of their scheduled contest.
FOR MORE PHOTOS, VISIT VALLEY SPORTS REPORT.

About the Author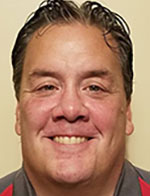 Tim Birney is the founder / owner of River Road Media Group. He was born and raised in the Valley, graduating from Waverly High School in 1984.
Birney earned an Associate's Degree in Journalism from SUNY Morrisville in 1986 and a Bachelor's Degree in Journalism / Public Relations from Utica College of Syracuse University in 1988. He began his newspaper career at The Daily Review in Towanda in 1989, before moving on to The Evening Times in 1995. He spent more than 10 years at the Times, the last four as Managing Editor.
River Road Media Group includes Valley Sports Report (launched Aug. 10, 2009), Tioga County (NY) Sports Report (Aug. 13, 2018), and Northern Tier Sports Report (Aug. 31, 2020). Southern Tier Sports Report is set to launch in 2021.