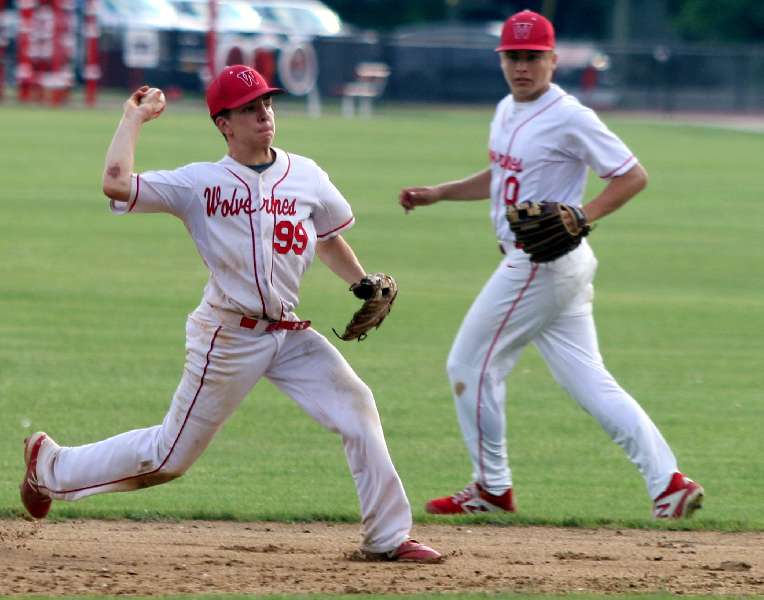 GAMBLE PAYS OFF; WAVERLY TOPS DRYDEN, 9-1, IN CLASS B QUARTERFINALS
By: Tim Birney | Waverly Athletics | June 8, 2021 | Photo courtesy Tim Birney
WAVERLY — With an abbreviated postseason in 2021, Waverly coach Kyle McDuffee gambled on a freshman and it paid off with a 9-1 win over Dryden here Tuesday afternoon in the quarterfinals of the Section IV, Class B baseball playoffs.

With the semifinals slated for Thursday, McDuffee chose to hand the ball to freshman Joey Tomasso Tuesday for his first varsity start, instead of his ace, junior Caden Hollywood, who was 5-0 with a 2.36 ERA heading into today's action.

Prior to Tuesday, Tomasso had just 7 2/3 innings to his name with an ERA of 4.57.

"I was hoping we could avoid throwing (Caden) Hollywood at all," said McDuffee. "The plan was to go with Joey, get the lead and use someone else to finish.

"But, it was a close game and we had to go to Hollywood," noted McDuffee. "You have to play to win the game, or else you don't play tomorrow.

"The kids responded well, and we were able to limit (Hollywood's) pitches," he added.

Tomasso did not get a decision, but he threw four innings, allowing one run on two hits. He fanned four and walked seven.

"The attention today should be on Joey Tomasso," said McDuffee. "He's a freshman, and he came in here today in a real hot spot. He had no idea he was pitching until about 40 minutes before the game.

"He jumped on the mound, and got the job done," noted McDuffee. "He pounded the strike zone.

"I really felt if he got through four or five innings, and just gave up three runs, we should be OK.

"He gave up one run over four innings, then got the big hit that got us the lead," continued McDuffee. "The sky is the limit for that kid. I look forward to watching him grow for the next three years.

"Joey really set us up for the remainder of the Sectionals," added McDuffee.

The Wolverines entered the game with a 14-4 record, including two wins over Dryden — both close games.

"We beat this team twice in the regular season, and it's hard to beat a good team three times, especially when the third time is in Sectionals," said McDuffee. "It's only happened a couple times in my career."

While the game ended with Waverly on the plus-side of a 9-1 decision, Dryden had the game's only run after 4 1/2 innings.

"That is definitely one of the more misleading final scores you will ever see," said McDuffee.

"Hats off to Dryden," noted McDuffee. "It's the coach's (Andrew Lampman) last year, and I think he did a nice job of turning that program around. I feel bad to see them go home."

Tomasso look unhittable at times. He struck out the side in order in the first inning, and retired the first seven batters he faced before encountering problems in the third inning.

With one out in the third, Owen Strickland legged out an infield single. With two outs, Tomasso walked Nolan Weik and Colton Dow to load the bases.

Tomasso appeared poised to escape the jam, but hit Connor Boothroyd on the hand with an 0-2 pitch to force home a run. He retired the next batter on a groundout to end the inning.

In the fourth inning, Tomasso retired the first two batters he faced, but an error kept the inning alive for the Purple Lions. After walks to Strickland and Wyatt Morgan loaded the bases, Tomasso registered a strikeout to leave the bases loaded for the second inning in a row.

In the top of the fifth, Tomasso struck out the first batter, but Boothroyd followed with a single to left field, and McDuffee made the move for Hollywood.

Hollywood quickly picked Boothroyd off first, then induced a groundout to end the inning with just three pitches under his belt.

Dryden starter John Pascarella, meanwhile, handcuffed Waverly for the first four innings, allowing bloop singles to Hollywood, and junior Kaden Wheeler, and an infield single to junior Thomas Hand. Pascarella, a 6-3 lefty, picked two of the three runners off first base.

With one out in the fifth inning, senior Nick VanHouten worked a walk. Hand then pounded a pitch into the plate down the third-base line. With Dryden's third baseman ready to pounce once it rolled foul, the ball rolled until it hit third base, giving Hand a single and advancing VanHouten to second base.

"The ball rolling up the line was a big play," said McDuffee. "If that ball rolls foul, who knows what happens; it could have changed the game.

"And, give Thomas Hand a lot of credit, he really hustled down the line," added McDuffee.

With two outs, Tomasso hammered a 1-0 pitch over the center fielder's head for a two-RBI double to give the Wolverines a 2-1 lead. After fouling off five pitches, Hollywood drove home Tomasso with an RBI single up the middle to make it 3-1.

McDuffee credits a new approach this season to his team's hitting success with two outs.

"We have a really young team, and we've been trying to teach the mental approach to the game.

"When we brought in coach (Brendon) Hitchcock that was his angle, teach the mentality of the game, and teach it to the younger kids," said McDuffee.

"I thought it would take a year or so, but they took to it and really got it in four or five weeks," he added. "Next thing you know, we've had two-out hits left and right; and there's nothing better than two-out hits."

Hollywood retired the Purple Lions in order in the top of the sixth, and the Wolverines blew the game open in the home half of the frame.

Junior Brennan Traub reached on a dropped third strike to lead off the inning, but was quickly replaced on the base paths by Wheeler on a fielder's choice.

After a single by junior Brady Blauvelt put runners on first and second, a potential double-play ball turned into a run when it was misplayed. It also spelled the end of the day on the mound for Pascarella.

After a walk to Hand loaded the bases, freshman Jay Pipher stroked a line-drive RBI single to center field, and Tomasso worked a walk to force home a run to up the Waverly lead to 6-1.

Hollywood provided the big blow in the inning with a groundball single up the middle to plate two runs for an 8-1 advantage. A two-out error plated Waverly's final run to make it 9-1.

VanHouten pitched around of walks in the seventh inning to close out the win for the Wolverines.

McDuffee tipped his cap to Pascarella after the game.

"No excuses, we just took a while to figure it out," he said. "(Pascarella) hit his spots. He did a nice job today."

Hollywood earned the win with 1 2/3 innings of perfect relief. He threw just 13 pitches. VanHouten walked two in a scoreless inning of relief.

Hollywood had three hits and three RBI to lead Waverly at the plate, while Hand singled twice and scored two runs, and Tomasso singled, scored two runs, and had three RBI.

Freshman Jay Pipher singled, scored one run, and drove in one run in the win, while Wheeler and Blauvelt each singled and scored one run, and VanHouten scored a pair of runs.

The second-seeded Wolverines are still awaiting their semi-final opponent as the Susquehanna Valley-Oneonta game was postponed Tuesday. The third-seeded Sabers (8-6) will host the Yellowjackets (7-7) Wednesday afternoon.

"It's all hands on deck now. We have to get through the next game," said McDuffee. "The hardest game is always the next one.

"We're either going to get Sus. Valley or Oneonta. They both come out of the STAC, so we're going to get a quality opponent," noted McDuffee.

"It's usually us going to Oneonta every year. Every sport in this school goes to Oneonta," laughed McDuffee. "Now, they can get on a hot bus and ride two hours to get here.

"Or, if it's Sus. Valley … well, they eliminated us two years ago," added McDuffee.

Waverly will host the winner of the Oneonta-Susquehanna Valley game Thursday at 5 p.m.

An added element in the Class B playoffs was eighth-seeded Greene-Oxford's upset, 4-1, win over top-seeded Windsor Tuesday. Waverly is now the highest seed remaining and will play at home as long as it wins.

"Thursday's game is even bigger now," said McDuffee.

About the Author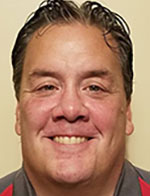 Tim Birney is the founder / owner of River Road Media Group. He was born and raised in the Valley, graduating from Waverly High School in 1984.
Birney earned an Associate's Degree in Journalism from SUNY Morrisville in 1986 and a Bachelor's Degree in Journalism / Public Relations from Utica College of Syracuse University in 1988. He began his newspaper career at The Daily Review in Towanda in 1989, before moving on to The Evening Times in 1995. He spent more than 10 years at the Times, the last four as Managing Editor.
River Road Media Group includes five sites in "The Sports Reports" family that cover 24 school districts in five counties: Valley Sports Report (launched Aug. 10, 2009), Tioga County (NY) Sports Report (Aug. 13, 2018), and Northern Tier Sports Report (Aug. 31, 2020); Northern Tier West Sports Report (March 15, 2021) Southern Tier Sports Report (Aug. 16, 2021).