HOLLYWOOD SPINS 3-HITTER; WAVERLY BLANKS UNBEATEN SAYRE, 3-
By: Tim Birney | Waverly Athletics | May 1, 2021 | Photo courtesy Matt Patton
WAVERLY — Something had to give.

Sayre entered Saturday's game against Waverly, in the nightcap of the "Battle at the Border," at 11-0, and Waverly junior Caden Hollywood entered the contest with a 7-0 career record on the mound.

The oldest of baseball adages reads: Good pitching beats good hitting.

Hollywood proved that adage true once again, spinning a three-hit shutout to lead Waverly to a 3-0 win over a Redskin team that was averaging 15.7 runs per game.

"(Caden) threw 31 pitches in the first four innings," said Waverly coach Kyle McDuffee. "He kept his pitch count low, and he really controlled the game.

"He went after them. He went in knowing (Sayre) was going to put the bat on the ball, and our defense was going to support him.

"When (Sayre) got guys on,they got them on with two outs, and they just couldn't get them in," McDuffee added.

McDuffee was pleased with his team's defensive performance.

"Sayre is an aggressive team, they put the bat on the ball, so I knew we were going to have to play some defense.

"Sayre really hit the ball hard, but right at people at times," said McDuffee. "And, our outfield put in some miles to get to some fly balls, but they got to them.

"We made one or two little mistakes, but we had a big double play … the defense did a great job," added McDuffee.

VanDuzer's, whose team's low run total for a game this season prior to the loss was 10, tipped his cap to Hollywood.

"(Caden Hollywood) had our number today," he said. "He was ahead in the count most of the day… he pitched a great game.

"We only struck out twice today," noted VanDuzer. "We hit the ball … we hit the ball hard right at them, but I certainly can't take anything away from the way they played played defense, and the way they pitched."

Senior Jake Burgess led off the game with a single to right field, but the Wolverines erased him in a 6-4-3 (freshman Joey Tomasso to freshman Jay Pipher to junior Brennan Traub) twin-killing.

Waverly got on the board without the benefit of a hit in the home half of the frame.

Junior Thomas Hand walked, stole second, and moved to third on a throwing error on the play. Pipher worked an eight-pitch walk, then stole second.

With one out, Hand scooted home on an error off the bat of sophomore Ty Beeman, but Sayre starter Lucas Horton escaped further damage with a pair of strikeouts.

In the home half of the third inning, Hand worked a walk, and later scored on a sacrifice fly by Tomasso to make it 2-0.

Sophomore Zach Garrity, who hit a two-out double in the second inning, led off the top of the fifth inning with a single, but was stranded at third base.

Brayden Horton was hit by a pitch with one out in the top of the sixth inning, and advanced to third on an outfield error that put runners on second and third, but Hollywood induced a groundball to Tomasso at shortstop for the third out.

In the home half of the sixth inning, Brady Blauvelt delivered a two-out RBI double to give Waverly a 3-0 lead.

Hollywood pitched around a one-out error in the top of the seventh inning to preserve the win.

"We played a lot of small ball," said McDuffee. "We picked our spots, and stole some bases. When we got someone to second, our goal was to get them in.

"(Brady) Blauvelt had a big hit for us in the sixth inning to give us a little breathing room, but with a team like Sayre, that's not much breathing room," added McDuffee.

"(Waverly) did what they had to do, they put the ball in play with a man on third and less than two outs; that's the name of the game," said VanDuzer.

"Normally, two runs doesn't bother me at all, but we struggled a little bit trying to get some runs," added VanDuzer. "I think everyone was trying to do too much — trying to hit four-run homers with no one on base."

Hollywood struck out two and walked just one in the complete-game performance. He threw 88 pitches.

Blauvelt doubled and drove in one run, while Tomasso singled and drove in one run, Brennan Traub added a single, Hand scored two runs, Wheeler crossed the plate once, and Beeman drove in one run to account for Waverly's offense.

Garrity doubled and singled, and Burgess added a single to account for Sayre's three hits.

Lucas Horton was tagged with the tough-luck loss. He allowed two runs — one earned — on two hits, while striking out 12 and walking four in 4 2/3 innings of work.

Zach Moore allowed one run on one hit, while striking out two and walking one in 1 1/3 innings of relief.

The Redskins fall to 11-1 on the season. VanDuzer doesn't believe in "good losses."

"I don't like to lose at all. I especially don't like to lose to other teams in the Valley.

"Having coached at Waverly I really didn't want to lose to them," said VanDuzer. "It was a big moment, but we were outplayed, and we were out-coached.

"I'm not going to put too much into it, though — it's one loss," he noted. "The way the kids respond to it will be a big thing moving forward for us.

"I hope they respond the way I think they will," added VanDuzer. "I know they weren't real happy after the game."

Sayre travels to Williamson Wednesday, while Waverly (1-1) hosts Whitney Point Monday.
About the Author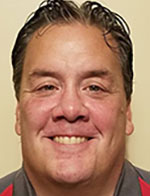 Tim Birney is the founder / owner of River Road Media Group. He was born and raised in the Valley, graduating from Waverly High School in 1984.
Birney earned an Associate's Degree in Journalism from SUNY Morrisville in 1986 and a Bachelor's Degree in Journalism / Public Relations from Utica College of Syracuse University in 1988. He began his newspaper career at The Daily Review in Towanda in 1989, before moving on to The Evening Times in 1995. He spent more than 10 years at the Times, the last four as Managing Editor.
River Road Media Group includes Valley Sports Report (launched Aug. 10, 2009), Tioga County (NY) Sports Report (Aug. 13, 2018), and Northern Tier Sports Report (Aug. 31, 2020). Southern Tier Sports Report is set to launch in 2021.