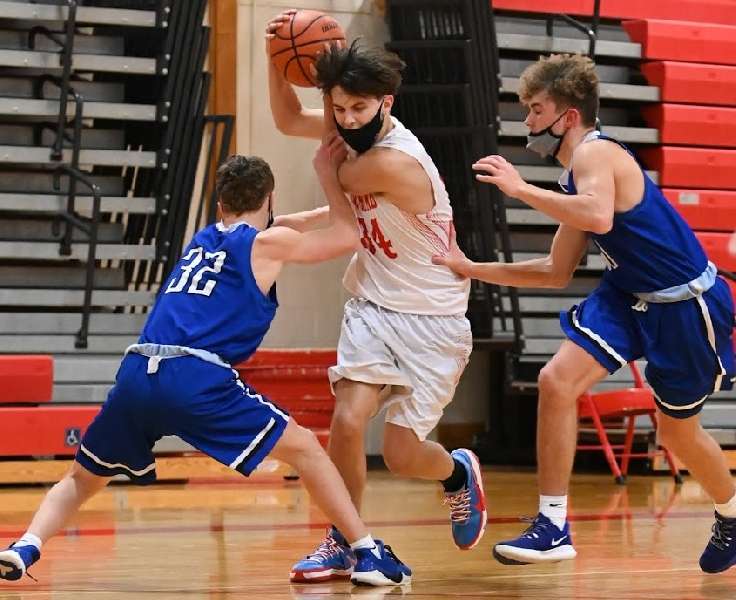 HORSEHEADS RIDES 17-0 RUN TO 65-49 WIN OVER WAVERLY
By: Tim Birney | Waverly Athletics | February 19, 2021 | Photo courtesy David Alliger
WAVERLY — Horseheads scored 17 straight points in the third quarter to blow open a close game on its way to a 65-49 win over Waverly here Friday evening in non-league boys basketball action.

"I was very disappointed tonight in our play. It was one of those nights that you can't explain as a head coach," said Waverly coach Lou Judson. "We just didn't come ready to play. Maybe it was because of their defense, which took us out of everything we wanted to do on both ends of the floor.

"We're just going to have to move on. We have a game tomorrow, so we don't have the time to get in the gym to practice and go over things.

"Hopefully, these guys got the message after this game that tonight was not good enough," added Judson. "It wouldn't be good enough in any give year, but for sure tonight's effort and performance for this program is not acceptable."

The Wolverines shot 30 percent (16 of 53) from the field in the loss, including just 22 percent (6 of 27) from behind the 3-point arc.

Judson attributed his team's struggles to the Blue Raiders' physical play and defense.

"(Horseheads) definitely dictated the way the game was going to be played by their physicality," said Judson. "They were so much stronger than we were.

"They pushed our offense really high, and it made us do things we're not comfortable doing," he noted. "Their half-court defense was very solid.

"We missed a lot of shots around the rim. I think a lot of it was because of our size — we don't have much of it. I think we were trying to do some things creatively around the rim that we're not capable of doing," added Judson. "You can't beat a Horseheads team when you're 6-for-27 from 3-point range when you're a 3-point shooting team."

Horseheads jumped out to a 10-3 lead with 3:37 remaining in the first quarter, but junior Brady Blauvelt drained a 3-pointer, and scored on a putback on the offensive glass to trim the deficit to 10-8 with 2:26 left in the opening stanza.

Less than a minute later, senior Kobe Decker converted an old-fashioned three-point play to cut the lead to 12-11.

After a bucket by Alex Daugherty put Horseheads up 14-11, freshman Joey Tomasso made one free throw, and Decker scored from close range in the final minute to send the game into the second quarter at 14-14.

Andrew McLaughlin drained a 3-pointer and scored in transition to fuel a 7-2 Horseheads spurt early in the second quarter, but Waverly junior Davis Croft answered with a long jumper, and a 3-pointer to tie the game at 21-21 with 6:10 remaining in the first half.

McLaughlin and Amari Truax combined to score the next six points to give Horseheads a 27-21 lead with 2:48 remaining, but a 3-pointer by junior Liam Traub and a free throw by Croft closed the game to 27-25 at the half.

McLaughlin and Croft exchanged buckets to leave Horseheads ahead 29-27 with 7:13 remaining in
the third quarter, but the Wolverines did not score again for nearly seven minutes.

McLaughlin and Truax scored seven points apiece in the 17-0 run that put Horseheads ahead 46-27 with 44 seconds remaining in the third quarter.

The Wolverines drought ended 18 seconds later when Thomas Hand came up with an offensive rebound, and found Decker open for a short jumper to make it 46-29.

Croft led Waverly with a career-high 21 points, five rebounds, and one blocked shot, while Decker had 11 points and five boards, Liam Traub added five points, two blocked shots and two assists, and Blauvelt contributed five points and four rebounds.

"I was very pleased with Davis Croft's offensive performance tonight," said Judson.

Tomasso chipped in with four rebounds and two assists, while senior Ryan Lambert had four rebounds and three assists, and senior Aidan Westbrook grabbed five rebounds.

McLaughlin led Horseheads with 23 points and 12 rebounds, and Truax added 17 points.

Waverly, now 2-1, hosts Tioga (0-4) Saturday evening.
About the Author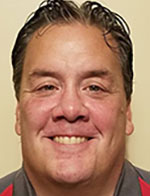 Tim Birney is the founder / owner of River Road Media Group. He was born and raised in the Valley, graduating from Waverly High School in 1984.
Birney earned an Associate's Degree in Journalism from SUNY Morrisville in 1986 and a Bachelor's Degree in Journalism / Public Relations from Utica College of Syracuse University in 1988. He began his newspaper career at The Daily Review in Towanda in 1989, before moving on to The Evening Times in 1995. He spent more than 10 years at the Times, the last four as Managing Editor.
River Road Media Group includes Valley Sports Report (launched Aug. 10, 2009), Tioga County (NY) Sports Report (Aug. 13, 2018), and Northern Tier Sports Report (Aug. 31, 2020). Southern Tier Sports Report is set to launch in 2021.