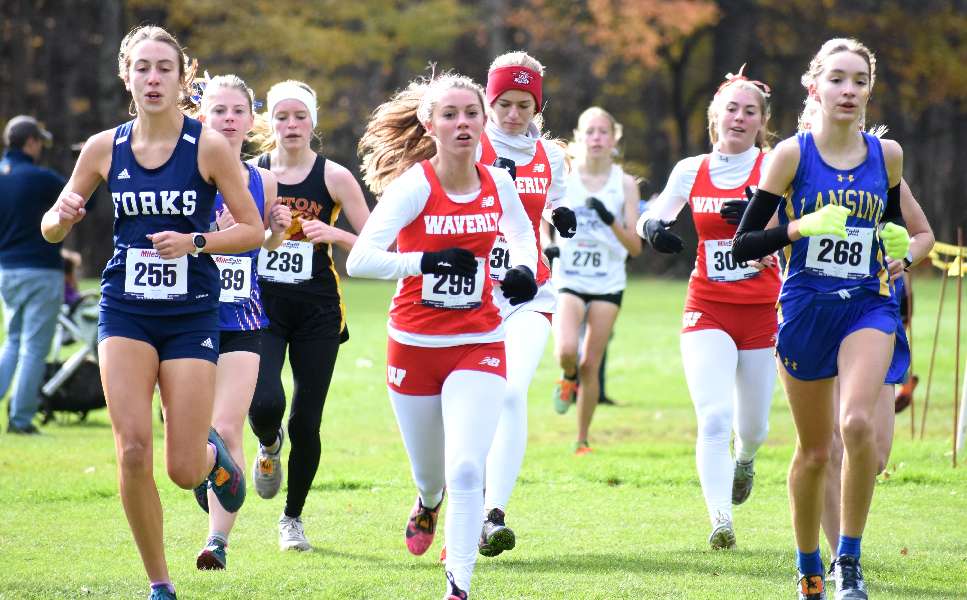 MINAKER EARNS FIRST TRIP TO STATES
By: Brian Fees | Waverly Athletics | November 4, 2021 | Photo courtesy Brian Fees
CHENANGO VALLEY — There is one part about the course at Chenango Valley that everyone talks about, and that's the hills.

For Waverly's Harper Minaker, if she wanted to get to states she knew she'd have to get off to a good start so that when the hills came she wouldn't be playing catch-up.

That's exactly what the Wolverine freshman did.

Minaker got out strong and finished seventh overall at the Section 4, Class C Championships to earn a spot in the state championships.

"I'm very excited," Minaker said. "I felt pretty good. I thought I had a great start. The hills were definitely a challenge, but I felt great."

All race long Pipher Reid of Chenango Forks was out in front, and she won in 19:20.70. Owego's Jaelyn Chrysler and Ethne Degan of Afton-Harpursville-Bainbridge-Guilford ran side-by side much of the race with Chrysler edging her for second at the finish line.

After the top three, there was a five-person pack, all within 26 seconds of each other. Minaker knew if she stayed in that pack she'd be in a good position. But, she also didn't know what team was going to win the title, so what spots would matter most.

In the end, Chenango Forks won the team title at 39 points followed by Owego at 56, so the runner behind Minaker, a Forks runner, wouldn't have bumped her from states even if she had caught up.

"It was a little nerve-wracking, I was just trying to stay ahead as much as I could," Minaker said.

When the race ended, there were some moments not knowing for sure if she had made it to states.

"It was definitely nerve-wracking, it was very close," Minaker said.

With no postseason last year, Minaker worked hard in the past year to improve and now she's happy it paid off.

"I am so excited," Minaker said. "I have put in a lot of work for the season and I'm just happy to make it."

With the state meet right back at Chenango Valley State Park that helps give Minaker extra confidence.

"It gives me a little bit because I know where to push and where to work the course," Minaker said.

Waverly had two other runners in the top 15 as Elizabeth Vaughn finished 12th in 22:54.10, followed by Olivia Nittinger in 23:06.10.

The Wolverines' Allison Barrett finished 44th in 25:20.90.

——————
FOR MORE PHOTOS, VISIT VALLEY SPORTS REPORT.

About the Author