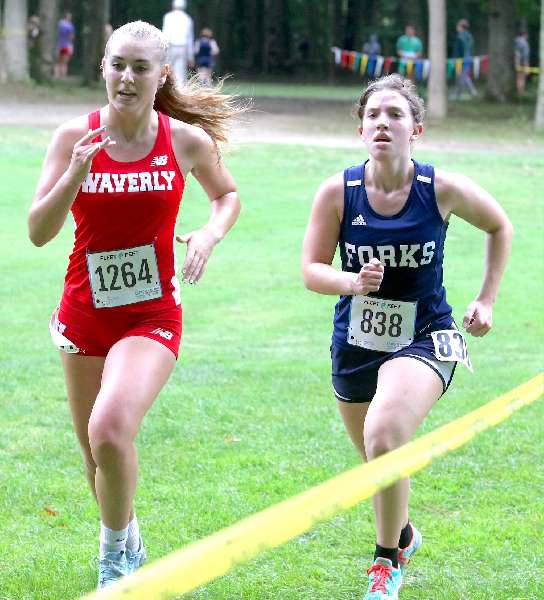 MINAKER TURN IN STRONG PERFORMANCES AT PRE-STATE MEET
By: Tim Birney | Waverly Athletics | September 18, 2021 | Photo courtesy Tim Taylor
CHENANGO FORKS — Athens freshman Sara Bronson and junior Emma Bronson, and Waverly freshman Harper Minaker each finished in the top 15 in Race 2 here Saturday at the Pre-States McDaniel-Baxter Cross Country Invitational at the Chenango Valley State Park.

There were five boys races, and five girls races. In all, there were 83 boys teams, including 66 complete teams, competing, and 78 girls teams, with 47 complete teams. There 675 boys in the merged field, and 463 girls.

Powerhouse Fayetteville-Manlius had seven runners in the top 10 to run away with the team title with 19 placement points, well ahead of runner-up Lake Placid, which had 71 points, and third-place finisher Chenango Forks, which had 102 points. Tioga finished eighth with 243 points, while Waverly and Athens did not field a complete team.


"Today was another great day of racing for the Athens kid," said Athens coach Scott Riley. "On the team side of things, we were a little short-handed and didn't have all our girls available to race.

"But, the four we had racing did a great job, Sara and Emma Bronson were up front from the beginning and ran smart throughout the race," noted Riley. "Thea Bentley and Cailyn Conklin ran good races and continue to get stronger."
Sara Bronson clocked in at 21:37.5 to finish 11th, and Emma Bronson was 12th in 21:42.8 to lead the Lady Wildcats, while sophomore Thea Bentley was 40th in 26:16.6, and sophomore Caillyn Conklin was 62nd in 29:00.9.
Minaker finished 15th in a time of 22:21.7 to pace the Lady Wolverines, while sophomore Elizabeth was 29th in 24:14.8, senior Olivia Nittinger was 31st in 24:57.4, and Waverly sophomore Allison Barrett was 69th in 30:24.5.
Sophomore Lexy Ward led Tioga with a 61st-place finish in 28:46.8, while senior Kate Burrowes was 68th in 29:59.8, freshman Emily BUrrowes was 75th in 34:07.2, and Brooke Delmage was 76th in 34:16.7.
Sophomores Patience Card (35:43.8), and Sara Burrowes (35:54.4), and senior Nicole DeBoer (37:27.5) finished 80th through 82nd, respectively, for the Lady Tigers.

MERGED RESULTS
ATHENS
Sara Burrowes finished 70th in the merged field, while Emma Bronson was 73rd, Bentley was 302nd, and Conklin was 383rd.
WAVERLY
Minaker finished 106th in the merged field, while Vaughn was 205th, Nittinger was 241st, and Barrett was 407th.
TIOGA
Tioga finished 47th in the merged standings with 1,467 points. (Fayetteville-Manlius won the team title with 51 points, and Corning was second with 147 points.
Ward finished 380th in the merged field, while Kate Burrowes was 401st, Emily BUrrowes was 437th, Delmage was 439th, Card was 446th, Sara Burrowes was 447th, and DeBoer was 448th.
FOR MORE PHOTOS, VISIT VALLEY SPORTS REPORT.

About the Author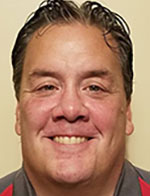 Tim Birney is the founder / owner of River Road Media Group. He was born and raised in the Valley, graduating from Waverly High School in 1984.
Birney earned an Associate's Degree in Journalism from SUNY Morrisville in 1986 and a Bachelor's Degree in Journalism / Public Relations from Utica College of Syracuse University in 1988. He began his newspaper career at The Daily Review in Towanda in 1989, before moving on to The Evening Times in 1995. He spent more than 10 years at the Times, the last four as Managing Editor.
River Road Media Group includes Valley Sports Report (launched Aug. 10, 2009), Tioga County (NY) Sports Report (Aug. 13, 2018), and Northern Tier Sports Report (Aug. 31, 2020). Southern Tier Sports Report is set to launch in 2021.