MISSED OPPORTUNTIES PROVE COSTLY; WAVERLY FALLS TO SUS. VALLEY IN CLASS B SEMIFINALS
By: Tim Birney | Waverly Athletics | June 10, 2021 | Photo courtesy Tim Birney
WAVERLY — Waverly's 11-9 loss to Susquehanna Valley Thursday afternoon in the semifinals of the Section IV, Class B baseball playoffs was a case of missed opportunities.

The Wolverines left 12 runners on base, including 11 in scoring position. They left the bases loaded three times, including in the sixth and seventh innings.

"We had a lot of opportunities, and we didn't take advantage of enough of them," said Waverly coach Kyle McDuffee.

"I think we had a runner at third with less than two outs four times, and we just couldn't get them in.

"It's hard to say we lost because of one particular thing, but that timely hitting that we've displayed all season just didn't show up today," noted McDuffee.

"This is a pressure cooker for a young team. I think they now see that those little things we can get away with in some games; you're not going to get away with in the postseason," added McDuffee. "Those things are going to get exposed. And, Susquehanna Valley exposed them today."

Waverly had its ace on the mound in junior Caden Hollywood, who entered the game with a 6-0 record this season, and a record of 13-0 for his career.

Hollywood struggled to consistently throw strikes, but battled through five innings. He suffered his first career loss, allowing six runs — three earned — on four hits, while striking out eight and walking seven in five innings. He threw 118 pitches.

"Today was not Caden (Hollywood) … but he kept us in the game," said McDuffee. "When he's a little off, he still battles, and he did that today."

Hollywood walked two of the first three batters he faced, and SV had runners on first and third with one out, but he escaped the jam with a pair of strikeouts.

In the bottom of the first, SV's 6-10 right-hander Nick Stilloe retired Waverly's first two batters, but freshman Joey Tomasso and Hollywood worked back-to-back walks, and sophomore Ty Beeman laced a line-drive RBI single to left field to plate the game's first run.

Hollywood retired the first two batters he faced in the second inning, then walked back-to-back batters, before finishing off the inning with his fifth strikeout.

The Wolverines appeared poised for a big rally in the second inning, but only managed one run.

Juniors Kaden Wheeler and Brady Blauvelt led off the frame with back-to-back singles, then senior Nick VanHouten laid down a sacrifice bunt, but SV failed to cover first base, and he reached to load the bases.

Stilloe buckled down and nearly escaped unscathed, but a passed ball allowed Waverly to up its advantage to 2-0.

Stilloe's efforts seemed to turn the tide of momentum in the game.

"Sometimes when that happens, teams can rally behind it, and I think you saw that a little bit," said McDuffee. "I think that motivated Sus. Valley … it's like 'hey we just avoided a big inning, let's go get them now.'

"(Sus. Valley) was playing their infield up in the second inning, and I think that's because they knew how we'd been hitting the ball, and they didn't want to fall too far behind.

"I wish we could have responded a little better," added McDuffee. "A couple hits there and it's a different ball game."

The Sabers took advantage of a two-out error in the third inning to score a pair of runs, tying the game at 2-2.

The Wolverines went 1-2-3 in the bottom of the third — the only time either team was retired in order in the contest.

Susquehanna Valley scored three times in the top of the fourth inning, a rally capped by a two-run inside-the-park home run by Logan Haskell, who hit a rocket well over the head of Waverly center fielder Thomas Hand, to make it 5-2.

The rest of the game was a series of near-misses for the Wolverines.

Wheeler and Blauvelt led off the home half of the fourth inning with back-to-back singles,, and Hand's one-out single loaded the bases.

Freshman Jay Pipher plated a pair of runs with a two-run, line-drive single to center field to close the gap to 5-4, and knock Stilloe out of the game.

Reliever Quinton Bowman retired the next two Waverly batters to preserve the lead.

The Sabers used a walk, a stolen base — one of the team's 12 steals in the game — and an error in the fifth inning to up its lead to 6-4.

Beeman walked and stole second to lead off the bottom of the fifth, then took third on a single by Brennan Traub, who stole second moments later.

With one out, Beeman scored on a wild pitch, but Bowman retired the next two Waverly batters to keep SV on top, at 6-5.

The Sabers upped its lead to 7-5 in the top of the sixth against Waverly reliever Jay Pipher, then tacked on three more runs with two outs on a hit batsman and two walks that forced home runs to make it 10-5.

Hand and Pipher drew walks for the Wolverines to start the home half of the sixth, prompting Sus. Valley to hand the ball to its third pitcher of the game — Scotty Howard.

With the score at 10-6 following a fielder's choice grounder off the bat of freshman Joey Tomasso, Hollywood stroked a line-drive single to right field, and Beeman followed with an RBI single to left field to make it 10-7.

After Traub was hit by a pitch to load the bases, Hollywood scooted home on a wild pitch to trim the deficit to 10-8. A walk to Blauvelt re-loaded the bases, but Howard induced an inning-ending grounder to first base to avoid further damage.

SV tacked on a run in the top of the seventh to increase its lead to 11-8, but Waverly wouldn't go quietly.

In the bottom of the seventh, Hand was hit by a pitch, Pipher walked, and Tomasso lined a single to left field to load the bases with no outs.

Two pitches later, Hand attempted to score on a wild pitch, but was cut down at the plate.

Hollywood then walked to re-load the bases, and Beeman drew a four-pitch walk to bring home another run, closing the gap to 11-9.

The Sabers then handed the ball to its fourth pitcher — Haskell, and he responded by getting an infield pop and a groundball to third base for a force out to end the game.

"It's a tough way to lose," said McDuffee. "But, we didn't stop playing and battling. We pressed (SV) hard — every out was hard for them to get.

"I'm proud of my kids," he noted. "This is a young team, and we're going to do some damage over the next few years.

"You know what was key today? Maybe we didn't win today, but the program won because we're prepared for Sectionals for the next three years," added McDuffee. "This was a good experience for all these kids."

Beeman had two hits, one run scored, and three RBI to pace Waverly's 12-hit (all singles) attack, while Wheeler singled twice and scored two runs, and Blauvelt singled twice and scored one run.

Pipher singled, scored one run, and drove in two for the Wolverines, while Tomasso singled, scored two runs, and drove in one run, Hollywood and Hand each singled and scored one run, and Traub and VanHouten each added one hit.

Pipher was tagged for four runs on three hits and three walks in one inning of relief for the Wolverines, while Beeman allowed one run on one hit and one walk in one inning.

Waverly wraps up its season at 15-5, and will return eight starters in 2022, as well as several grads from a JV team that finished the season at 11-2.

"We have a nice 9th and 10th-grade crew coming in, and they will be competing with these guys for spots," said McDuffee. "I'm really excited about that.

"You're going to be hearing about this team for the next few years," he added.
About the Author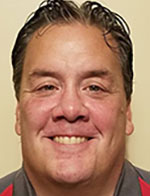 Tim Birney is the founder / owner of River Road Media Group. He was born and raised in the Valley, graduating from Waverly High School in 1984.
Birney earned an Associate's Degree in Journalism from SUNY Morrisville in 1986 and a Bachelor's Degree in Journalism / Public Relations from Utica College of Syracuse University in 1988. He began his newspaper career at The Daily Review in Towanda in 1989, before moving on to The Evening Times in 1995. He spent more than 10 years at the Times, the last four as Managing Editor.
River Road Media Group includes Valley Sports Report (launched Aug. 10, 2009), Tioga County (NY) Sports Report (Aug. 13, 2018), and Northern Tier Sports Report (Aug. 31, 2020). Southern Tier Sports Report is set to launch in 2021.