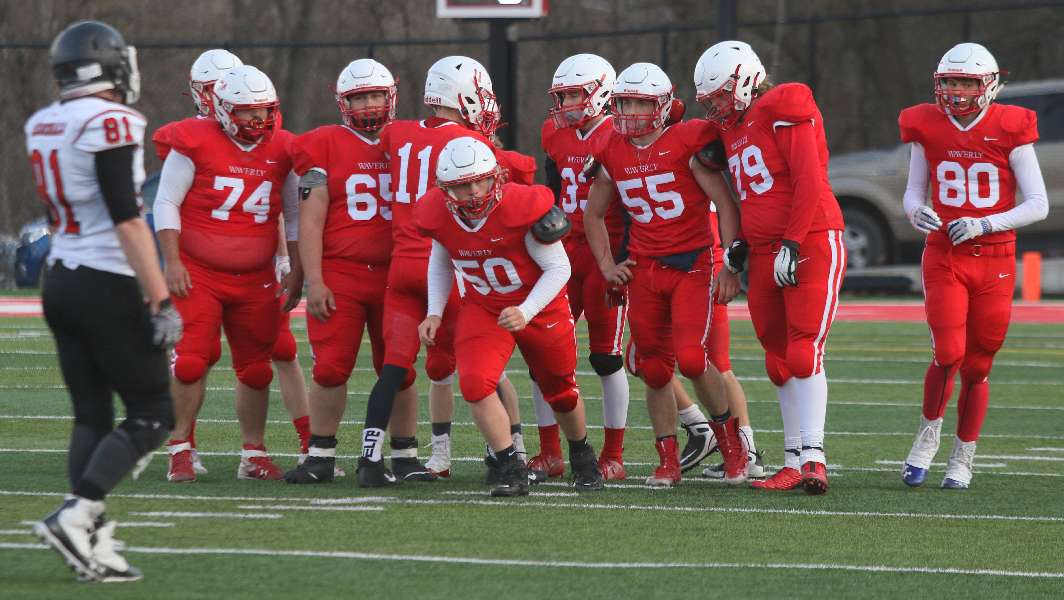 NEWARK VALLEY RIDES FAST START TO 28-12 WIN OVER WAVERLY
By: Tim Birney | Waverly Athletics | April 3, 2021 | Photo courtesy David Alliger
WAVERLY — Newark Valley scored two TDs in the first 3 1/2 minutes, then put the game away with a pair of fourth-quarter TDs in a 28-12 win over Waverly here Saturday night in Section IV football action at Memorial Stadium.
The Cardinals opened the game with a five-play, 57-yard drive, featuring runs of 26 yards by Brenton Rosenberg, and 11 yards by Raidyn Ford and Connor Spoonhower. Ford capped the drive with a 9-yard TD run with 10:16 left in the first quarter. Max Flesher's PAT kick made it 7-0.
Three plays after the ensuing kickoff, Waverly's freshman QB Joey Tomasso was hit as threw a pass and the errant toss floated into the arms of Mikey Wandell in the flats. He raced 42 yards untouched for the score to give NV a 13-0 lead with 8:35 remaining in the first quarter.
"You couldn't have asked for a worse start," said Waverly coach Jason Miller. "We came out slow on defense, and (Newark Valley) is a good physical football team. They took it right to us on that first drive.
"Then, on our first possession, (Joey Tomasso) got hit as he was throwing it and it ends up a pick-6.
"After that, I thought we settled in and played pretty well for the remainder of the game, especially on defense," added Miller.
Obviously, Newark Valley coach Ted Hardenstine had a different perspective on the beginning of the game.
"It started out pretty good for us," he said. "The kids came out physical and ready to play.
"The breaks went our way, and the kids made plays," added Hardenstine.
The Wolverines moved the ball into Newark Valley territory on their next possession, but turned the ball over on downs.
Newark Valley's next four possessions of the first half were all bogged down by penalties, including one that ended with an interception by Waverly freshman Jay Pipher.
The Cardinals were penalized for unsportsmanlike conduct on the final play of the first half. The penalty was assessed on the opening kickoff of the second half, and Waverly senior Aidan Westbrook ripped off a 30 yard return to the Cardinal 36.
However, the Waverly offense failed to pick up a yard, and turned the ball over on downs at the 36.
After a quick first down on a 12-yard run by Spoonhower, the Wolverine defense held on 4th-and-3, giving the offense the ball back 55 yards from paydirt.
"I'm proud of the way ur defense is playing," said Miller. "It has a lot to do with our attitude. The kids are playing hard, and trying their hardest to give us every opportunity on offense that we can possibly get."
The Wolverines put together their first scoring drive since Week 1 against Tioga, marching 55 yards in 10 plays to trim the deficit to 13-6.
A pass-interference call against the Cardinals on 3rd-and-7, and a 16-yard completion from Tomasso to Tyler Talada were the key plays in the drive, which was capped by a 1-yard TD run by Tomasso with 4:06 remaining in the third quarter.
Newark Valley's next possession stalled out, thanks in large part to a holding penalty, and Waverly took over after a Cardinal punt at its own 25.
After Tomasso narrowly picked up a first down on a 4th-and-1 QB keeper, disaster struck for the Wolverines. On the first play of the fourth quarter, Tomasso dropped back, but the ball slipped out of his hand as he began his throwing motion, and the Cardinals recovered at the Waverly 30.
"It seems like we are finding ways to not be successful," said Miller. "It's a lack of consistency. Some plays we look good, and some plays we don't.
"We're only going to get better," he noted. "We did a lot of things tonight, we weren't able to do last week.
"Until we get a lot of game experience in, I think that's going to continue to be a problem for us," added Miller.
Hardenstine said that was a turning point in the game.
"No doubt about it, that was a fortunate break," he said. "The ball bounced our way, and our kids seized the opportunity. It was good to see our kids capitalize."
Six plays later, Rosenberg scored on a 9-yard run. Spoonhower's run for conversion made it 21-6 with 9:00 left in the game.
Wheeler returned the ensuing kickoff 51 yards to the Newark Valley 25, and Tomasso hooked up with Westbrook on a 25-yard scoring strike on Waverly's first play to cut the deficit to 21-12 with 8:43 remaining in the game. Waverly's conversion attempt was incomplete, leaving them down by two possessions.
On the Cardinals' first play after the ensuing kickoff, Ford ripped off a 29-yard run to the Wolverines 33. Eight plays later, Ford capped the 5-minute and 24-second drive with a 5-yard TD run. Flesher's PAT kick made it 28-12 with 3:19 remaining.
Three plays later, Ford sealed the victory with an interception.
Hardenstine said the Cardinals' success in the fourth quarter was due to execution and the lack of penalty flags.
"We cleaned up our game, and we weren't hurting ourselves with penalties at that point," he said. "We were able to keep playing Newark Valley football and move the ball a chunk at a time. Ideally that's what we'd like to be able to do.
"If we get penalties all the time, we're not a team built to handle first-and-18," Hardenstine added.
Newark Valley pounded out 290 rushing yards in the win, led by Ford, who had 111 yards and two TDs on 17 carries, and Rosenberg, who had 64 yards and one TD on 11 carries. Spoonhower (11 carries) and QB Mikey Wandell (seven carries) each added 44 yards to the rushing attack.
Wandell completed 2 of 11 pass attempts for 25 yards and one interception. Landon Spoonhower had one catch for 18 yards, and Cam Carrier added one grab for seven yards.
Waverly had 195 yards in total offense, including just 69 yards on the ground.
Tomasso completed 14 of 29 passes for 126 yards and one TD, while being picked off twice. Westbrook led Waverly with three receptions for 38 yards and one TD, while Talada had three catches for 31 yards, and Brady Blauvelt added two grabs for 30 yards.
Wheeler led the Wolverines on the ground with 59 yards on 11 carries, and Tomasso added 22 yards and one TD on 11 carries.
Miller is undeterred by his team's 0-3 start.
"We've played three very good football teams.
"I've been told I'm making excuses about how many seniors these other teams have," said Miller. "A lot of those (Newark Valley) kids across the field from us tonight played in the Section IV semifinals against us two years ago, and we had zero — (David) Hallett (out with an injury) would have been our only one to play in that game. It means something.
"Yeah, we're 0-3, but I feel like we're becoming a better football team. Unfortunately, the record doesn't show that … sometimes that happens and it reflects on who you're playing," added Miller. "If we were 0-3 to three bad teams that would be disconcerting."
The first half of the game was a bit "chippy," with a few minor skirmishes breaking out, and a few penalty flags thrown for unsportsmanlike contest.
"I think both sides would agree that when we play each other there is a little extra hype," said Miller. "Those (Newark Valley) kids are confident, their coaches are confident, and our kids responded to it, they're rather confident in themselves.
"I'm proud of the fact that when it's 13-0 and (Newark Valley) starts jawing, we didn't back down … and some young teams will fold up in those circumstances," noted Miller. "I think that's a good sign for us.
"Is it good that you have this extracurricular stuff? No, but it does show that we're here to play, and we're here to play four quarters.
"We've had some very good, very physical football games with Newark Valley," added Miller. "We have a long history against Newark Valley. I have a lot of respect for them, and I'd like to think they have some respect for us."
Hardenstine voiced similar sentiment.
"Newark Valley and Waverly aren't that far away … It's Tioga County football," he said. "It's one of the things I think all the Tioga County teams can be proud of — we play pretty good football here.
"Even though this season is all mixed up, and we don't have a championship to play for, we can still get together and play some physical football," noted Hardenstine. "The thing about football that doesn't necessarily translate to all the other sports is, even without a championship — football is still football.
"Kids are getting a chance to strap up their helmet for a couple more times with the kids they grew up with," he continued. "I try not to look past that part … it wasn't all that long ago that we didn't even know if we were going to get a season in.
"I think everyone having the chance to get out here and compete is just awesome, and I think that's a lot of what you saw on the field," added Hardenstine.
Newark Valley, now 2-1, hosts Owego (1-2) Saturday, while Waverly hosts Dryden (0-2) Friday.
About the Author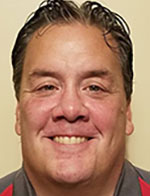 Tim Birney is the founder / owner of River Road Media Group. He was born and raised in the Valley, graduating from Waverly High School in 1984.
Birney earned an Associate's Degree in Journalism from SUNY Morrisville in 1986 and a Bachelor's Degree in Journalism / Public Relations from Utica College of Syracuse University in 1988. He began his newspaper career at The Daily Review in Towanda in 1989, before moving on to The Evening Times in 1995. He spent more than 10 years at the Times, the last four as Managing Editor.
River Road Media Group includes Valley Sports Report (launched Aug. 10, 2009), Tioga County (NY) Sports Report (Aug. 13, 2018), and Northern Tier Sports Report (Aug. 31, 2020). Southern Tier Sports Report is set to launch in 2021.