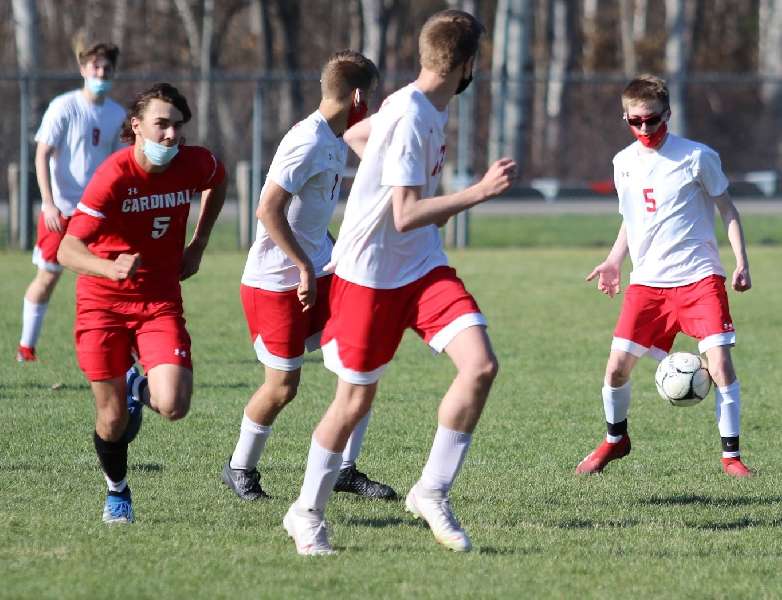 NEWARK VALLEY SLIPS PAST WAVERLY, 1-0, WITH LATE GOAL
By: Tim Birney | Waverly Athletics | April 8, 2021 | Photo courtesy Shannon McCarty
NEWARK VALLEY — Faced with the prospects of moving their game to Newark Valley, or not playing at all, Waverly coach Eric Ryck and his team decided the game must go on.

There was no Hollywood ending for the Wolverines, however, as the Cardinals scored with 5 minutes remaining to pull out a 1-0 win here Thursday afternoon in IAC boys soccer action.

"Things just didn't go our way tonight, this was supposed to be a home game for us, but due to Covid-19 hitting the referee pool, we couldn't get refs for a game at our field," said Ryck. "We made the decision, as a team, to play at Newark Valley because they could get referees and the boys wanted to play.

"Unfortunately, it bit us," added Ryck "I feel like this would have been a much different game on our field, but in theses times of Covid and quarantines, you have to roll with the punches like it or not."

The Wolverines controlled the action throughout the game, registering a 12-4 advantage in shots-on-goal, and a 5-3 edge in corner kicks, but couldn't get a shot past Cardinal keeper Brandon Randell, who recorded 12 saves.

Junior Cameron McIsaac had three saves in net for the Wolverines.

Brady Hill scored the game's lone goal in the 75th minute.

Waverly, now 2-3, hosts SVEC Saturday morning.
About the Author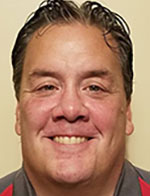 Tim Birney is the founder / owner of River Road Media Group. He was born and raised in the Valley, graduating from Waverly High School in 1984.
Birney earned an Associate's Degree in Journalism from SUNY Morrisville in 1986 and a Bachelor's Degree in Journalism / Public Relations from Utica College of Syracuse University in 1988. He began his newspaper career at The Daily Review in Towanda in 1989, before moving on to The Evening Times in 1995. He spent more than 10 years at the Times, the last four as Managing Editor.
River Road Media Group includes Valley Sports Report (launched Aug. 10, 2009), Tioga County (NY) Sports Report (Aug. 13, 2018), and Northern Tier Sports Report (Aug. 31, 2020). Southern Tier Sports Report is set to launch in 2021.