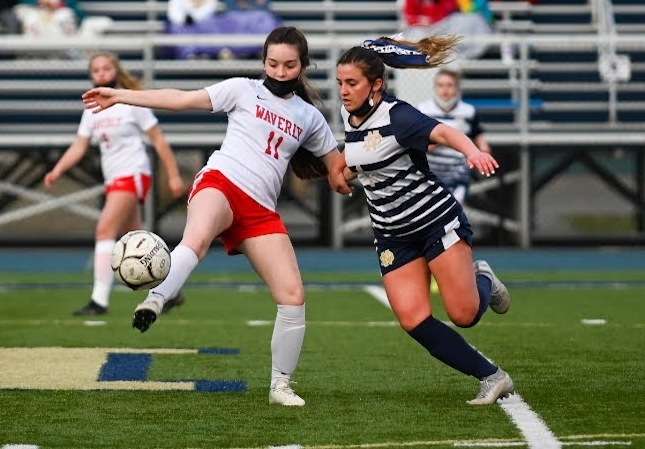 NOTRE DAME EDGES WAVERLY, 2-
By: Tim Birney | Waverly Athletics | April 5, 2021 | Photo courtesy Matt Patton
SOUTHPORT — Notre Dame scored in the first minute of the game, led 2-0 at the half, and held off Waverly for a 2-1 win here Monday night in IAC Large School girls soccer action.

"This was another game where we were caught flat-footed and slow to start," said Waverly coach Tara Hogan. "There was some miscommunication between some of our players and we were caught off-guard when they scored their first goal."

Elle Mustico scored 38 seconds into the game to give the Lady Crusaders a 1-0 lead, then scored again with 13 minutes remaining in the half to make it 2-0.

Senior Gabby Picco put the Lady Wolverines on the scoreboard midway through the second half with a direct kick, but that was all the offense they could muster.

Notre Dame had a 13-7 edge in shots-on-goal, and a 5-1 advantage in corner kicks.

Kaitlyn Clark recorded 11 saves in net for the Lady Wolverines.

"Kait Clark had some more great saves in net tonight, including one where she went out to attack a player on a 1 -on-1 and was able to tip her shot wide," said Hogan.

"I have truly enjoyed watching Kait grow into the player and captain she is today," noted Hogan, who singled out the play of a few of her players.

"Olivia Robinson stepped in for Paige Robinson today and she really held her own.

"Kiley Stillman and Addison Westbrook are both working and improving with each game as well," added Hogan. "I ask a lot of our newcomers by having them play the majority of these games and by having them be prepared to play in a variety of positions."

Waverly, now 3-2, returns to action Thursday when it hosts Newark Valley.

About the Author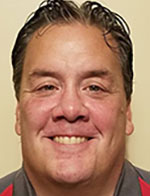 Tim Birney is the founder / owner of River Road Media Group. He was born and raised in the Valley, graduating from Waverly High School in 1984.
Birney earned an Associate's Degree in Journalism from SUNY Morrisville in 1986 and a Bachelor's Degree in Journalism / Public Relations from Utica College of Syracuse University in 1988. He began his newspaper career at The Daily Review in Towanda in 1989, before moving on to The Evening Times in 1995. He spent more than 10 years at the Times, the last four as Managing Editor.
River Road Media Group includes Valley Sports Report (launched Aug. 10, 2009), Tioga County (NY) Sports Report (Aug. 13, 2018), and Northern Tier Sports Report (Aug. 31, 2020). Southern Tier Sports Report is set to launch in 2021.