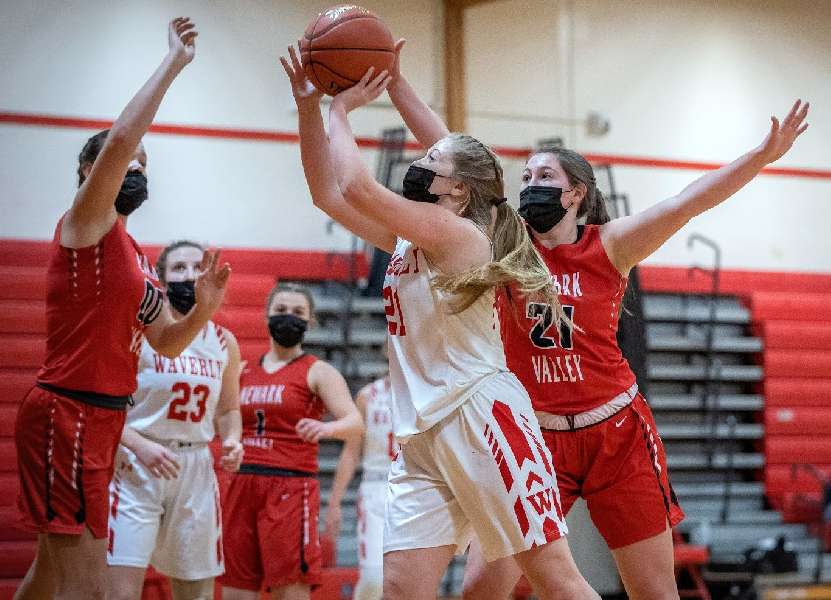 QUICK REDEMPTION! WAVERLY KNOCKS OFF NEWARK VALLEY, 61-5
By: Tim Birney | Waverly Athletics | February 18, 2021 | Photo courtesy David Alliger
WAVERLY — Waverly scored the final nine points of the third quarter as part of a 10-0 run to take control in its rematch with Newark Valley, avenging a loss 24 hours earlier with a 61-53 win here Thursday evening in IAC girls basketball action.

The Lady Wolverines (4-1), who now have wins over Horseheads, which beat Owego by 20, and Newark Valley, the "preseason favorite" to win the Tioga County Division of the IAC.

"This is a big win," said Waverly coach Bob Kelly. "I think a lot of people under-estimated us.

"There's a lot grit on this team," he added. "We're not very big, but they have big hearts, and they play hard."

Senior Sidney Tomasso had 25 points, including three 3-pointers, six rebounds, four steals, and four assists, and sophomore Kennedy Westbrook had 15 points, six rebounds, and five assists to lead the Lady Wolverines, while senior Gabby Picco added seven points and five rebounds, but it was Waverly's role players — junior Lourden Benjamin, and freshmen Paige Robinson and Peyton Shaw that came up big in key moments.

"We had some girls step up tonight," said Kelly. "That's been happening all year."

"These are two teams that are very familiar with each other," said Newark Valley coach Greg Schweiger. "We know what they're going to do, and they know what we're going to do.

"We're going to try to take away their best stuff, and they're going to try to take away our best stuff. It's up to the other players, and often times that's who determines the game.

"It comes down to surprises," added Schweiger. "(Wednesday), I thought Hayley Beebe was our little surprise that they didn't expect. Certainly, they have a couple girls like that, like Lourden Benjamin —she was solid in both games."

Benjamin finished with six points and six boards in the win, while Robinson chipped in with five points, and Shaw had three points and four boards.

The first 14 minutes of the game featured a slew of turnovers and missed shots by both teams, the product of two good teams playing hard against each other on consecutive nights, agreed both coached.

"These are two teams that know each other pretty well, and I think like playing each other because they push each other, and get after it," said Kelly.

Newark Valley's Hannah Ferguson scored the first five points of the game, but Waverly answered to make it 5-4 midway through the first quarter.

Brianna Beebe and Ferguson knocked down 3-pointers, and Mackana Gardner scored in the low blocks, sandwiched around a bucket by Benjamin to put the Lady Cardinals up 13-6 with 1:25 remaining in the first quarter.

Waverly closed the gap on a 3-pointer by Westbrook, and a short baseline jumper by Shaw with 7.7 seconds remaining to cut the NV advantage to 14-11 after the first eight minutes.

A bucket by Taylor Benjamin and a 3-pointer by Brianna Beebe were offset by a long 3-pointer by Tomasso, and a steal and breakaway lay-up Tomasso to leave the game at 19-16 with 5:04 remaining in the first half.

A bucket by Ferguson a minute later gave the Lady Cardinals, who seemed poised to pull away, a 22-16 lead with 3:02 left in the half.

To this point, Waverly had made just 6 of 30 shots from the field — only 2 of 12 from behind the three-point arc, and committed 10 turnovers.

"I think we were a little tired tonight," said Kelly. "We normally shoot it better … we didn't shoot it very well tonight, especially early on, but we tell them 'don't stop, keep taking your shots.'

"You work too hard on defense to not value the basketball," noted Kelly. "We made some ill-advised passes … a lot of times we were trying to make a play, and I understand that, but we need to do a better job of taking care of the basketball.

"When we take care of the ball, we're pretty solid," added Kelly.

"It was kind of a complete turn-around from (Wednesday) night when they shot the ball super-well," said Schweiger. "Tonight, they were much colder, but we weren't able to separate like we could have and should have — to take a little more comfortable lead."

Picco and Tomasso knocked down 3-pointers on consecutive trips down the floor for the Lady Wolverines to tie the game at 22-22 with 2:18 remaining in the half.

Brianna Beebe answered with a 3-pointer, and a runner in the lane to give NV a 27-22 lead with 1:34 left in the half, but once again Waverly closed the quarter strong with two Tomasso buckets in the final 45 seconds to trim the deficit to 27-26 at the intermission.

Tomasso gave the Lady Wolverines their first lead of the game with a 3-pointer on their first possession of the second half, but a 3-pointer by Hayley Beebe and a Nechwedowich bucket off an in-bounds play capped a quick 6-0 spurt that put the Lady Cardinals ahead 33-29 with 5:58 remaining in the third quarter.

Tomasso's putback on the offensive boards with 5:15 remaining triggered a 9-0 Waverly run that was capped by back-to-back 3-pointers from Picco and Westbrook to put the Lady Wolverines ahead 38-33 midway through the stanza.

A bucket by Brianna Beebe and a 3-pointer by Ferguson in the next minute tied the game at 38-38 with 3:04 left in the third quarter.

After the teams traded buckets, freshman Paige Robinson drained a 3-pointer with 1:08 remaining in the third quarter to trigger an 8-0 run to close out the quarter and give Waverly a 48-40 lead.

Robinson added a pair of free throws, and Westbrook converted a conventional three-point play to finish off the run.

Kelly credited his team's defense and rebounding for much of their success in the win.

"(Defense) was key. I can't say enough about what we did on defense, the girls hustled," he said. "And getting on the glass — at both ends — we did a really good job on the glass.

"(Newark Valley) is big. They have two girls who are about 6-2, who are tough," added Kelly. "I thought we did a really nice job against them."

Schweiger said the third quarter was the turning point in the game.

"We could have played better," said Newark Valley coach Greg Schweiger. "The cold third quarter was the key. (Waverly) has competent shooters, and they had just enough offense to keep us at bay.

"I think it was the energy (in the third quarter). Waverly brought it," noted Schweiger. "We talked about it at half time. We're in a back-to-back game against a good team, we needed to come out and seize the third quarter and take control of the tempo, and that's kind of where the game slipped away from us."

Picco stretched the lead to 49-40 with a free throw in the opening moments of the fourth quarter to cap the decisive 10-0 run, but a 3-pointer by Ferguson made it 49-43 with 6:28 left in the game.

Buckets by Lourden Benjamin and Tomasso gave the Wolverines their biggest lead of the game, at 53-43, with 4:58 left in the game, but the Lady Cardinals used a 7-1 spurt to trim the deficit to 54-50 with 2:12 left in the game.

Taylor Benjamin started the run with a 3-pointer and Nechwedovich scored the final four points on a pair of buckets sandwiched around a free throw by Shaw.

After the teams exchanged possession, Lourden Benjamin grabbed an offensive rebounds and found Westbrook open for a jumper that pushed the lead to 56-50 with 1:19 left in the game.

Newark Valley missed 3-point attempts on its next two possessions, and Westbrook made 3 of 4 free throws to make it 59-50 with 26.1 seconds remaining.

Ferguson drained a long 3-pointer with 22 ticks remaining, but their next attempt was off the mark, and Tomasso made 2 of 4 free throws in the final 20 seconds to provide the final margin.

Ferguson led Newark Valley with 19 points, including four 3-pointers, and eight boards, while Brianna Beebe had 13 points, including a trio of 3-pointers, and four assists, and Nechwedowich added nine points, 11 rebounds, four steals, three assists, and two blocked shots.

Taylor Benjamin added five points for Newark Valley, and Hayley Beebe chipped in with four points and three assists.

The loss aside, Schweiger thought it was a good night.

"It was a great game," he said. "The rivalry between these two programs and schools right now is a lot of fun.

"I know my girls aren't feeling like it's a lot of fun at the moment, but I appreciate the competition we have with Waverly, and the fact that we can compete with them now at this level," noted Schweiger. "(Waverly) is the school, the program, and the coach we've been chasing for a long time, so when we can have a back-and-forth like that, I'm happy.

"And, I'm just happy we're having a season at all," added Schweiger.

Waverly travels to Tioga Saturday afternoon, while Newark Valley, now 2-1, is at Owego.
About the Author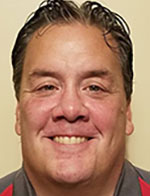 Tim Birney is the founder / owner of River Road Media Group. He was born and raised in the Valley, graduating from Waverly High School in 1984.
Birney earned an Associate's Degree in Journalism from SUNY Morrisville in 1986 and a Bachelor's Degree in Journalism / Public Relations from Utica College of Syracuse University in 1988. He began his newspaper career at The Daily Review in Towanda in 1989, before moving on to The Evening Times in 1995. He spent more than 10 years at the Times, the last four as Managing Editor.
River Road Media Group includes five sites in "The Sports Reports" family that cover 24 school districts in five counties: Valley Sports Report (launched Aug. 10, 2009), Tioga County (NY) Sports Report (Aug. 13, 2018), and Northern Tier Sports Report (Aug. 31, 2020); Northern Tier West Sports Report (March 15, 2021) Southern Tier Sports Report (Aug. 16, 2021).