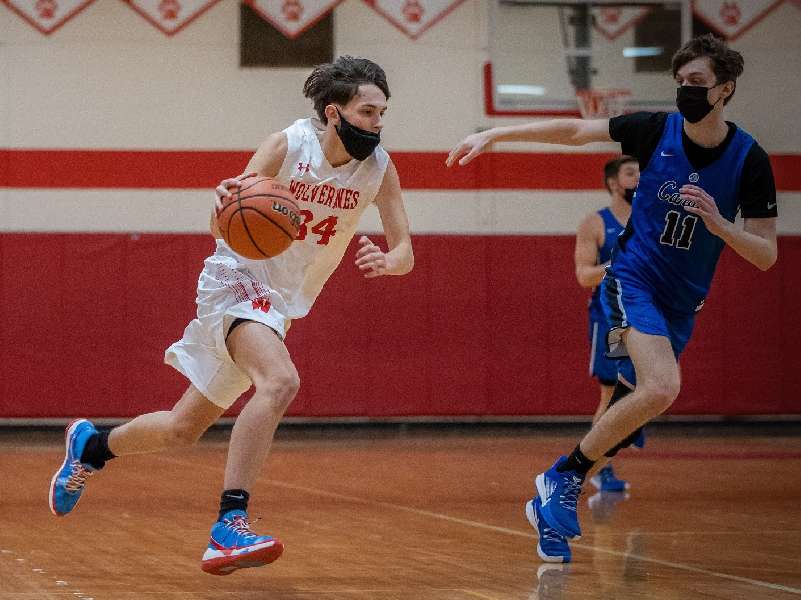 QUICK START, STRONG SECOND HALF CARRY WAVERLY TO 61-43 WIN OVER CANDOR
By: Tim Birney | Waverly Athletics | February 12, 2021 | Photo courtesy David Alliger
WAVERLY — Waverly got off to a quick start, thanks in large part to freshman Joey Tomasso, withstood a shaky second quarter, then pulled away in the second half in a 61-43 win over Candor here Friday night in IAC boys basketball action.

Tomasso knocked down a pair of 3-pointers and scored 10 points in the first quarter to fuel an 18-9 first-quarter run.

"We've been playing pretty well coming out of the gate in the first quarter, and we did that again tonight," said Waverly coach Lou Judson.

"But that second quarter is one we've been struggling in," he noted. "I start to do some substitutions, and move some guys around. I'm playing a lot of kids right now, trying to find line-ups that do well with one another."

Junior Davis Croft sparked an 8-2 run to open the second quarter, giving the Wolverines a 26-11 lead with 5:35 left in the first half.

Turnovers plagued Waverly for the remainder of the quarter. In one stretch, the Wolverines turned the ball over in seven of nine possession. They scored two points over the last 5 1/2 minutes and saw their lead trimmed to eight points, 28-20, at the half.

Judson is perplexed by his team's turnover woes. It committed 17 in the game, including 13 in the first half.

"That's the thing with this team that I haven't been able to figure out yet," said Judson. "We're small, I play four, at times five guards on the floor breaking a press. You wouldn't think we'd turn the basketball over as frequently as we have been.

"It's early," he added. "It's poor decision-making, and we're very weak with the basketball right now.. I think those things will improve over time, and more practice in the gym."

Junior Brennan Traub buried a 3-pointer just 12 seconds into the second half, then senior Aidan Westbrook grabbed a defensive rebound and went coast-to-coast for a lay-up.

Senior Ryan Lambert added a 3-pointer to cap an 8-0 spurt that gave the Wolverines a 36-20 lead with 4:55 left in the third quarter.

Waverly went up 40-23 on a bucket by Lambert with 3:26 remaining, but Nick Thomas and Hunter Bates knocked down consecutive threes for the Indians to trim the deficit to 40-29, but that was as close as Candor would get.

Junior Brady Blauvelt canned a 3-pointer with 1:13 remaining in the third quarter, and Lambert drained a long jumper with 5 ticks left on the clock to push the lead back to 16, at 45-29, entering the final eight minutes.

Tomasso scored in the low blocks to open the fourth-quarter scoring, Lambert added a lay-up — off a steal and assist from Tomasso, and junior Caden Hollywood scored on a driving lay-up to give the Wolverines their biggest lead, at 51-29, with 7:02 left in the game.

Candor scored the next five points — on a bucket by Thomas and a 3-pointer by Zach Watson — to trim the lead to 51-34, but Tomasso answered with five straight points, and Liam Traub made a free throw to make it 59-34 with 2:10 left in the game.

Tomasso led Waverly with a career-high 18 points, six steals, three rebounds, and three assists, while Lambert had nine points and three boards, Westbrook had eight points and six rebounds, and Croft had eight points and four rebounds.

Blauvelt added seven points in the win, while Brennan Traub chipped in with six points, senior Peyton Bowen grabbed four boards, and Liam Traub had three rebounds and two blocked shots.

"I really thought Joey Tomasso played an all-around good game tonight," said Judson. "He started out hot for us with 10 points in the first quarter.

"He was very pesky on the defensive end, got his hands on a lot of balls … and he got some points in transition," he noted.

"And, Aidan Westbrook played well defensively again, and got some points in transition," added Judson.

Bates led a balanced Candor offense with 10 points, including a trio of 3-pointers.

Nine of Waverly's 11 players played in all four quarters, and eight put their name in the scoring column.

"We have a lot of guys getting in the scoring column for us, and getting a few minutes here and there," said Judson. "We have 11 kids and all of them can play.

"It's a different type of rotation that I'm use to coaching, and it's a different type of year," he noted. "With no playoffs, I'm trying to get some guys extra minutes to see what they can do with them.

"I'll probably be tightening that up a little bit as we move forward and get to the meat of our schedule," Judson added.

Waverly (2-0) returns to action Tuesday when it hosts Newark Valley (0-1).
About the Author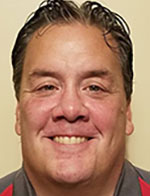 Tim Birney is the founder / owner of River Road Media Group. He was born and raised in the Valley, graduating from Waverly High School in 1984.
Birney earned an Associate's Degree in Journalism from SUNY Morrisville in 1986 and a Bachelor's Degree in Journalism / Public Relations from Utica College of Syracuse University in 1988. He began his newspaper career at The Daily Review in Towanda in 1989, before moving on to The Evening Times in 1995. He spent more than 10 years at the Times, the last four as Managing Editor.
River Road Media Group includes Valley Sports Report (launched Aug. 10, 2009), Tioga County (NY) Sports Report (Aug. 13, 2018), and Northern Tier Sports Report (Aug. 31, 2020). Southern Tier Sports Report is set to launch in 2021.