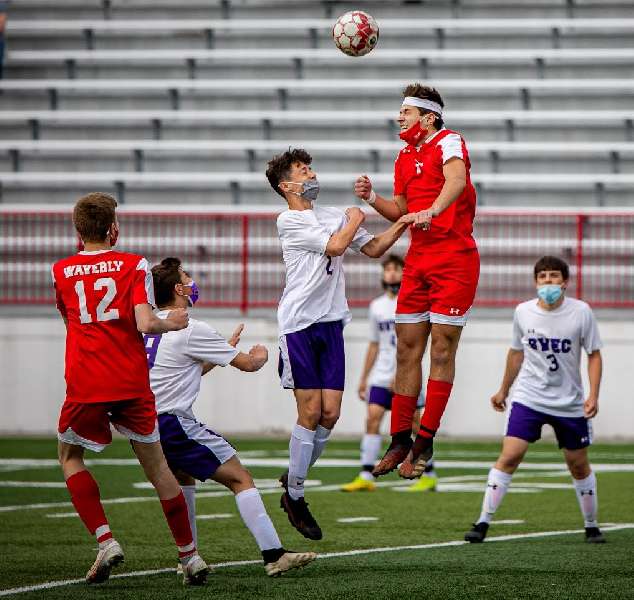 S-VE BALNKS WAVERLY, 2-0 ... AGAIN
By: Tim Birney | Waverly Athletics | April 10, 2021 | Photo courtesy David Alliger
WAVERLY — SVEC scored a pair of first-half goals to top Waverly, 2-0, for the second time this week in IAC South Large School boys soccer action.

On Tuesday, the Eagles topped the Wolverines, 2-0.

"This was almost an exact carbon copy of the game we played against SVEC on Tuesday," said Waverly coach Eric Ryck.

"It would have been nice to not give up the two early goals, but I'm very pleased with how we held it together today after going down early," he noted.

Ryck said the second half was a different ball game.

"The last five minutes of the first half was some of the best soccer we've played all season, and we came out in the second half much more organized defensively, which allowed us to keep them scoreless for the second half.

We need to get better at possessing the ball in the middle third and allowing our attack to build," said Ryck. "Too many times we got the ball forward to our strikers and they had no support to capitalize on the attack."

Ryck said he took away a number of positives from the loss.

"There were a lot of good takeaways today. I hope we can carry those forward for this last week of the season and end on a high note."

Jacob Banks and Mason Holmes scored first-half goals for the Eagles.

SVEC outshot Wavily, 12-3, and had a 6-5 edge in corner kicks.

Waverly junior Cameron McIsaac recorded 10 saves in net for the Wolverines, while Aidan Swayze had three for the Eagles.

Waverly, now 2-4, returns to action Tuesday when it hosts Notre Dame.
About the Author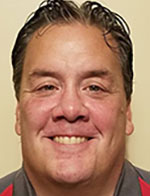 Tim Birney is the founder / owner of River Road Media Group. He was born and raised in the Valley, graduating from Waverly High School in 1984.
Birney earned an Associate's Degree in Journalism from SUNY Morrisville in 1986 and a Bachelor's Degree in Journalism / Public Relations from Utica College of Syracuse University in 1988. He began his newspaper career at The Daily Review in Towanda in 1989, before moving on to The Evening Times in 1995. He spent more than 10 years at the Times, the last four as Managing Editor.
River Road Media Group includes Valley Sports Report (launched Aug. 10, 2009), Tioga County (NY) Sports Report (Aug. 13, 2018), and Northern Tier Sports Report (Aug. 31, 2020). Southern Tier Sports Report is set to launch in 2021.