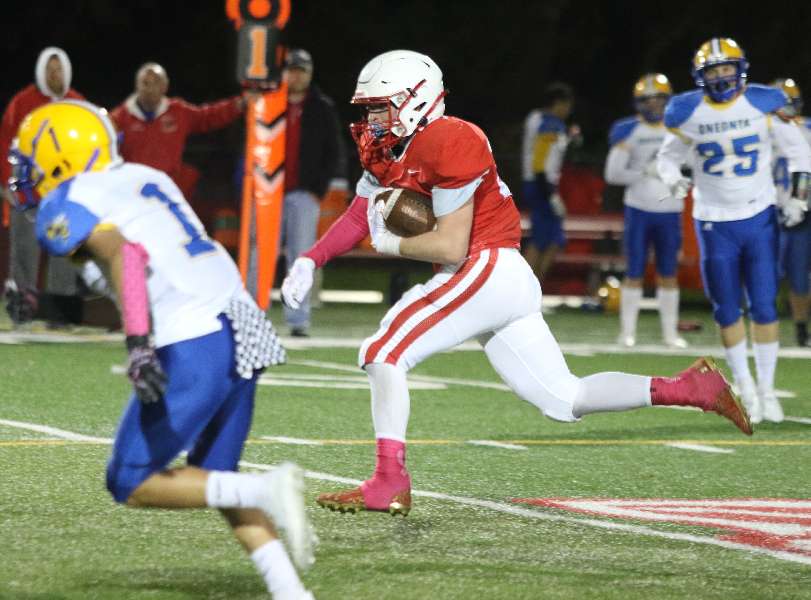 STATE-RANKED WAVERLY THUMPS ONEONTA, 43-15; IMPROVES TO 8-
By: Tim Birney | Waverly Athletics | October 22, 2021 | Photo courtesy David Alliger
WAVERLY — Oneonta dominated play early, but state-ranked Waverly wrestled away control of the game in the second quarter, and cruised to a 43-15 win here Friday night in Section IV non-divisional football action.

The Wolverines (ranked 8th in Class C), who clinched the Division V title last week, improve to 8-0 on the season, and have an opportunity to become just the second team in school history to go 9-0.

"It's a good win," said Waverly coach Jason Miller. "It puts us at eight wins, and that's been done very rarely in Waverly history.

"This is a big week. You don't want to talk about going undefeated in week 6 or 7, that usually comes back to bite you in the ass, (but) we can talk about it now," noted Miller. "In 100-plus years of football history, 9-0 has only been done once (2012) — it's a big deal.

"Plus, by our calculation, if we win, we will get home-field advantage throughout the playoffs," added Miller. "The opportunity is there for us to do that in the first year Section IV is using this playoff format."

Oneonta opened the game with a 15-play, 65-yard drive that chewed up nearly seven minutes. Matteo Goodhue's 9-yard TD run with 5:03 left in the first quarter capped the possession, and Cameron Horth's PAT kick made it 7-0.

"(Oneonta) came out and executed very well," said Miller. They have some good athletes, and they threw the ball well.

"We knew the quarterback is a dual-threat," he noted. "It's a little bit of a double-edged sword. I don't know how hard we were rushing because we were concerned about him running underneath us, so he had decent time to sit there and find the open routes, especially across the middle.

"We slowly started to find ways to get underneath their routes, and we got a little bit more pressure on him," added Miller. "I thought we did a nice job defensively the remainder of the game."

Senior Thomas Hand returned the ensuing kickoff 35 yards to the Waverly 48, and junior tailback Gage Tedesco broke loose on a 52-yard TD run on the Wolverines first — and only — play from scrimmage in the first quarter. Junior Ryan Clark's PAT kick tied the game at 7-7 with 4:50 remaining in the first quarter.

"Gage's first run set the tone," said Miller. "He's a man, he's physical and he's in good shape … and he's running with a lot of confidence right now."

The Yellowjackets began their next possession at their own play, and chewed up the next five minutes, before turning the ball over on downs at the Waverly 44 with 11:15 remaining in the first half.

Waverly picked up a pair of first downs on the legs of Tedesco and sophomore QB Joey Tomasso, who then hooked up with junior Isaiah Bretz on a 24-yard completion to the Oneonta 9.

Two plays later, Tomasso followed Tedesco through a hole off the left side for a 4-yard TD run. Clark's PAT kick made it 14-7.

After forcing Oneonta into a three-and-out, Waverly took over at its 45.Facing fourth-and-7, senior Brady Blauvelt made a diving catch for a 37-yard gain to the Yellowjackets 15.

A 7-yard completion to junior Nate DeLill moved the ball to the 3, but a QB sack, sandwiched between a pair of completions left Waverly facing fourth-and-goal from the 13. Clark split the uprights with a 30-yard field goal to extend the Waverly lead to 17-7 with 3:29 remaining in the first half.

"We got a little greedy," said Miller. "We certainly could have punched that ball in from the 3, if we ran the ball four times, but I don't want to be afraid of that."

The Wolverines took a 17-7 lead into the intermission, but blew the game wide-open with four TDs in a little more than 12 minutes to start the second half.

"With what (Oneonta) was doing (defensively), I thought we had opportunities to connect. We were just a little off in the first half," said Miller. "I thought we came out and executed very well in the second half.

"We made some adjustments at half time, and the game plan in the second half was a little better in the second half than it was in the first half," he added. "I" think I called a better game in the second half, too.

Waverly recovered an onside kick at its 46 to open the second half, and needed just three plays to add to its lead.

Tomasso started the drive with passes of 33 yards to sophomore Jay Pipher, and 9 yards to Blauvelt, before Tedesco's 12-yard TD run made it 24-7 just 44 seconds into the third quarter.

Oneonta picked up one fourth-down conversion on its first possession of the half, but Waverly held on its next fourth-down attempt, and took over on downs at its 44.

This time, Waverly needed just two plays as Tomasso hooked up with DeLill on a 20-yard completion, then found Hand all alone behind the Oneonta secondary for a 36-yard TD to make it 30-7.

The Wolverines forced a three-and-out, and got the ball back at midfield. Sophomore Braedon Hills picked up 26 yards on four carries, and Tomasso added a 14-yard scamper, before capping the drive with a 5-yard TD pass to Pipher with 1:20 left in the third quarter to make it 36-7.

Less than two minutes later, on the first play of the fourth quarter, senior linebacker Cayden Turcsik stepped in front of an Oneonta pass and returned it 41 yards for a score. Clark's PAT kick made it 43-7 with 11:50 left in the game.

Tomasso completed 10 of 20 passes — to six different receivers — for 196 yards and two TDs. Blauvelt had two receptions for 46 yards, while Pipher had two catches for 38 yards and one TD, DeLill had two grabs for 29 yards, and Bretz had two catches for 30 yards.

Tedesco led Waverly with 91 yards and two TDs on eight carries, and Hills chipped in with 30 yards on five carries.

Oneonta finished the game with 129 rushing yards on 40 carries, and 107 yards through the air.

Waverly wraps up the regular season Friday at Susquehanna Valley.
About the Author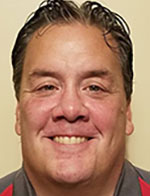 Tim Birney is the founder / owner of River Road Media Group. He was born and raised in the Valley, graduating from Waverly High School in 1984.
Birney earned an Associate's Degree in Journalism from SUNY Morrisville in 1986 and a Bachelor's Degree in Journalism / Public Relations from Utica College of Syracuse University in 1988. He began his newspaper career at The Daily Review in Towanda in 1989, before moving on to The Evening Times in 1995. He spent more than 10 years at the Times, the last four as Managing Editor.
River Road Media Group includes five sites in "The Sports Reports" family that cover 24 school districts in five counties: Valley Sports Report (launched Aug. 10, 2009), Tioga County (NY) Sports Report (Aug. 13, 2018), and Northern Tier Sports Report (Aug. 31, 2020); Northern Tier West Sports Report (March 15, 2021) Southern Tier Sports Report (Aug. 16, 2021).