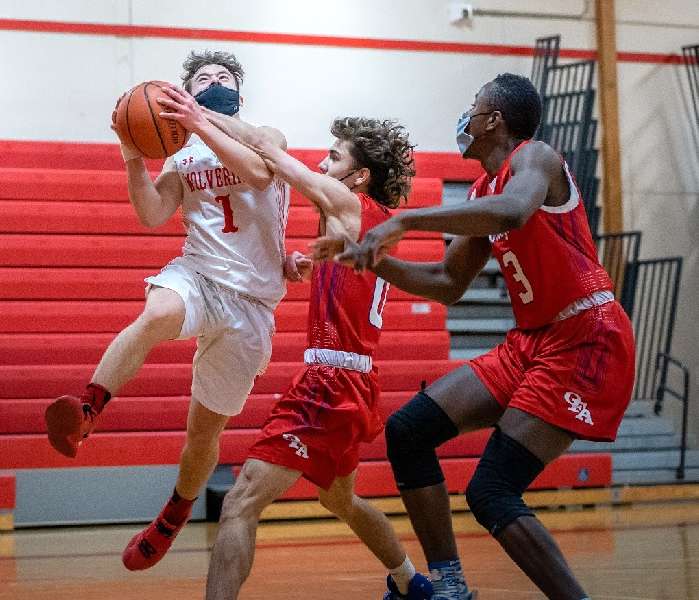 STRONG DEFENSE CARRIES WAVERLY IN 61-48 WIN OVER OWEGO
By: Tim Birney | Waverly Athletics | March 4, 2021 | Photo courtesy David Alliger
WAVERLY — Waverly used balanced scoring and a strong defensive outing, and improved to 6-0 in IAC "Tioga County Division" play here Thursday night with a 61-48 boys basketball win.

"It was probably our most complete game all year long, against a quality opponent," said Waverly coach Lou Judson. "We put it all together.

"I thought our defense was the best its been the entire season," noted Judson. "We were really locked int tonight defensively, and really connected … we were helping when we were suppose to be helping.

"I was really pleased with how we played defensively," he added.

The Wolverines improved to 6-4 on the season, including a 6-0 mark in the division. Their losses have come to Class AA Horseheads (twice), Corning, and Elmira.

"I think our strength of schedule helped us with playing them tonight," said Judson. "I really think we've been battle tested this year. We've played some quality opponents, which has made us tougher in situations like tonight.

"We're a good basketball team, we've just played against some very good basketball teams," Judson added.

The Indians were coming off a win over Horseheads on Monday.

"I watched (Owego) play Horseheads Wednesday, and they played very well," said Judson.

"I knew we were going to have our hands full, especially with their size," he noted. "Their back line is 6-5, 6-5 and 6-2 … I knew weren't going to be able to get many offensive rebounds.

"And when we were on defense, I knew they would really try to pound it inside on us, but we really created a lot ball pressure, and they had a hard time getting it inside," Judson added.

Freshman Joey Tomasso and senior Ryan Lambert scored four points apiece in the first quarter, and junior Davis Croft drained a 3-pointer, but Owego had five players score, and the two teams battled to a 14-14 draw after the first eight minutes.

Tomasso scored eight points in the second quarter, including four from the free-throw line, as Waverly crept ahead, 27-24, at the half.

Senior Aidan Westbrook scored six points in the third quarter, and Croft and junior Brennan Traub each knocked down a 3-pointer and scored five points apiece to fuel a 20-9 run that gave the Wolverines a 47-33 lead entering the final eight minutes.

The Wolverines made just 5 of 10 free throws in the fourth quarter, but it was enough to help preserve the win.

Tomasso led Waverly with 17 points, while Westbrook had nine points, five rebounds, and two assists, Croft had nine points, including a pair of 3-pointers, and three rebounds, and Lambert had eight points, three steals and two assists.

Brennan Traub added seven points and one blocked shot in the win, while senior Kobe Decker chipped in with four points, and senior Peyton Bowen grabbed eight rebounds.

Brad Palmer and Joe Bangel led Owego with 10 points apiece, and

Waverly finishes Tioga County divisional play with a perfect 6-0 record, while Owego (8-1 overall) is 6-1.

"I guess you could call us (Tioga County champs)," said Judson. "We haven't lost to a Tioga County team.

"That's kind of how we approached tonight's game," he noted. "You have to take small successes out of this weird season, and that's one of them.

"I would like to think we came out on top," added Judson.

Waverly hosts Notre Dame Friday night, then closes the regular season Saturday at home against S-VE.
About the Author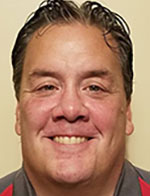 Tim Birney is the founder / owner of River Road Media Group. He was born and raised in the Valley, graduating from Waverly High School in 1984.
Birney earned an Associate's Degree in Journalism from SUNY Morrisville in 1986 and a Bachelor's Degree in Journalism / Public Relations from Utica College of Syracuse University in 1988. He began his newspaper career at The Daily Review in Towanda in 1989, before moving on to The Evening Times in 1995. He spent more than 10 years at the Times, the last four as Managing Editor.
River Road Media Group includes five sites in "The Sports Reports" family that cover 24 school districts in five counties: Valley Sports Report (launched Aug. 10, 2009), Tioga County (NY) Sports Report (Aug. 13, 2018), and Northern Tier Sports Report (Aug. 31, 2020); Northern Tier West Sports Report (March 15, 2021) Southern Tier Sports Report (Aug. 16, 2021).