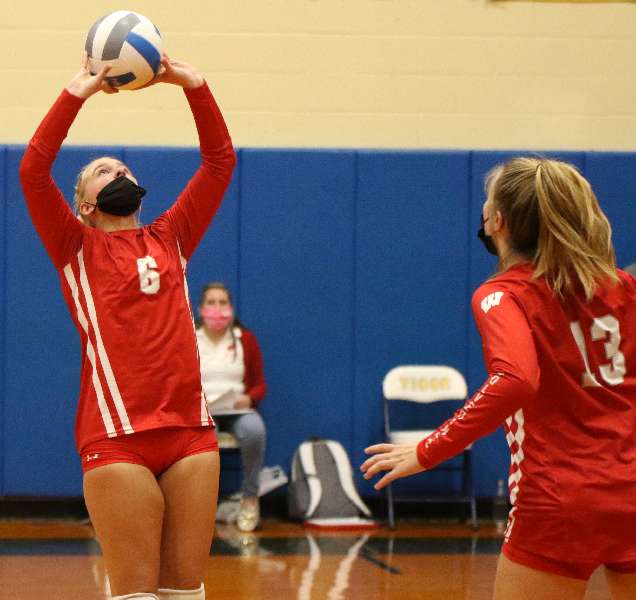 TIOGA RIDES FAST START TO SWEEP OF WAVERLY
By: Tim Birney | Waverly Athletics | October 18, 2021 | Photo courtesy Tim Birney
TIOGA CENTER — Tioga got off to a fast start and cruised to a sweep of Waverly here Monday evening in IAC volleyball action.

The Lady Tigers won by scores of 25-10, 25-16, and 25-8.

"I was very pleased with our performance," said longtime Tioga coach Des Ford. " "We're working to be more consistent, but our service was pretty good tonight, and we hit the ball well, too.

"We've also been working on our defense, and trying to get to ball," she noted. "We're not there yet, but tonight was better.

"This is the end of the season, we have to keep improving and advancing," added Ford.

"I thought we mostly struggled with hitting the ball," said Waverly coach Charity Meyers. "Most of our errors were hitting the ball.

"I think we could have been in the match if we would have hit the ball, and not over-passed because that's when they're just going to tee off on you.

"The girls are either on or off, and we definitely weren't on tonight," added Meyers. "(But) Tioga is always tough. You know what you're going to face when you come in here."

Junior Hailey Browne started Tioga with a four-point service run in the first game to put them ahead 5-2.

Senior Molly Bombard then served up nine points in a row to push the lead to 14-4. Moments later, senior Austyn Vance served six consecutive points to make it 22-6 on the way to a 25-10 win.

In the second set, the teams traded side-outs until Tioga junior Courtney Doyle-Benjamin had a five-point service run to put the Lady Tigers up 9-5.

Tioga gradually pulled away and took its biggest lead at 22-13 on its way to the 25-16 win.

Senior Julia Bellis opened the game with six straight service points in a run that featured a pair of kills by senior Mariah Nichols.

Moments later, Browne served eight consecutive points to give Tioga a 16-2 lead in a run that featured three services aces, and three consecutive kills by junior Reese Howey. Waverly sophomore Peyton Shaw ended the run with a kill.

Browne led Tioga with 14 service points, including three aces, while Bellis had nine points (two aces), two kills, and two digs, Bombard had nine points (three aces), eight setter assists, five digs, and three kills, and Vance had seven points (two aces) and four digs.

Howey registered five kills and three blocks in the win, while Benjamin-Doyle had six points, junior Kyra Bailey had four points, Nichols had five kills, sophomore Lily Mesler recorded six assists and two digs, and senior Nina Spano chipped in with two kills.

Eighth-grader Brilynn Belles led Waverly with three points and 12 digs, while junior Michaela Lauper had two points, seven assists, and six digs, and sophomore Paighten Streeter added three points and three digs.

Shaw had two points and four kills for the Lady Wolverines, while senior Sydney Nierstedt had four digs, and freshman Lillie Kirk chipped in with three digs.

Tioga, now 11-1, returns to action Wednesday at S-VE, while Waverly (5-6) hosts Large School-leading Thomas A. Edison.

JV: Tioga swept Waverly in the junior varsity match by scores of 25-8 and 25-14.

Layni Whitmore led Tioga with 14 points, while Haley Powell had nine points, Megan Vance had eight points and four kills, Joslyn Maciak had seven points, Emily Bidwell had five points, Amelia Mills added four points, and RaeAnne Feeko chipped in with two assists.

Maddy Olmsted led Waverly with three points and five assists, while Ashlen Croft had three points (two aces) and three kills, Natalie Lauper had three points and three digs, and Maddie Farnham added two points and five digs.

About the Author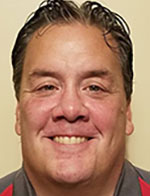 Tim Birney is the founder / owner of River Road Media Group. He was born and raised in the Valley, graduating from Waverly High School in 1984.
Birney earned an Associate's Degree in Journalism from SUNY Morrisville in 1986 and a Bachelor's Degree in Journalism / Public Relations from Utica College of Syracuse University in 1988. He began his newspaper career at The Daily Review in Towanda in 1989, before moving on to The Evening Times in 1995. He spent more than 10 years at the Times, the last four as Managing Editor.
River Road Media Group includes Valley Sports Report (launched Aug. 10, 2009), Tioga County (NY) Sports Report (Aug. 13, 2018), and Northern Tier Sports Report (Aug. 31, 2020). Southern Tier Sports Report is set to launch in 2021.