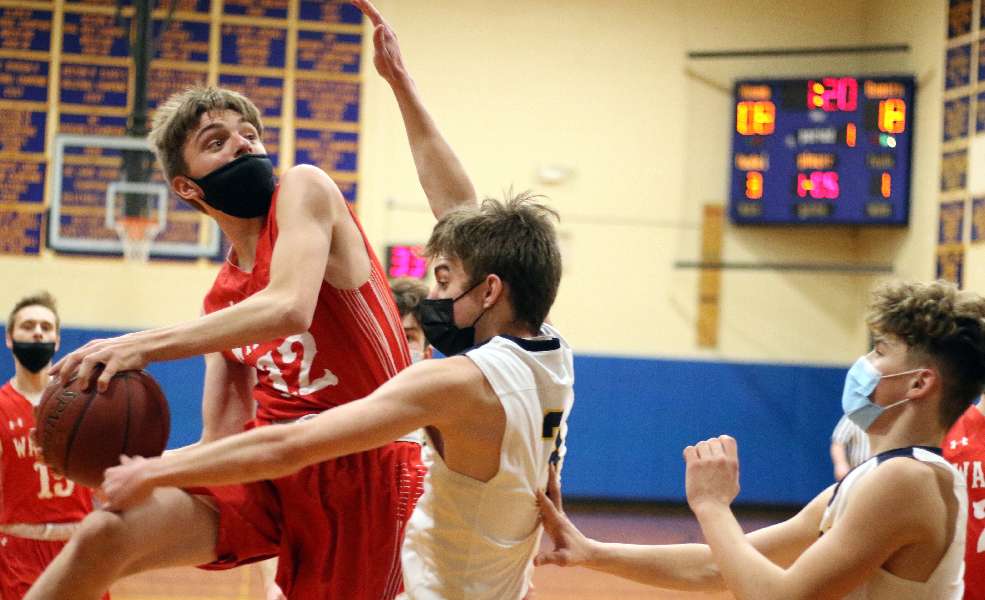 TOMASSO PACES WAVERLY'S RECORD-SETTING EFFORT IN 89-41 WIN OVER TIOGA
By: Tim Birney | Waverly Athletics | February 23, 2021 | Photo courtesy Tim Birney
TIOGA CENTER — Freshman Joey Tomasso scored a career-high 27 points, including 25 in the first half, and canned seven of his team's school-record 15 3-pointers here Tuesday night in an 89-41 rout of Tioga in IAC boys basketball action.

Tomasso drained six 3-pointers in the second quarter (tying the school record for most 3-pointers in a quarter set by Hunter Bodine in 2017).

Longtime Waverly coach Lou Judson said he's been expecting something like this from Tomasso.

"This is more like what I've seen in practice," he said. "Joey has dominated our practices at times, and shot the ball extremely well, but going into tonight's game he hasn't shot the ball well in a game.

"He found his rhythm in the first half, and it was fun to watch," added Judson. "And, we were being unselfish and finding him, too."

The Wolverines made 52 percent (15 of 29) of their attempts from behind the 3-point arc, led by Tomasso, who was 7-for-9.

"Wow, what a shooting performance from Waverly tonight," said Tioga coach Brian Card. "They were on fire.

"Our guys weren't playing bad defense, they were just shooting that well," he noted. "Tommaso hit six 3s in the second quarter, and outscored our team in that quarter by himself. He even hit a 70-footer to beat the halftime buzzer.

"Whenever a team shoots like that, they are almost impossible to beat," added Card.

Overall, Waverly shot 54 percent (30 of 56) from the field.

"We shot the ball really well," said Judson. "When this team shoots the ball well, we can play with a lot of good teams.

"I would like to see us play with the same confidence against other caliber teams we're going to be facing during the season."

As good as Waverly's shooting was in the game, Judson was equally pleased with his team's effort on the defensive end.

"I was impressed with our defense tonight. It started everything for us energy-wise.

"We've been working on some different things," noted Judson. "We sat back in a zone early on in the season … we were playing on our heels and the other team was kind of dictating what we were doing, and that's not what we do.

"We got after it a little bit tonight, started to press a little bit more," added Judson. "I think that's going to help us as we move forward."

Tomasso knocked down his first 3-pointer during a game-opening 9-0 run.

A 3-pointer by freshman Ethan Perry helped Tioga in a 8-4 spurt that trimmed the deficit to 13-8, but junior Brennan Traub scored off a feed from Tomasso with 2:05 remaining in the first quarter, then buried a 3-pointer 28 seconds later to up the lead to 18-8.

Two free throws by Traub, and two more by senior Ryan Lambert made it 22-8 with 1:07 remaining in the opening stanza.

Tomasso and senior Aidan Westbrook opened the second quarter with fast-break buckets to push the lead to 26-9 with 6:38 remaining in the first half.

After a bucket by Tioga junior Casey Stoughton stopped Waverly's momentum briefly, Tomasso and junior Thomas Hand buried back-to-back 3-pointers to make it 32-11 with 4:42 remaining in the first half.

Tomasso finished off the first half with five 3-pointers in the final 2 1/2 minutes, including a three-quarters court heave that ripped through the net after caroming off the backboard at the halftime buzzer to make it 51-23.


Junior Liam Traub scored nine points in the third quarter, while junior Davis Croft added five, and Peyton Bowen added a long 3-pointer at the buzzer as Waverly upped its lead to 70-30 entering the final eight minutes.
Card did glean some positives from the loss.
"I did see a few positives ... we scored more, and we were in a little bit better position on defense," he said. "We were looking to attack the basket, and my freshmen Evan Sickler and Ethan Perry were very aggressive on offense.

"Defensively we are getting better in help, but we have to learn more of the defensive rotation," added Card.

Tomasso had three assists to go along with his 27 points, while Brennan Traub had a career-high 15 points, including a trio of 3-pointers, and Croft had 12 points, including two 3-pointers, and a team-high seven rebounds.
Westbrook had 10 points, three rebounds, and three assists in the win, while Liam Traub added nine points, three rebounds, and four blocked shots, Lambert chipped in with six points and six assists, senior Kobe Decker had five rebounds and two steals, and senior Peyton Bowen grabbed four boards.
Freshmen Ethan Perry and Evan Sickler led Tioga with 14 and 13 points, respectively, while juniors Matt Watson and Gavin Godfrey added six points apiece, and Stoughton chipped in with four points.
Waverly, now 4-1, hosts Newark Valley Wednesday in a make-up game from last week, while Tioga (0-6) hosts Newark Valley Thursday.
About the Author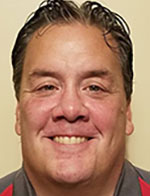 Tim Birney is the founder / owner of River Road Media Group. He was born and raised in the Valley, graduating from Waverly High School in 1984.
Birney earned an Associate's Degree in Journalism from SUNY Morrisville in 1986 and a Bachelor's Degree in Journalism / Public Relations from Utica College of Syracuse University in 1988. He began his newspaper career at The Daily Review in Towanda in 1989, before moving on to The Evening Times in 1995. He spent more than 10 years at the Times, the last four as Managing Editor.
River Road Media Group includes Valley Sports Report (launched Aug. 10, 2009), Tioga County (NY) Sports Report (Aug. 13, 2018), and Northern Tier Sports Report (Aug. 31, 2020). Southern Tier Sports Report is set to launch in 2021.