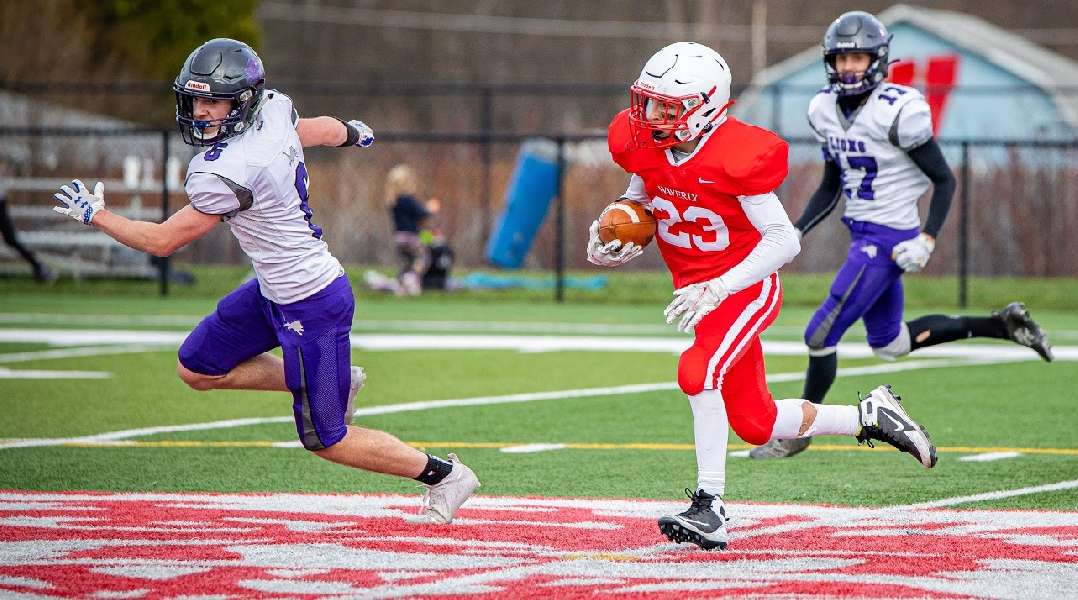 TOMASSO-PIPHER CONNECTION PROPELS WAVERLY TO 55-12 WIN OVER DRYDEN
By: Tim Birney | Waverly Athletics | April 9, 2021 | Photo courtesy David Alliger
WAVERLY — Plagued by drops through the first three games, Waverly's passing game was close to finding its rhythm.

Friday night, freshman QB Joey Tomasso found a reliable target in classmate Jay Pipher, and the duo helped Waverly to a 55-12 win over Dryden in Section IV football action at Memorial Stadium.

Tomasso accounted for five TDs in the first half, including three TD strikes to Pipher, as the Wolverines raced out to a 41-6 halftime lead.

Tomasso completed 15 of 19 passes for 232 yards and four TDs, while Pipher hauled down six receptions for 162 yards. Tomasso also ran for a first-half score.

Waverly's defense set the stage for the first TD of the night, forcing the Purple Lions into a three-and-out. After a 14-yard punt, the Wolverines took over at their own 44.

Two plays later, they were in the end zone. After a quick 4-yard throw to Pipher, Tomasso found him for a 52-yard catch-and-run to give Waverly a 6-0 lead with 8:54 remaining in the first quarter.

Dryden's next drive stalled out near midfield, but a much better punt left the Wolverines pinned at their own 1.

Senior Caden Wheeler gave Waverly some breathing room with a 23-yard run, and moments later, Tomasso and Pipher hooked up on a 70-yard TD pass to cap a three-play scoring drive. Tomasso's run for conversion made it 14-0 with 5:32 remaining in the first quarter.

A successful onside kick gave the Wolverines the ball back at the Purple Lions 38. Nine plays later, Tomasso cashed in with a four-yard TD run. Ryan Clark's PAT kick made it 21-0 with 3:22 remaining in the first quarter.

Less than four minutes later, on the second play of the second quarter, Tomasso connected with sophomore tight end Nate DeLill on a 10-yard TD pass to make it 28-0 with 11:46 remaining in the first half.

After Dryden got on the board on a 36-yard TD run by QB Brady Rose to cut the deficit to 28-6 with 9:06 remaining in the half, the Wolverines needed less than two minutes to answer.

Wheeler's 5-yard TD run capped a quick scoring drive that extended the lead to 34-6 with 7:17 remaining in the first half.

A Dryden turnover gave the Wolverines the ball back and they quickly found paydirt again, this time on a 13-yard TD pass from Tomasso to Pipher with 5:06 remaining in the half. Clark's PAT kick made it 41-6.

Wheeler, who rushed for a career-high 161 yards on 16 carries, scored on an 11-yard run on his final carry of the night with 6:08 remaining in the third quarter. Clark's kick made it 48-6.

Dryden tallied its final points of the night with 8:38 left in the contest on a 12-yard pass from Rose to Zach Wiser.

The momentum was short-lived, however. Wheeler returned the ensuing kickoff 70 yards for a score. Clark's PAT kick provided the final margin.

Waverly piled up 393 yards in total offense, while the Wolverine defense limited Dryden to 121.

Aidan Westbrook added two catches for 19 yards, and Brady Blauvelt had two catches for 17 yards for the Wolverines, while Isaiah Bretz had one reception for 22 yards. Kayleb Bechy chipped in with 21 rushing yards on six carries.

Waverly, now 1-3, returns to action Friday at Groton.
About the Author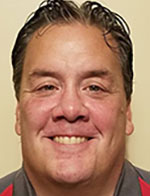 Tim Birney is the founder / owner of River Road Media Group. He was born and raised in the Valley, graduating from Waverly High School in 1984.
Birney earned an Associate's Degree in Journalism from SUNY Morrisville in 1986 and a Bachelor's Degree in Journalism / Public Relations from Utica College of Syracuse University in 1988. He began his newspaper career at The Daily Review in Towanda in 1989, before moving on to The Evening Times in 1995. He spent more than 10 years at the Times, the last four as Managing Editor.
River Road Media Group includes five sites in "The Sports Reports" family that cover 24 school districts in five counties: Valley Sports Report (launched Aug. 10, 2009), Tioga County (NY) Sports Report (Aug. 13, 2018), and Northern Tier Sports Report (Aug. 31, 2020); Northern Tier West Sports Report (March 15, 2021) Southern Tier Sports Report (Aug. 16, 2021).