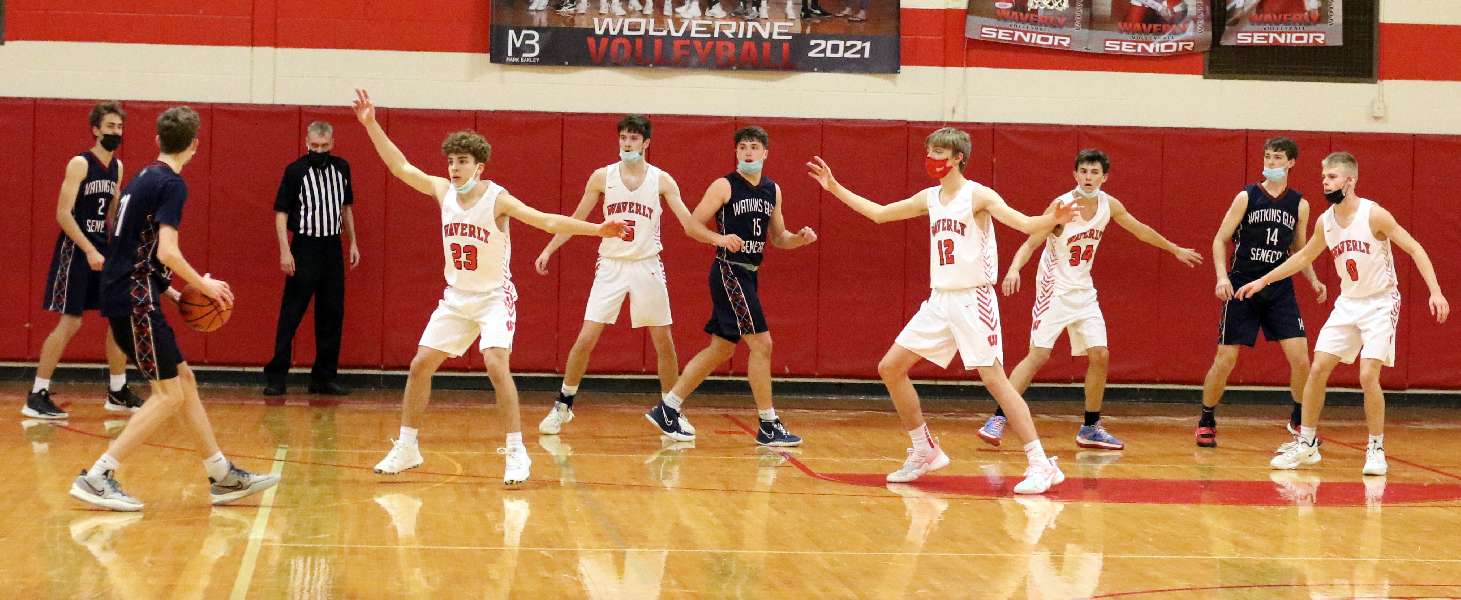 WATKINS GLEN SHUTS DOWN WAVERLY IN 55-35 WIN
By: Tim Birney | Waverly Athletics | December 14, 2021 | Photo courtesy Tim Birney
WAVERLY — Waverly kept it close for a half, but couldn't overcome a poor shooting night as Watkins Glen blew the game open in the second half en route to a 55-35 win here Tuesday night in IAC South Large School Division boys basketball action.

The Wolverines shot 27 percent (14 of 51) from the field in the loss, and only shot 13 percent (3 of 23) from behind the 3-point arc.

"It's the old adage, 'you live by the three, and you die by the three,'" said Waverly coach Lou Judson. "Unfortunately, it's who we are.

"However, you have to give a ton of credit to Watkins Glen's defense," noted Judson. "They're smothering, they switch when they need to switch, and they were physical with our guards.

"We have a long ways to go to beat a basketball team like that," added Judson. "Two years ago they won our division and overall (IAC) title as sophomores. Now, they're seniors, and you could tell who the more experienced team was tonight in a big game."

The Senecas scored the first two buckets of the game, but sophomore Joey Tomasso knocked down a pair of jumpers, and senior Brennan Traub canned a 3-pointer in a 10-4 run that gave the Wolverines a 10-8 lead after the first eight minutes.

The teams exchanged the lead throughout the second quarter, but Waverly's last lead of the game came with 1:28 remaining after Tomasso turned a steal into a coast-to-coast lay-up and a 20-19 Wolverine advantage.

Moments later, Adam Pastore, who had 15 points in the first half, scored on a running one-hander down the lane to give the Senecas a 21-20 lead.

Pastors scored again on an offensive rebound with 32 seconds left in the half to give Watkins Glen a 23-20 lead, which it would take into the halftime locker room.

Owen Scholtisek canned a 3-pointer about 90 seconds after the intermission to cap a quick 6-2 spurt that extended the Watkins Glen lead to 29-22.

After a putback on the offensive glass by senior Liam Traub trimmed the deficit to 29-24, Scholtisek knocked down another 3-pointer to make it 32-24 with 4:55 remaining in the third quarter.

With 4:28 left, Liam Traub drained a baseline jumper to close the gap to 32-26, but the Wolverines would not make another field goal for seven minutes. During that span, the Senecas used an 11-1 run to take a 43-27 lead with 5:28 left in the game.

Waverly closed the gap to 13 points on two separate occasions in the final four minutes, but could not get any closer.

"We were only down three points at the half, and we shot the ball awful," said Judson. "I kind of liked where we were. I figured if we could get those same looks, we'd be fine. However, we got those same looks and they didn't fall.

"And (in the second), they started to figure us out a little bit, and (Adam) Pastore took over, like he did in the first half — he was just too much for us tonight," added Judson.

Tomasso led Waverly with 14 points, while Croft had eight points and seven rebounds, Liam Traub had seven points, five rebounds, and one blocked shot, and Brennan Traub added five points, four rebounds, and three steals. Senior Brady Blauvelt grabbed seven rebounds and dished out two assists.

Pastors led Watkins Glen with 21 points, eight rebounds, and three steals, while Scholtisek added 16 points and five rebounds.

"It's a disappointing loss on our home floor, but I told the guys — this is not going to define who we are,'" said Judson. "We had to deal with some adversity tonight for the first time this season, and I don't think we handed it very well.

"But, this is only going to make us better as we move forward," added Judson.

Waverly, now 2-1, returns to action Friday at Notre Dame.

——————

IN PHOTO 1: Waverly's Brennan Traub. "¦ PHOTOS BY TIM BIRNEY.

About the Author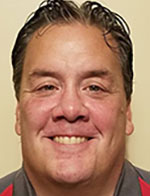 Tim Birney is the founder / owner of River Road Media Group. He was born and raised in the Valley, graduating from Waverly High School in 1984.
Birney earned an Associate's Degree in Journalism from SUNY Morrisville in 1986 and a Bachelor's Degree in Journalism / Public Relations from Utica College of Syracuse University in 1988. He began his newspaper career at The Daily Review in Towanda in 1989, before moving on to The Evening Times in 1995. He spent more than 10 years at the Times, the last four as Managing Editor.
River Road Media Group includes Valley Sports Report (launched Aug. 10, 2009), Tioga County (NY) Sports Report (Aug. 13, 2018), and Northern Tier Sports Report (Aug. 31, 2020). Southern Tier Sports Report is set to launch in 2021.