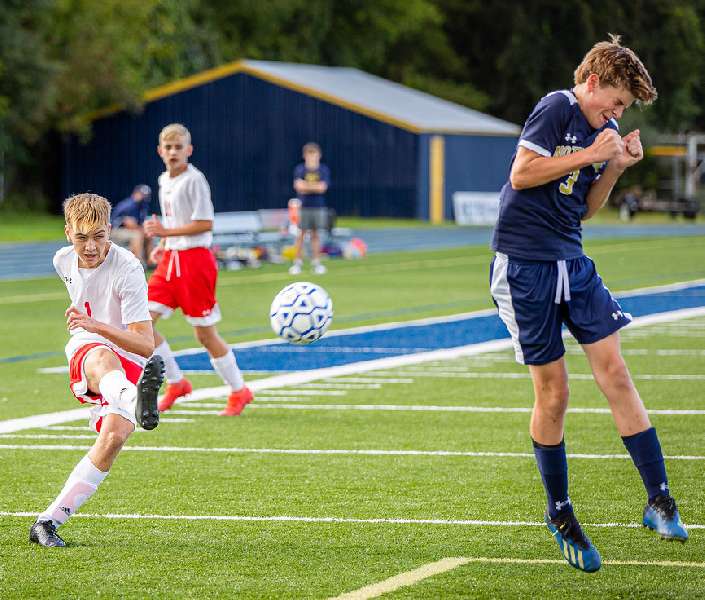 WAVERLY BLANKS NOTRE DAME, 3-
By: Tim Birney | Waverly Athletics | September 9, 2021 | Photo courtesy David Alliger
SOUTHPORT, N.Y. — Waverly controlled the ball, held Notre Dame without a shot-on-goal, and made the most of its shots in a 3-0 win here Thursday evening in IAC South Large School boys soccer action.

"We started out a little flat tonight, and tried to force the ball too much early," said Waverly coach Eric Ryck. "But our defensive back four of Declan Murphy, Carter George, Sam Knight, and Landon McCarty were very well organized, and with Austin Ingham at defensive-mid, we were able to keep the ball out of our defensive third and were able to keep pushing forward."

Senior Brennan Traub, who also had two assists, put Waverly on the board early in the game on a header off a "beautiful service" from sophomore Griff Schillmoeller.

Ryck said the Wolverines picked up their level of play after the intermission.

"We came out much better in the second half, upped the pressure and moved the ball much better, which created a lot of opportunities for us to score," said Ryck.

Senior defender Declan Murphy was credited with a goal on a corner kick that gave the Wolverines a 2-0 lead. Sophomore Charlie Larrabee launched his corner kick into the goal mouth, where Traub headed it toward the goal line, where it caromed off Murphy's shoulder and into the net.

Schillmoeller, off a feed from Traub, scored to provide the final margin.

"Everyone, top to bottom, gave us quality minutes tonight," said Ryck. "Alex Emanuel has really stepped up this year and is playing well on the wing for us,

"Sheldon Huddleston always gets quality touches on the ball on the other wing, and coming off the bench Nehemiah Anthony, Ralph Johnson, and Jonathan Searles worked their butts off and give us good depth that we can count on in our roster," added Ryck.

Waverly had a 6-0 advantage in shots-on-goal, and a 2-0 edge in corner kicks.

Jackson Potter had three saves in net for the Crusaders, while Waverly senior keeper Cameron McIsaac was untested.

Waverly, now 2-1, hosts Newark Valley Tuesday.
FOR MORE PHOTOS, VISIT VALLEY SPORTS REPORT.

About the Author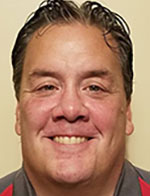 Tim Birney is the founder / owner of River Road Media Group. He was born and raised in the Valley, graduating from Waverly High School in 1984.
Birney earned an Associate's Degree in Journalism from SUNY Morrisville in 1986 and a Bachelor's Degree in Journalism / Public Relations from Utica College of Syracuse University in 1988. He began his newspaper career at The Daily Review in Towanda in 1989, before moving on to The Evening Times in 1995. He spent more than 10 years at the Times, the last four as Managing Editor.
River Road Media Group includes five sites in "The Sports Reports" family that cover 24 school districts in five counties: Valley Sports Report (launched Aug. 10, 2009), Tioga County (NY) Sports Report (Aug. 13, 2018), and Northern Tier Sports Report (Aug. 31, 2020); Northern Tier West Sports Report (March 15, 2021) Southern Tier Sports Report (Aug. 16, 2021).