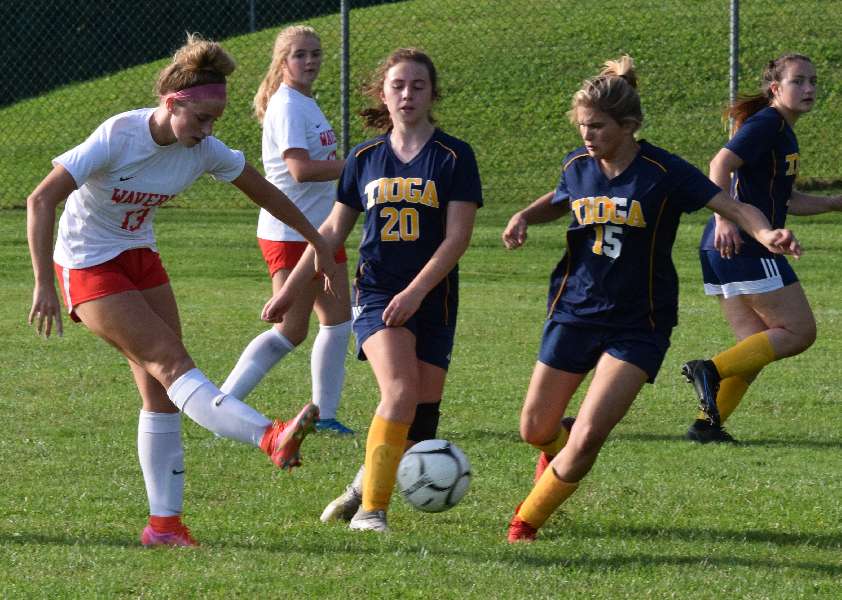 WAVERLY BLANKS TIOGA, 7-
By: Tim Birney | Waverly Athletics | September 20, 2021 | Photo courtesy Mike Lubertowicz
TIOGA CENTER — It took a while for Waverly to put it together, once it did, the goals came quickly in a 7-0 win over Tioga here Monday afternoon in IAC South girls soccer action.

"We had another slow and quiet start," said Waverly coach Tara Hogan. "It was evident that we aren't used to playing on grass. The first 10 minutes of the game was us trying to put the ball down at each other's feet.

"We tried a more offensive lineup to start and had to work on our spacing," she noted. "After about the first 20 minutes of the first half. we had found our groove.

"Our focus today was making purposeful and calculated shots, not just shooting to shoot," added Hogan. "It forced us to think more and work on placement of a shot."

Tioga coach Jim Walsh tipped his cap to the Lady Wolverines.

"Total domination sums up this game," he said. "We knew coming in the caliber of Waverly. Add to that we were down one of our top midfielders, and you have the result we had here tonight."

Walsh also had kind words for Hogan.

"Coach Hogan always presents a well-disciplined and skilled team. An example is the shot distribution today: 11 different players accounted for their 35 shots-on-goal."

Hogan also had kind words for Walsh and the Lady Tigers.

"I give coach Walsh and his team credit because despite the low numbers, those girls never just gave up and didn't shut down on each other," she said. "I think that says a lot."

Junior Kennedy Westbrook netted a hat trick for the Lady Wolverines, while freshman Addison Westbrook scored two goals and assisted on another, freshman Kiley Stillman scored one goal and dished out two assists, and sophomore Lea VanAllen added one goal and two assists.

Waverly outshot Tioga, 35-2, and had a 5-1 edge in corner kicks.

Senior Gabby Foley had 28 saves in net for the Lady Tigers, while freshman Lea Cole had one for Waverly.

Both coached commented on Foley's play.

Tioga's goalie was often in the right place and kept us off the board," said Hogan.

"Gabrielle Foley was kept busy tonight," said Walsh. "She had 28 saves and of those there were some nice re-active punch, deflection saves."

It took Waverly nearly 10 1/2 minutes to get on the board when Kennedy Westbrook launched a shot over Foley's outstretched arms from outside the 18.

Nearly 13 minutes later, Foley got caught in traffic out of the net, and Stillman punched a shot into the back of the net to make it 2-0. VanAllen was credited with the assist.

About 13 minutes later the flood gates open.

With 3:50 remaining in the first half, Addison Westbrook scored off a feed from Kennedy Westbrook, and 30 seconds later, VanAllen scored off an assist from Addison Westbrook.

With 1:18 remaining, Addison Westbrook scored to make it 5-0, again off an assist from Kennedy Westbrook.

Kennedy Westbrook scored just 30 seconds after the intermission to make it 6-0, and then scored again about six minutes later to provide the final margin.

"Kiley Stillman and Addison Westbrook shined today with making good runs and positioning well," said Hogan. "And, Kennedy was able to get up the field quite a bit and saw time as a forward, hence the hat trick.

"Paige Robinson was able to move forward as well," added Hogan. "I love that I can put her anywhere and she always plays with great energy."

Waverly hosts SVEC Wednesday night, while Tioga travels to O-M Friday night.
FOR MORE PHOTOS, VISIT VALLEY SPORTS REPORT.

About the Author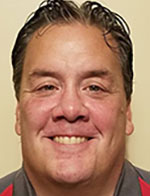 Tim Birney is the founder / owner of River Road Media Group. He was born and raised in the Valley, graduating from Waverly High School in 1984.
Birney earned an Associate's Degree in Journalism from SUNY Morrisville in 1986 and a Bachelor's Degree in Journalism / Public Relations from Utica College of Syracuse University in 1988. He began his newspaper career at The Daily Review in Towanda in 1989, before moving on to The Evening Times in 1995. He spent more than 10 years at the Times, the last four as Managing Editor.
River Road Media Group includes Valley Sports Report (launched Aug. 10, 2009), Tioga County (NY) Sports Report (Aug. 13, 2018), and Northern Tier Sports Report (Aug. 31, 2020). Southern Tier Sports Report is set to launch in 2021.