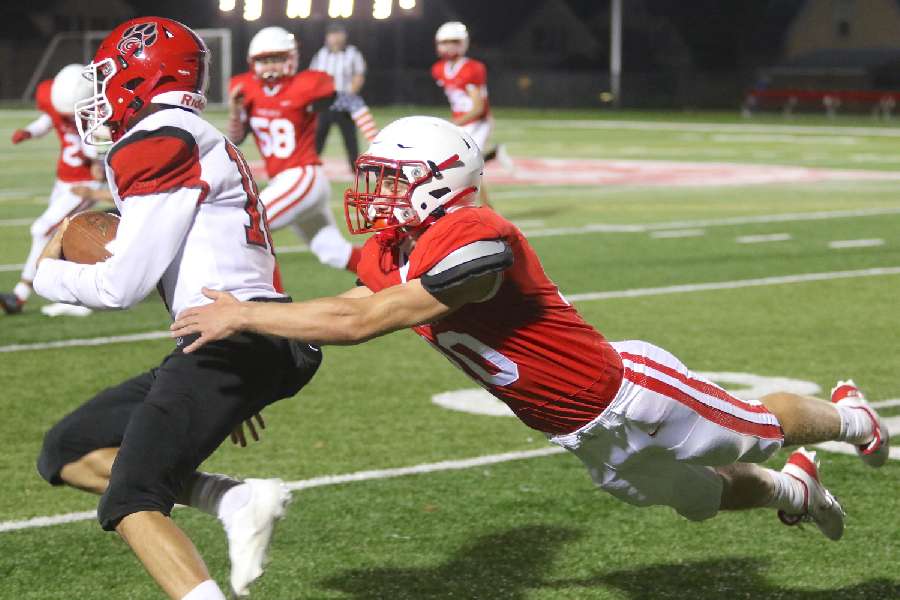 WAVERLY 'CLICKS' IN 46-6 ROMP OVER GENEVA
By: Tim Taylor | Waverly Athletics | September 25, 2021 | Photo courtesy Tim Taylor
WAVERLY — With the exception of a minor hiccup on its first possession, the Waverly offense was "clicking" during a 46-6 non-league victory over Geneva at Veteran's Memorial Stadium here Saturday night.

Following a three-and-out to open the game, the Wolverines scored on every trip down the field to roll to improve to 4-0 on the season. And, despite having little time to prepare for their Section V visitors, they had little trouble dissecting the Panthers' strategy in every aspect of the game.

"Our kids played very hard, executed, tackled well and did what they were supposed to do tonight," Waverly coach Jason Miller said.

"We had a great week of practice. The intensity up front picked up, just a lot more intensity instead of going through the motions. I give kudos to the entire team, especially the kids that are the reserves. They really pushed us this week in practice and I knew by the end of the week that we'd improved."

Waverly made very few mistakes in this game, however, before they even ran a play following the opening kickoff, the Wolverines were flagged for illegal procedure and were only able to pick up 10 yards on the next three plays, resulting in a punt.

"That's two games in a row we really haven't looked sharp in our first possession, so we'll try to clean that up, but I thought overall we executed pretty well," Miller said. "We really didn't know what we were getting into. We saw the athleticism on film and it's scary. We just didn't know what to expect."

Thomas Hand put Waverly on the scoreboard first with a 5-yard run midway through the opening period. A missed PAT kick left the score at 6-0. Three Joey Tomasso passes for 44 yards and an 18-yard scamper by Hand highlighted the 7-play, 85-yard drive.

With 3:44 left on the first-quarter clock, Gage Tedesco bulled his way into the end zone from a yard out. Ryan Clark's kick made it 13-0. A Brady Blauvelt interception at his own 30, followed by his 40-yard return and Tomasso's 24-yard keeper, proved to be key plays.

The Wolverines would put points on the board via the air on their next possession. After Geneva turned the ball over on downs, Tomasso hit Jay Pipher in stride down the middle of the field for a 46-yard gain to the Panther 12, then tossed one to Tyler Talada in the back corner of the end zone. The PAT kick missed, but Waverly was sitting pretty with a 20-0 advantage just five second into the second quarter.

Geneva would cough up the pigskin at its own 37 on its next possession and Tomasso used three passes to Pipher and Nate Delill, and an 11-yard run by Tedesco to set up a first-and-goal at the seven. The sophomore quarterback called his own number on the next play and waltzed into the end zone. Clark's kick made it 27-0 with 9:45 remaining in the half.

The Wolverines would get the ball back at their own 37 with 4:18 left in the half, shake off an illegal motion call, and chew up most of the remaining time on the clock before Pipher would score on an 11-yard run with 48 ticks on the clock. Clark's kick doinked off the upright, but Waverly would be sitting on a 33-0 cushion at halftime of the Senior Night game.

Waverly had the ball just once in the third quarter, but marched 84 yards in 10 plays with Tomasso capping the drive on a 16-yard keeper. Clark pushed the kick through the uprights for a 40-0 lead.

The Wolverines' final possession of the night started with a fumble, but they recovered the loose rock and drove 81 yards with a reserve offense, making it 46-0 with 4:13 left in the game on Braedon Hills' 1-yard plunge.

Geneva would move the ball 73 yards in nine plays, scoring on an 11-yard Michael Richarson-to-Immanuel Townsend pass against the Waverly reserves with 18 seconds left in the game.

The Waverly offense awed the crowd with its scoring prowess, but the defense was equally impressive. Geneva managed just 147 yards total offense, 73 of which came on the Panthers' final possession.

It was a win by committee as 11 different players had touches on offense and several players making plays on defense as well.

The Wolverines are only giving up five points per game on average, lowest of any 11-man team in Section IV.

"A lot of guys got their hands on the ball," Miller said. "A lot of guys on defense got to the ball. That's key, right? That's something we continue to stress. I think it's something we continue to get better at and especially when you've got athletes like (Geneva), who can run around and make you miss. We practice tackling a lot and I think it's getting better. I thought it was demonstrated quite well tonight, that we executed that phase of the game, tackling quite well, and I think that's why we're pretty good on defense."

In addition to Blauvelt's interception, Kayleb Bechy recovered a Geneva fumble and Payton Fravel intercepted a point-after pass.

Miller also praised his defensive ends for containing the run, his secondary for coming up and making plays, and the play of Isaiah Bretz and Tedesco at linebacker.

As for the Waverly offense, it cranked out 432 yards on the night, 370 coming from the starters.

Tomasso went 14-for-20 for 184 yards with Pipher collecting three passes for 79 yards. Bretz and Blauvelt had three receptions each as well, for 36 and 29 yards, respectively. Delill, Hand and Talada combined for five more receptions for 40 yards.

Seven different backs carried the ball with Tedesco rushing 10 times for 88 yards. Tomasso (4-38), Hills (9-35), Hand (3-31), Kaden Wheeler (4-25), Fravel (3-21) and Pipher (1-11) contributed to the ground game as well.

Much of the credit for Waverly's impressive offensive display goes to the guys in the trenches.

"Really, and Gage ran hard," Miller said. "He's a big back and he's getting more comfortable in a position, again, he really hasn't played at this level. Last year he didn't even play picked up, just a lot more intensity.

Waverly (4-0) visits Ithaca (0-2) Friday night.
FOR MORE PHOTOS, VISIT VALLEY SPORTS REPORT.